Why was there a film about cannibals at the Deauville American film festival, a film so gory and graphic with chunks of flesh in the mouths, that it received strong boos (and great claps) at its finish?
"I don't pick films that I personally like, but those that show a range," Bruno Barde, director of the Deauville American Film Festival, confided to me, speaking about the challenge of picking 14 films out of the 350 films he views annually for the Competition selection, as well as his choice of Jim Mickle's gory We Are What We Are.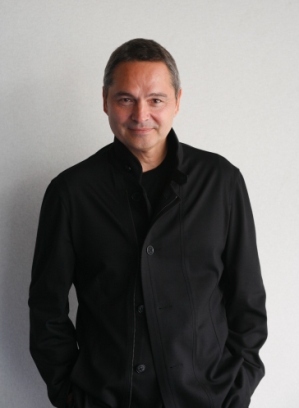 He continued with a twinkle in his eye, as we sat at an elegant table in a private room of the Barrière Normandy Hotel.
"The aim of our festival is to have a look on American society. To understand it through its films, TV series and documentaries. Art is a means to truth. Cinema encapsulates our imaginary, and can upset more than journalism." Barde spoke animatedly, with the joyfulness of a veteran cinephile and director of several film festivals, who can count along his former film associates the likes of Tarkofsky and Fellini. "And as for the cannibalism film: people hear of these kinds of horrors all the time! The film director spotlights this reality, along with the psychic dysfunction of a family. Our aim is to showcase trends."
The Deauville American Film Festival is the most important film festival in France after Cannes---and just as glamorous, with stars like Michael Douglas and Tilda Swinton waving to fans on the red carpet, and sumptuous gala dinners with foie gras and champagne. Launched in 1975 by two writer/journalists, today it is funded by the mayor, outside sponsors and the elite Barrière hotel chain, which generously offers festival guests rooms in its century-old chateau-like palaces along the coast. Over the last thirty-nine years, the festival has seen the likes of John Travolta, Steven Spielberg, Clint Eastwood, Nicolas Cage, and Lauren Bacall, and has spurred the careers of many Americans, including Quentin Tarantino and Todd Solondz.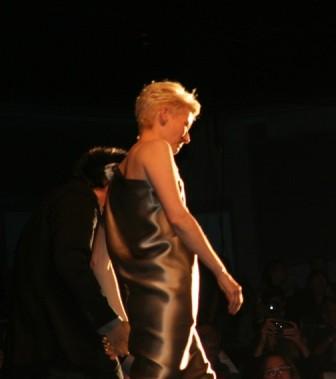 Tilda Swinton, photographed by Christian Bellon
What is especially interesting is that the spread of new films--watched with great enthusiasm by the public of Deauville, who come in droves to see the latest in American cinema--are judged by a principally French jury, led this year by the classy French actor Vincent Lindon (whom I spotted at the breakfast buffet the morning I arrived, calmly cutting bread).
"We want the French to judge the culture," Barde continued openly, switching to Italian, the language, it turned out, of both our mothers. "Because our festival is a confrontation between the European regard and American art. We see all the preoccupations of American culture. For example, in previous years, we saw many films about AIDS, about the problems of adolescence...."
And this year?
"The heroes are tired. The American hero usually triumphs over adversity. Here, the struggle is to triumph over the self. They do not have the energy to do it. This is not Batman."
One trend I saw in this year's selection was revenge.
"That's because your culture has guns," Barde smiled. "We couldn't make these action revenge films in Europe, because they would be unbelievable."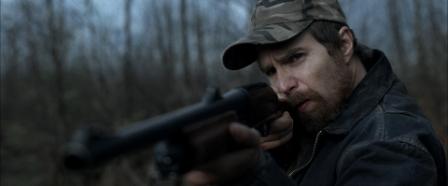 The gun was present in fifty percent of the films I saw: from the shoot-outs in the romantic modern Bonnie and Clyde flick Ain't Them Bodies Saints to the Travolta-DeNiro sparring in Killing Season to the hunting disaster story of A Single Shot to the tragic true story of an African-American shot down by a policeman in the award winning Fruitvale Station.
One film encapsulates the trend in gun stories: Jeremy Saulnier's Blue Ruin. A bum wanders about, looking lost and dazed, until he breaks into a bathroom and kills someone who may have killed kin of his. The murder freshens him up (he changes clothes and cuts his hair), but then his victim's kin get the guns out and chase this killer down, along with his kin, until he goes back after their kin.....a rollicking almost humorous entertaining flick with no greater meaning, for me, than showing this penchant for revenge-gun stories in our culture.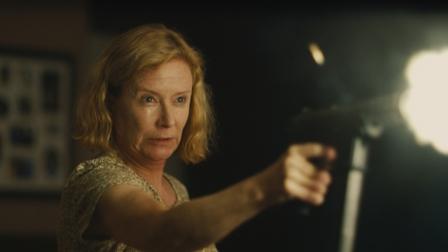 A few of the violent films showed another trend. The tendency to blame parents for the evil in our midst.
One, Blue Caprice, is about a disenfranchised African American who picks up a wayward child in the Caribbean and brings him home to California, to train him to become a sniper. "It doesn't matter who you kill," the man grumbles, angry about his recent divorce. "Just cause chaos." So the boy--who gets the guns from an affable redneck hunter, played with great charm by Tim Blake Nelson---debuts his sniper career by knocking on a door and shooting a girl in the face. He learns, through studious reading of sniper manuals, how to be so disassociated that he will discuss his subsequent splurge of killings only in terms of angles: "the back was at a diagonal."
And why does he do this?
"Father," he says. The only father he has is this man who took him in, hence showing the brainwashing potential of a father on his "children."
The other film that dramatically shows the influence of fathers is the aforementioned cannibal film. The grandson of a settler who encouraged his own family to eat flesh in the style of the Donner Party, Mr. Parker hunts down locals in his Midwestern town and chains them down in a cell, to eventually carve them up and serve them as a "beef bourguignon" to his three blonde children. "Let us pray," the man says, holding hands with his offspring, as the "meat" shimmers brown in the plates before them. "We do this in the name of God."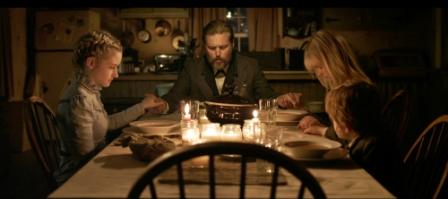 photo by Ryan Samul
Eventually, he encourages his own daughters to follow his path.
It is a brilliantly atmospheric film---with moody rain falling in the woods outside their log home, and girls dressed in stunningly white petticoats---but too cruel to justify the two hours of bloody torture.
"I wanted to show how children are taught something at a young age, and they believe it," commented director Jim Mickle at his press conference. "The question is are they born into something or taught by their environment? Both, I think."
He continued, revealing that more than a critique of the human tendency to do evil, his film is a potshot at religion. "It's a horror film about organized religion, about Mormonism, about how one man can tell a story and today one of our presidential candidates can believe it. How that kind of power can be manipulated. Cannibalism is a version of religion."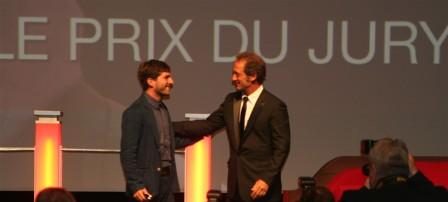 director Sam Fleishner accepting Jury Prize for "Stand Clear of the Closing Doors"
(photo by Christian Bellon)
A few poetic features peeped out in this plethora of violence in this year's competition, showing another trend of American cinema: the focus on the quiet interior life of the sole individual. Sharing the Jury Prize were two such films: the near-silent All is Lost, featuring Robert Redford's existential conflict with his sinking yacht, and the sensitive low-key flick, Stand Clear of the Closing Doors, about an autistic boy lost in his reveries on a subway.
One quiet film hit home: newcomer Matt Creed's Lily, about a young woman in New York who is confused about where she is going, with her art career and her relationship, now that she has successfully battled her cancer.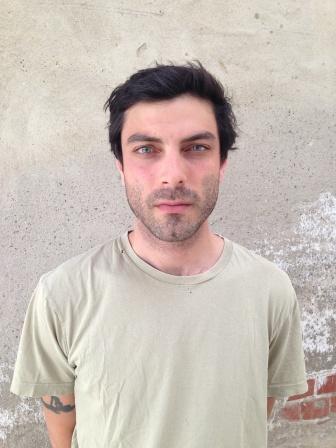 Matt Creed
"I wanted a film about being lost and unsure and vulnerable, and how one navigates through these moments," director Matt Creed told me, over a coffee in the Barriere Casino bar.
He noted that he purposefully made the film low-key, without much explication or obvious conflict. "The most chaotic moments are in the subtle moments, in the quiet before the storm."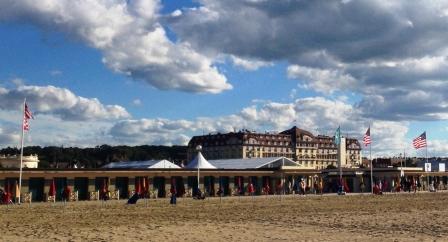 photo of Deauville by Cedya Yagiz