Claudia Cardinale, guest of the Marrakech International Film Festival, regaled us in the sunny gardens of the sumptuous Mamounia Hotel yesterday with stories of her youth in Tunisia and her experiences working with directors such as Fellini and Leone, and actors such as Omar Sharif. She waved a hand studded with silver rings: "Oh I worked with everyone!" she laughed. "John Wayne, Bruce Lancaster, Alain Delon."
What was most heartening: Cardinale is still working with passion in the seventh art, with one film in post-production now and another in the making. In the last few years, she has acted in films such as the controversial movie The String, about a Tunisian woman's relationship with her gay son, and Ali İlhan's Signora Erica , which earned her a Golden Globe award.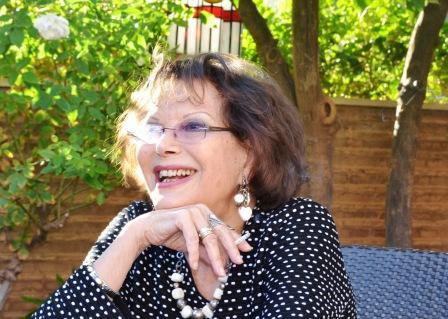 "She is a fresh breath of life!" said a fellow journalist. "One of those people who expands as she gets older. You can tell she has traveled and keeps traveling."
"Oh yes, I have gone to every continent to make films!" Claudia smiled, waving her thin white cigarette, the sun glinting on her pink-tinted glasses. "That's why I speak several languages. Arabic, French, Spanish, Italian. My favorite place? Australia! What sunsets in Australia and how beautiful the desert! They have---" she imitated hopping up and down. "Kangaroos! Little baby kangaroos in their mother's tummy!"
The film she did there? "A film by Alberto Sordi about a prostitute. Yes," she groaned self-mockingly. "Yet another film where I played a prostitute!"
Cardinale was so "well in her skin" (bien dans sa peau), as the French would say, that she exuded charm even when a journalist asked her the typical sexist question asked often of older actresses (but never of older men):
"Would you be able to play a sexy woman in today's film market, and take off your clothes?"
Cardinale's response: she laughed.

A veteran actress, who has acted in over 111 films, Cardinale's most famous role is in Fellini's 8 1/2 in the role of Marcello Mastroianni's muse who helps him through his artistic-spiritual block. "I had to improvise," Cardinale shared. "There was no script! No script! Fellini would ask me something, I would respond, and then Fellini would tell Mastroianni to say the same thing to me. Fellini was so different from Visconti," she exclaimed, her fiery joyfulness belying the fact that she must have shared these anecdotes many times before. "While Fellini was circus, Visconti (with whom I made The Leopard) was theater. Controlled. All these costumes! I had to wear a corset that was so tight, I could not eat, could not go to the bathroom. But I love costumes. Costumes are important. They help you become your part.""
It was in Fellini's 8 ½ (1963) that Claudia Cardinale was first allowed to use her real voice. Before that, the Tunisian woman was always dubbed because of her thick French accent. Although from three generations of Sicilians, she learned Italian late.
The daughter of a railroad worker, Cardinale grew up in Tunis during the war, stories of which are still dear to her heart, as she told us of English soldiers who hugged her and her sister on the beach, missing their own children. She was discovered by a producer when she was 17 years old, having just won a "Miss Italian Beauty" contest-- this shortly after having gone through the trauma of a rape. She was raising the child she bore as her "little brother", and, with passion, she left with her family to Rome to start her new career.
"I was surprised I became such a notable actress," she said. "I thought my sister Blanche would become the actress. She was the beauty, with blonde hair and blue eyes. I was the 'boy' in the family. I felt I was ugly. My real name is 'Claude.' I was always fighting with the boys."
"And yet ironically you are a 'real woman'," said the aforementioned male journalist. "You have a real figure, rather than the boyish thin body of women today."
"Oh yes," Claudia grinned and gestured to her wide hips. "I am not thin."
Cardinale also devotes time to women's causes and gay rights.
And what empassioned Cardinale so about acting?
"The chance to be live many different lives. To be many different people. You only have one life. Acting gives you a chance to have many."
The veteran actress said she, a native north African, enjoyed this chance to be in Marrakech now "away from the Paris cold". She has come, she smiled, many times to Morocco.