Whit Stillman's Metropolitan and The Last Days of Disco were two of the films that opened the Champs Elysées Film Festival this week in Paris, a festival devoted to showcasing independent American films which have not yet gained distribution in France, or an international seller. The audience enthusiastically greeted Stillman who spoke in fluent French about his past films and his new project, an adaptation of a posthumously published novel by Jane Austen that he will call Love and Friendship.
"We are here to welcome you!" cheered a fellow honored guest, veteran film director Bertrand Tavernier, clapping in the audience.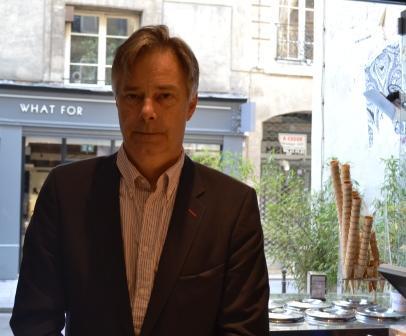 Whit Stillman in the Marais in Paris
Stillman smiled. "I am very appreciative of this festival -- and of Sophie Dulac, its president," he said. "It is because of Sophie Dulac that my film Damsels in Distress received distribution in France in 2012, and that my film Metropolitan is being re-released this summer."
Sophie Dulac is a powerhouse in the cinema world here in France. The director of five of the most important art-house cinema theaters in Paris, she makes it her mission to produce and find venues for new independent cinema -- hence her idea to create this festival on the glamorous Champs Elysées.
"I thought Paris, an international city, needed an international film festival and that it had to be on the Champs Elysées!" Dulac told me after the screening.
But why American cinema?
"Because these independent American film directors do not find an audience in their own country, where the audience prefers blockbusters. Here in France, we have a public for independent arthouse movies. It is strange, but so many American directors come to France to find a producer, and to get distributed."
Now in its third year, the Champs Elysées festival features two divisions: One for nine new American films, another for 6 French avant-premieres. It is designed, Dulac told me, to offer an opportunity for French audiences to see fresh young talent. There are also tributes to already established artists. This year's tributes were to Whit Stillman, Keanu Reeves, Mike Figgis and Agnes Varda.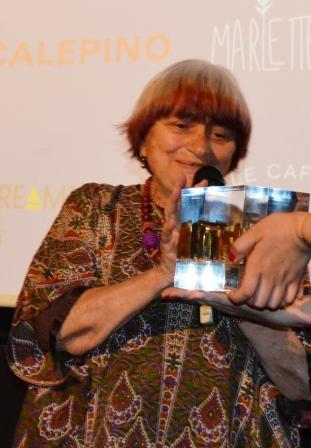 Agnes Varda
Agnes Varda, omnipresent throughout the festival, presented the films she made in the United States in the 1960s and '70s. In her Mur Murs, for example, the director explores the graffiti art in Los Angeles, interviewing the various artists who make it their purpose to make art for the people and by the people: local talents such as Carlos Almarez, Charles Felix and Juan Perez. It is uncanny to step from the Champs Elysées onto the sunny promenade of Venice Beach in the 1970s, with roller-skaters scooting by vibrantly painted walls. We follow Varda's compassionate gaze on this sub-American culture, as the camera pans up and down huge murals painted in parking lots, above liquor stores, over a bridal store. One huge mural reproduces a forest in the middle of a traffic jam because, as the artist states with enthusiasm: "We in Los Angeles need beauty!"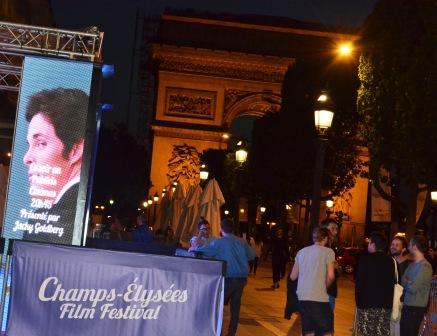 The independent American films were also a rare treat, such as Tommy Oliver's 1982, a film about how crack addiction wrecks havoc on an African-American family. While some of the scenes--especially those between between drug dealer and dismayed father--were hackneyed and predictable, the film is refreshingly sincere in its depiction of a tormented family and dares to make the audience feel highs and lows. The intensely emotional acting -- of mother, father and daughter--is superb, especially in the scene where the drug addicted mother turns into an animal, beating at the front door. The closing shot -- of two hands touching through glass -- is masterful.
Other noteworthy American films include Drew Tobia's See You Next Tuesday and Joe Brewster/Michele Stephenson's American Promise.
The Champs Elysées theaters were packed this weekend, with French audiences curious to explore the underground cinema of this country across the ocean. Curious: Would the same be true of a festival featuring young French talent in the U.S.?