"Is Turkey really such a sad country?" I asked a young actor with wavy hair, who kneeled next to me with his dangerously tilted wine glass at a feast sponsored by the Istanbul International Film Festival.
What happened to "happiness is being a Turk"?
"Yes we are sad!" the young actor grinned, with an impish gleam in his eye. "Of course we are; we are neither East nor West. Our economy is down. Unemployment is high." He shrugged his shoulders boyishly. "Yes we are very very sad. It's the truth. Have you read our history? So many invasions!"
I had asked him this question because two stunning new Turkish films both evoke an air of no-exit frustration, as if the Bosphorus Strait went out to no sea.
One, Reha Erdem's My Only Sunshine , premiered -- to thunderous applause -- at the Berlinale this February. It begins with a poetic and ominous shot of a small girl's back, outlined against the Bosphorus in the darkness of an early morning, while dogs bark and fog horns blow. The film follows this girl back to her home -- a shack on a river -- where she lives with her pimp father and, across the room, her coughing grandfather, who alternately breathes into an oxygen mask and smokes filterless cigarettes.
The film becomes this girl's story -- or non-story -- as she daily takes a motorboat to school, where she is teased and bullied, and then boats back home, where she is ignored. The highlight: she unwraps her precious Kit Kats, hidden under her bed, concealing the chocolate from her sputtering grandfather.
The girl never speaks -- but every so often hums inchoate syllables to herself, as if nursing her own pain.
A tribute to the universal pains of childhood? Or a critique of contemporary Istanbul?
Whichever: the film is powerful. It is a story told through sounds -- the birds twittering, the dogs barking, the mother's slap ("You are a woman now." she says, when the girl shows blood.) The boat engine roaring while the pimp father unloads his prostitutes at a docked ship. And the most ominous sound of all: the girl's only friend, a stuffed red doll who sings out "You are my sunshine, my only sunshine", a song that turns into a macabre giggle and then the high-pitched croon: "I loovve you!"
The film though concludes brightly: the girl's face open and smiling -- a shock of light -- before a wide open sea.
It is a surprising -- and breathtaking -- ending.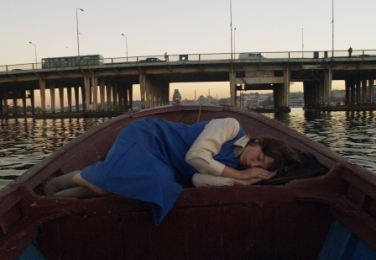 -------------
Another highly acclaimed new Turkish film is Yesim Ustaoglu's Pandora's Box, which won first prize at the San Sebastian Film Festival this year, and is playing at Tribeca this weekend. The film begins in a traffic jam (another claustrophobic image) as a woman learns, from a phone call from her sister, that their elderly mother has gone missing in the mountains. The film quickly becomes the story of three adult children -- two sisters and a younger brother -- squabbling amongst themselves as they discover that their mother has Alzheimer's, a family crisis that opens the Pandora's Box to their own problems.
While one publicist I met could not watch this film, too upset, she said, by her own experience with a parent with Alzheimer's, it seems the grandmother's illness is more of a metaphor in the film. Like the grandmother, the characters have memory problems. They have "forgotten" how to live: what it means to be a mother, sister, community member, human. One sister no longer makes love with her husband; another has empty, useless relationships with married men. The brother hangs out on his couch and smokes pot.
The dialogues are stunning -- and sharp. One sister confronts her nonagenarian mother on a couch: "You are as empty as glass," she says. "You never loved me."
The mother -- played by award-winning French actress Tsilla Chelton -- nods gaily.
"And what is worse, I am just like you," the daughter adds. "I am empty as well. I feel nothing."
"Open up," the mother says. "Don't be like me."
The director -- a very pretty, sensitive woman with a delicate smile -- told me she wanted this film to open up viewers to critiquing the falseness of their lives. "Most people in the middle class do not reflect," she said. "They get so consumed by empty chat that they don't know who they are."
Was this about Turkey or a universal message?
Both, the woman explained, as we sat in her sunny quiet office off Istiklal Street, near the bustling Taksim square.
Pandora's Box will be playing at the Tribeca Film Festival April 24-27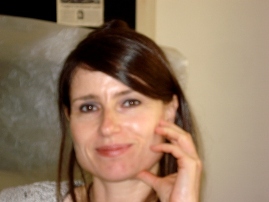 Interview with Yesim Ustaoglu
What is your film about?
It is a mirror of Turkish society: our disconnections. The film is critical of the middle class living in their castles--removed from the life of the street, as represented by the grandson Murat. Yes, the grandson is my hero in the film, the one who can take care of his grandmother, bring her back to the mountain, who is -- in his derelict way -- a fugitive from the middle class standard, trying to find meaning.
We have to fight to keep our inner meaning. Established lives--having many things--is a way of getting dirty. Whenever we try to dominate things, we make it dirty. You don't need many things, but you do need purity. The children are losing their memory of who they really are.
Are the mountains where the grandmother lives -- and returns to -- special to you?
The mountain is me, myself. It is where I come from. Whenever I leave Istanbul and go to the mountains, I realize I don't need anything. We in the city are so dependent on our wires -- internet, chat -- our fake relations. In leading this fake life, I realize I lose so much. The grandmother[who returns to the mountains] is my own voice.
Why are so many of the Turkish films at this festival showing Turkey as a sad country? It is surprising to me given how friendly, smiling and cheerful Turkish people are, brimming with warmth and hospitality..
But we are a very sad country. Turkey is a young country, full of struggles. There is no real justice: not the same rights, education, health-care for everyone. Too much unemployment. We are also dictated to by the government--treated like teenagers. Another problem is that we are trying to create one idea of Turkey. This country has lots of cultures, thousands of years of spiritual traditions -- Sufism etc -- and yet we try to ignore all these complex spiritualities and establish one homogenous reality, one box, one Turkey. We have to learn how to be tolerant of each other's realities. It is selfish not to be tolerant with people different from yourself. This is what I am trying to show in my film as well, how even siblings in the same family are not tolerant of each other.