"Always protect that spark of energy that drives you," Martin Scorsese announced with sober calmness, addressing a packed audience of film students at the ESAV cinema school in Marrakech, where he generously responded to questions from students for forty minutes, the last day of the Marrakech film festival. Scorsese offered this unusual opportunity to students as he had been at the prestigious school's inauguration in 2007. "He is our Godfather," the film school director told me with a chuckle.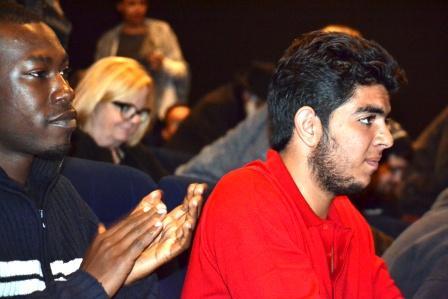 Throughout the Q and A, Scorsese shared his feelings about the constraints and difficulties of the industry, and his own shifting relationship to filmmaking. He also shared that behind the making of some of his films lay a spiritual quest:
The interest in spirituality, the drive towards it, this obsession has always been with me. I wanted to be a priest. It did not work. My desire to make Temptation had to do with the desire to explore the mystery of faith. But after the making of the film, the mystery only deepened, as I realized I was just on the surface, which led to the making of Kundun, and a film I made on George Harrison... and the film I hope to make next called Silence. I am obsessed with the search for a spiritual core in life.
He went on to warn students that being a filmmaker was "physically" and "financially" difficult.
Making a film, he noted, was like being in a "training camp":
It is just physically difficult to make a film, and then it becomes emotionally difficult. You have to keep exercising and be very strong to maintain the desire, because everything is set to lose the desire. You just have to protect that spark. This is not the cliché of follow your dream. It is hard work.
He waved his hand and gestured:
Here's a story about Kubrick. Kubrick's last film was Eyes Wide Shut. Producer Jan Harlan said Stanley had the director's disease. Jan showed him the film schedule: 90 days of shooting. And Stanley said: I can do it in 70. But it took a year. At that point there is no way out! That's the way it is for a film director. You can't help but think you can do it, and once you are in it, you stick with it.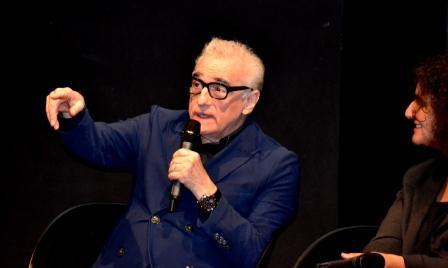 Asked to reflect on the two phases of his career ("what could be loosely termed the De Niro era and the DiCaprio era"), Scorsese chose to speak about his relationship with the two actors, rather than his films, emphasizing the "trust" he has with both actors. With tenderness in his voice, he expressed a deep lifelong bond with De Niro, and respect for DiCaprio.
"I met DeNiro in 1959 or 1960. He was in the neighborhood. He is the only one alive working in cinema who knows who I am and where I come from. He will just look at me, and we know," Scorsese paused--and smiled. "Now we are much older and it is the same."
He continued with appreciation:
We were able to work together on a series of films in which we mined some very deep emotions and psychological issues. It wasn't always very pleasant. It was all based on trust. We dealt with what we knew, the same characters, risks. It was not an issue of De Niro saying 'we must do Richard the Third next.' He knew this was not what we do. We have our place. We are here. This is what we know. We would just gravitate towards these stories. We were barbarian in that sense.

As for DiCaprio, I am thirty years older than he is. De Niro presented him to me. Leo liked the movies we made in the past; he has the same sensibility, the same interests, great courage; he is not afraid to go certain places, deal with major psychological issues. There is a stigma [unjustified] that he got with Titanic. He regenerated my enthusiasm for making films, mainly because as you get older, it gets physically difficult, and there are the financial issues too. You are responsible for a lot of money, if you get it. His excitement really kept me going.
As for Scorsese's relationship to filmmaking now: the director shared that the industry has changed since he has made such experimental films as Taxi Driver--and he has changed as well:
Today the situation is very different. The studios in Hollywood produce forms that are different from what I want to do. I have a desire to make many films. Since I am now 71, there are only a couple more left, if I get to make them. I miss the time when I had the desire to experiment with different forms. That period is done; I have done it. There is obligation as you get older. I have a family. I have been very lucky in the last ten years to find subject matters, like Aviator....[which allow me] as best I can to fulfill the responsibility for my family and films.
Scorsese admitted openly that working with the industry has had its pitfalls, even for him, a veteran auteur.
"In the past few years, I have been trapped in a couple of films, where I agreed at first, but I found that the circumstances, whether financial or executive or physical, were difficult and I tried to get out, and I couldn't, and I had to make the movie. Then I really had to find a way to find something special."
"This--" he nodded soberly. "Has happened a couple times in the past ten years."