A speedy film, as lively as director Mathieu Amalric himself, The Blue Room tells the story of an adulterous couple and their possible involvement in a murder (or two). Based on a Georges Simenon novel, the film takes place in a small French town, in a family-run pharmacy, the local police station, a two-star hotel, and the icily modern home of the adulterous man (played by Amalric) in the periphery. The film dashes between these locales, recreating the nervous energy of the guilt-ridden husband who seems tormented, even before any murder happens.
First scene: a drop of blood falls on a sheet--an ominous hint of the violence to come--and then we hear the banal words of the two lovers in bed. "Would you be able to live with me all your life?" the femme fatale (played in majestic style by Amalric's wife Stéphanie Cleau) murmurs coolly. "Wouldn't you be a bit scared?" These lines are repeated over and over throughout the film, in flashbacks, and become the mysterious refrain: what did this eerily cold woman mean? How evil is this femme fatale?
Alternatively, how evil is the husband? Much in the style of Bogart's rages in In a Lonely Place, Amalric's character bursts into unexpected violence, from time to time, making us question how far he will go.
The Blue Room holds the tension well throughout. Faithful to the style of a Simenon text, where evil lurks in the quotidian, the mystery revolves around letters, Christmas decorations and a jar of marmalade. And Amalric is a great actor to watch, with his energetic emotionality (he even cries), and a few shots of him taking off his shirt to reveal a nice chest.
And yet the one critique is that the genre piece does not offer the spectator anything new, as it plays this familiar theme of all-consuming passion versus anodyne faithfulness: i.e. a close-up of luscious wide-open female genitalia contrasts with a family shot with a local fisherman holding a big fish. We are left curious whether there could have been more to say about that ineffable (and too rare) feeling of being caught in one's own passionate madness.
I turned to Amalric to discuss.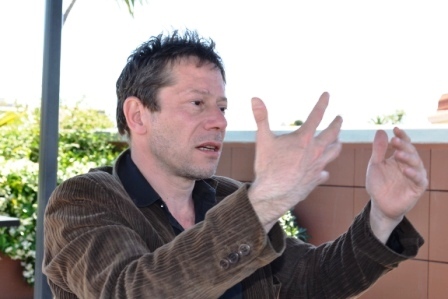 Carrying a tattered blue copy of the Simenon novel and smoking a cigarette, he sprinted up the stairs to the Silencio terrace here in Cannes and began speaking at once:
"We all have had these moments where you don't belong to yourself anymore, and you are out of time, and it is just sexuality that is everything..." He gestured animatedly. "Now is it miraculous or is it a disaster, when two bodies bond?"
He seemed to vote for "miraculous": "Remember that scene in which the prosecutor asks the accused husband what happened with his affair? The husband has been arrested and is asked to analyze everything of his past intimacy. But he can't put words on this!"
As for whether Amalric had his own particular take on the Simenon novel, he emphatically said: "NO! I am faithful to the text. The only change I made is to switch the period from 1963 to the present."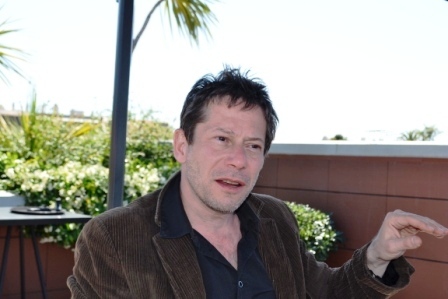 "Nothing else changed?" I said. "Did Simenon also have a hyper-modern house in the periphery for the family?
"Yes he did! Not only did Simenon have a modern house in the novel, he had just bought a modern house himself, for his wife and child, when he wrote The Blue Room. In the novel, the house can be seen as a prison, where the husband places his wife and child, to show off what he has achieved. The new house is too big; it has no soul. In fact, in Simenon's life, after he bought his modern house for his family, his wife Denise divorced him."
As for the genesis of the movie: Amalric had been working, for two years, on adapting another work of passion---Stendhal's Rouge et le Noi--when Paulo, his producer, told him it was "time to make another film, quickly!'"
"I made this film in five weeks," he noted.
As for choosing this particular Simenon tale to film, Amalric explained that what he especially liked, as a film director, was its temporal structure, unusual for Simenon: the fact that story is told in "two times": present and past, continually.
His eyes beamed with excitement: "For a director, that is exciting, to go back and forth. I felt it would be a lot of fun. I wanted to make a police film with thriller music, love, sensuality!"
His wife, a dramaturge, created the script and collaborated with Amalric. Throughout, he envisioned her in the lead role, along with him. The two (a guess) play their own passion.
"Passion between two people, everyone knows, is a game of hot and cold."
He confessed, with excitement, that he still, after ten years of marriage, found his wife "illisible": "an unreadable woman."