"Every nightclub must have a story," enthused globe-trotter nightclub entrepreneur Cyril Peret as he leads me around his new club, Titty Twister, off the Champs Elysées in Paris. The energy of this man dazzles as he grins and guides me through this sunken nightclub, filled with black retro Chesterfield couches, to give it a "comfortable look."

"I wanted something New York," he gestured to the pool room smoking area where two end tables were draped with the American flag. "A place where people could come after dinner and feel cool, relaxed, ready to socialize. Not one of these typical Paris places, where you feel controlled. In Paris, we have cafes, discotheques, and bars. Discotheques are not cozy; bars are not dance places. I wanted a combination of all."
Everywhere one looks, there is a comfortable antique couch, and cozy nooks with tables for your "bottles", and endtables with sliding panels for ladies to put their coats.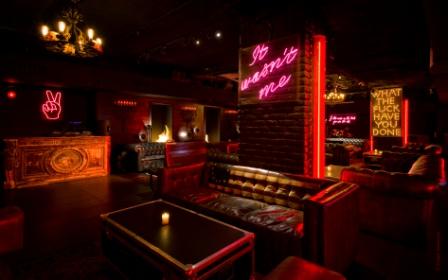 The retro look predominates: an old PacMan game, a pinball table, even a subway turnstyle from New York. At the other end of the club: a vaulting horse for gymnasts, reminiscent of my middle school gym class years; the floorboard of a trolley car, now a table; neon slogans and elk antlers on the walls. And right in the center, the coup de grace of Titty Twister: an eighteenth century sideboard, painted with a faded fresco of a bucolic scene, now the DJ's booth.
"I spent a weekend in Belgium at the flea market and picked most of these up," Cyril gestured with animation, as cool and retro as his own club, dressed in a purposefully ripped denim shirt, spiffy leather shoes, and a v neck t-shirt, open to the chest -- and a particularly stunning huge black sparkling ring.
"When I first walked in," he now imitated running down the stairs that descend to this underground club, "I knew how I wanted to design it. Make it warm. Welcoming."
He gestured to the Venetian mirrors that lined the pool room. "These," he exclaimed with joy. "Came from the Belgium flea market too." So did the Persian throw rugs on the floor, and the huge buffalo head planted in the wall.
"I thought buffalo were just about extinct," I said.
"This one is," quipped Cyril.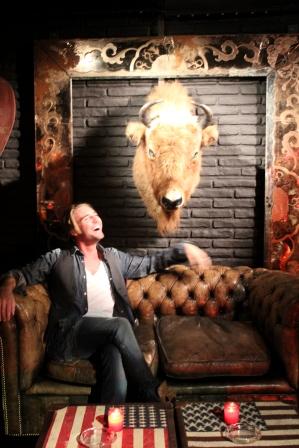 Cyril is right, this club has a warm intimate look. I particularly liked the fake wood wallpaper that made the pool room look like a chalet. Not one for clubs myself, this was one even I would feel comfortable in, sinking into the couch, under the low light of antique sconces and candle-flames.
But most of the people who come -- the hip 20-40 crowd of Paris -- will not be sitting, but dancing.
"Some dance on the the tables! And on the bar," Cyril said pointing at the ceiling over the bar, where the heads of wild dancers had damaged the polyurethane.
After work, dancers from the Folie Bergeres come. So do models, fashion people, "gays, the rich, the poor, a mix!" -- and this week Quentin Tarantino.
The bar is named after the nightclub in Tarantino's film From Dusk Till Dawn: "you know, a warm oasis in the desert," chatted Cyril. The bathrooms have scenes from Pulp Fiction and Reservoir Dogs piped in to the toilets, so you think something violent -- or sexy -- is just about to happen.
It's a risky venture, this club that just opened, with high overhead, in the choicest area of night-hopping moneyed Paris. As the bartender -- his hair twisted in three spikes -- kindly fixed me a Titty Twister cocktail (a spicy cucumber and jalapeno margarita, inspired, Cyril tells me, from a "Diablo" he had drunk in the Pulquaria, the happening Mexican restaurant in New York's Chinatown), Cyril told me how important it was to have had the club open on September 29th at the end of Fashion week.
Even though he (once a jockey) had just fallen off a horse and was diagnosed with the possibility of paralysis, he made sure that the club opened as scheduled. He arrived with a new iron vertebrae.
The inspiration for Titty Twister: New York. The kind of cool down-to-earth shabby chic clubs one finds all over the city, such as the Rose Bar of the Grammercy Park Hotel, Cyril noted. Another inspiration was The Box, another American trendy club (a converted factory) in Nolita, that I, of course, had never heard of.
In fact, there was something positively American about Cyril himself, and not just his flawless accent and charismatic lively energy.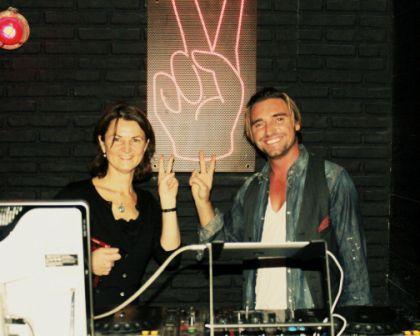 "I ran a club for seven years in Miami," he noted, referring to his beginnings in the business. Then he expanded an international career, with his private business Don't Tell My Booker, throwing events and parties for celebrities around the world, including Tarantino.
His own apartment, he confided, has an international flavor: decorated with Balinese furniture. "Oh I organized a lot of parties in Bali," he quipped. "If you have to make a party, I say, why not do it in Paradise!"
Cyril is a self-made man, without the typical "designer" training in the visual arts, an entrepreneur who went from nightclubs to being asked to design the "story" of the chic Matignon restaurant down the road. He previously also ran some of the elite Costes outfits in the city.
Titty Twister is his first baby on his own, one that hopefully -- Cyril enthused -- will soon be delivered to New York, back to where it came from.
The crowds began to come just as I was leaving -- no one dancing on the tables yet, but many furs, high heels, slicked back hair: a dance of "checking out", with young men and women sidling up to each other, in their best clothes, from the tightest hottest slinkiest top to an outfit of little more than tattoos and heels.
It promises to be even more crowded, on January 6, when Tarantino arrives, for the first time, to his name-sake bar, for a party in his honor.