Angelika gaily stepped out to meet me at the entrance to her orphanage, lithesome in a simple white shirt and blue skirt, her long blonde hair bobbing behind her. "Welcome!" she said, with a light laugh, as she led me into the hall where a few of the boys studied their schoolbooks.
The first impression of this "Children's Home," situated on the southern coast of Sri Lanka, near the town of Tangalle, is cheerfulness and light. Each of the 16 boys who live in this center shares an airy clean room, with bunk beds, stuffed animals, drawings, books and decorations on the wall. One boy had three posters of kittens on the wall, although he said he did not like cats, only posters of cats.
How did Angelika Riedlinger, a German nurse from Kaiserslautern, come to start an orphanage by a lagoon in Sri Lanka?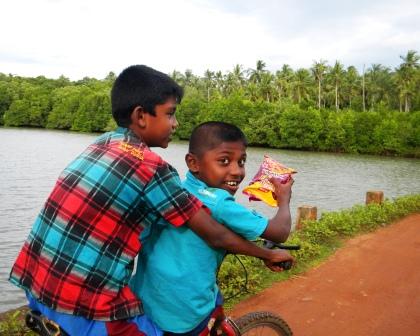 "After nursing school, I worked in Nepal for a year, in a hospital. It was there I saw all the poor children. So many. And then I spent another year working for a clinic in India, near Goa. A couple years later, during the Tsumani. I came to work with relief efforts in Sri Lanka: helping with hygiene, teaching people in villages how to use the limited water, how to avoid cholera. After all these experiences, it became obvious to me that this is the direction I would go."
The children are not all "orphans" in the strict sense of the word. Some of the children have a parent, but the parent is too poor to take care of them, such as one woman who had nine children, and gave all of them away to children's homes. Others come from abusive families, and welcome the chance to have a new "family" -- and the chance to go to school.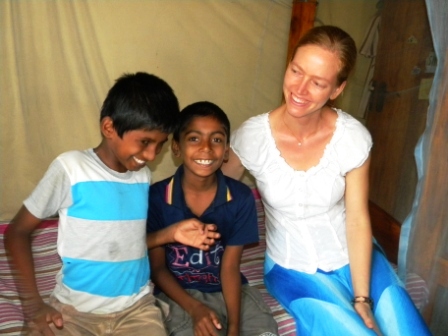 "Are they happy?" I asked.
Angelika gave her gay laugh. "I think so!" she said.
We visited each of the rooms. Some boys were doing their math homework, others curled in a siesta.
"I have room for more boys," Angelika said, pointing at the empty bunk beds. "But we are waiting for the State to allocate the children. Each child must go through an official procedure before a home is chosen for him. We just started 18 months ago; so it is just beginning. Eventually it will be full."
I imagined this home was a notch up from the typical Sri Lankan orphanage. Here, the house has running water, spacious rooms, a full kitchen and ample food, including chicken and dried fish. Outside, there is a chicken roost, a vegetable garden and -- Angelika pointed out -- an outdoor kitchen that was in the process of being built.
The children also have a live-in Sri Lankan home "father," home "mother," home "aunt" and home "uncle." I watched as the home father led a group of boys in doing their after-school homework, all sitting seriously before their exercise books, as he helped them with their answers.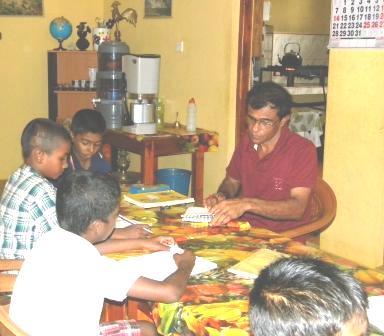 What challenges are there for a foreigner to start an orphange in Sri Lanka?
"I am lucky," Angelika smiled, "to have a Sri Lankan husband. This way I could build the house and not fear being taken advantage of, or asked to give bribes. But the rest was fairly simple: there is a government procedure to receive the child."
One challenge, of course, was funding, especially when she began the project with nothing. Half of the land was donated to her by her husband's family; she herself raised the 150,000 euros necessary to build the house by asking colleagues in the German hospital where she used to work, as well as individuals in her home town. "The less wealthy people, interestingly enough, gave more than the rich, or the corporations."
She pointed to a large swath of land: "This I hope will be the girls' house!" In Sri Lanka, boys cannot live with girls in a children's home. Once she has funding, she plans to launch this next project. "Step by step!" she said gaily.
Angelika seemed very happy with her realized project.
But how long would she commit to devoting herself to helping children in a small village in a foreign country?
She laughed. "Forever. This is my life's work!"