Set on taking a break from the film industry in Paris, I flew off to a secluded area at the southern tip of Barbados. I discovered within a few minutes of my arrival that my hotel owner was a film director and, before I put my bags down, I'd been invited me to a Caribbean film festival.
Hotelier Mahmood Patel, a fifth generation Indian-Barbadian, is the former director of a Trans-Caribbean festival. His own films treated Caribbean topics, documenting, for instance, the history of the island's stone houses of the island, which were built by former slaves two hundred years ago.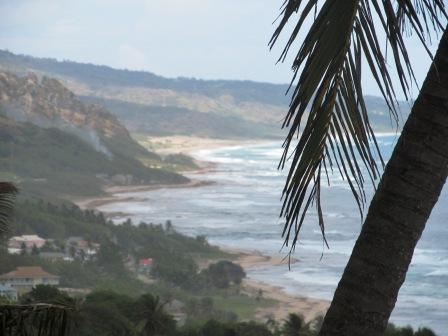 That evening, after a dinner of broiled mahi mahi marinated in spicy "Bajan" seasoning, I hopped into Mahmood's "mini moke" -- a car with no doors or windows -- and zipped along the coastal road towards Bridgetown. We roared past Oistins, where locals lounged outside in open-air bars and cafes, and arrived at George Washington's House.
Washington happened to have come to the Barbados for a couple months, to help his brother recover from Tuberculosis and the CaribbeanTales 2012 festival was taking place on the open air lawn in front of his house, on a screen under the stars.
The films that evening included "Ghett'a Life," a lively Jamaican story of an amateur boxer tormented by a gang, another Jamaican flick about violent gangs splattering each other with sawed-off rifles and a French Guianan story about evil gold-hunters in the Amazon. The third offered spectacular aerial views of the trees, though the father-son plot verged on sappy. My favorite film was a short entitled "Red, Amber, Green" about three Jamaican window-washers at the crossroads whose joie-de-vivre was infectious: "The rich have swimming pools. We have rivers. They have people guarding them; we have friends."

What was cool about this home-grown festival was that everyone seemed to know each other. "Hey darling" and "Hi buddy" were the most common greetings and frequently accompanied by a special system of handshakes. I relished the easy-going Caribbean accented English. "It's all good," was a refrain.

But the reason I had come to Barbados was to surf.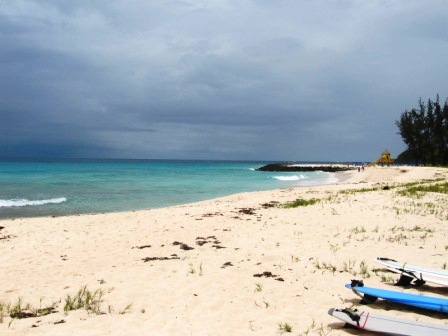 The beaches are what one expects for a Caribbean isle: turquoise blue, even on the Atlantic side, with breaks for beginners and advanced surfers alike, surrounded by almond trees, white sand and something called "sea fans", wiry plants that are used as décor. My teacher for the week, "Dread or Dead" Surf Owner Russell Garrett, of British descent, had a jolly caring approach to his craft, with a constant relaxed smile and surfer blonde hair wild to his shoulders.
"No longer need to be macho about surfing," he said easily. "That's for the younger generation now."
His assistant, a budding tattoo artist, quipped that he himself had Black, Indian and British blood -- like many on the island. In our group, a couple of American newlyweds and a family disembarked from a cruise ship. I caught many waves, focusing my gaze on the palm trees.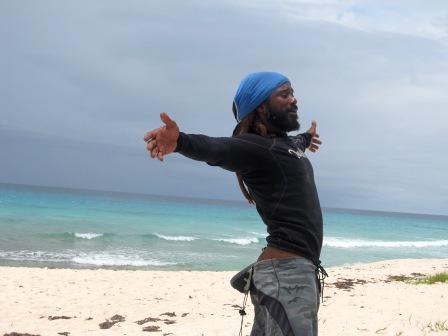 The next day, I had a lesson with Russell's partner: the Rastafarian Matthew. He lay on his board next to me, wearing a blue turban over his dreadlocks, grinning as I flopped off a wave. "It's all good," he said easily. "As long as you are smiling." He hummed a Bob Marley tune as I got back up.

"Just remember," he added, sharing a bit of his philosophy. "Don't think about what you are doing: just look at those trees. Let your body do the thinking."

My body seemed to fly over the waves.

After surf, en route to "Ocean Spray", I stopped back at Oistins, the happening town, where I ordered an "hors d'oeuvre" of a grilled conch shell. By grilled, I mean that five Rastafarians were camped on the side of the bay, with a blazing grill, and dozens of pink conch laid out on a plank that one of them had dived for that morning. The diving continued: after my own conch was grilled, a young man first cleaned it with his hands, tearing off the whitish pulp, and then he clambered down the rocks, his pants slipping off his behind, and dove into the ocean to rinse it off for me.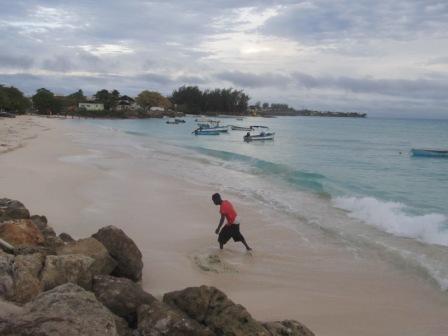 I followed the hors d'oeuvre of the gummy conch with a meal of flying fish (with Bagian seasoning) at one of the stands. A group of elderly guys were playing cards next to me, with bellyfuls of laughter.

What else is there to do in the Barbados?

Turtles. Russell had given me a tip about how to see the turtles without paying for a catamaran excursion. "You just wait for the ships to come in and when you see all those tourists dive in, you dive in next to them and snorkel. What are they going to say?"

But I was a bit suspicious about the reason there were so many turtles to begin with. The boat owners fed them.

"It's not right," I said.

"What do you mean it's not right?" Russell said in his easy Barbadian drawl. "Why on earth would the turtles want to come close to us? We don't speak the same language. We don't have anything to say to each other. If a turtle is going to come, it is because of one reason only: food. Just like with the terrorists. They don't have any reason to speak to us, unless we give them arms. It's all good.'
I swam in the clear blue sea with a turtle as big as I was, with yellow checkered fins, slow and languorous, until the turtle feeder tapped me on the back, reprimanding me for my fallen bikini straps.
"The turtle does not care," I said.
"Yes, he does!" the turtle-feeder said, knowing more about green turtles than I do.
I dove off with translucent-purple Barber fish, a school of them.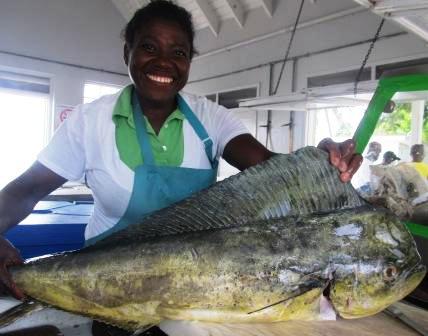 Then back home to the Ocean Spray apartments, with everyone on the local bus--from the Indian Guyanese housekeeper off from her day of work to the two sisters with bags of fresh fish--advising the driver on where to let me off. The Guyanese housekeeper, with her dusty grey hair, and upright back, and gentle smile, seemed an aristocrat, as she sat there, with her melodious voice and asked me how my vacation had gone. She herself had lived in New York a dozen years, taking care of an old lady, while raising her daughter as a single Mom. "Oh they were so kind," she said, speaking of the Jewish sons of the now deceased woman. "So very kind! Allan is. He took care of my daughter. He has come twice to visit us." She nodded. "Yes God has been good to me. So good."
The southern tip was, I found, the ideal place to stay to discover this island (from the rugged Bathsheba surf to "Buffy's", the local grocery store with six fresh bananas) and to avoid the glitzy bar scene on the Caribbean coast. A rural area, where one hears just the waves, the birds, and the wind in the grasses, it really does provide a break--and even a chance to see some films.