Watching a Dardenne film always reminds of the anxiety and trepidation I felt before getting a tenured job. Their new film Two Days, One Night, which premiered this week at Cannes, did the same. The lead character, Sandra, played by a Marion Cotillard with slumped shoulders and a fragile look, is introduced back to the audience, bra strap showing through a thin blue T-shirt, about to go through a nervous breakdown because she is threatened with losing her job as a factory worker.
The intriguing (and somewhat contrived) premise of the film: Her foreman at the factory had her 16 co-workers vote on whether she keeps her job, or whether they get a bonus. In other words, a classic social political dilemma: Does self-interest dominate over altruistic concern? The result of the vote: Sandra is to be fired.
But Sandra pleas for a new vote to take place, citing the unfairness of the open ballot. The new vote will be on Monday.
The structure of this film is less wild and erratic than the typical Dardenne roller coaster film, which usually zigzags frenetically, with unexpected detours (such as in The Kid With a Bike or The Silence of Lorna). For the structure of Two Days, One Night is foretold in the premise: encouraged by her ever-supportive husband, the unconfident Sandra embarks on the daunting feat to convince her co-workers, one by one, over the course of two days, to reconsider their decision. What they have to lose is their 1,000 euro bonus. What Sandra risks losing: her job, welfare and perhaps even her sanity. Prone to depression, the prospect of moping at home on the dole will surely -- her husband worries -- send her over the edge. A bottle of Xanax is always nearby.
Unfortunately, the rigid 12 Angry Men plot structure gets a bit tedious: We count down one by one how many people Sandra has left to call, visit, cajole. Sixteen is an awful lot of visits. Marion Cotillard's vulnerable look begins to seem somewhat static.
Nonetheless, this new film is as compelling as the Dardenne's previous masterpieces, above all because it appeals to the intelligence of the spectator. The conversations are interesting in the nuanced way each replays the different arguments that most people would give to justify self-interest. One co-worker needs the thousand euro bonus to "redo the patio." Another fears losing his own job. The visits are also sociologically revealing as we enter into the homes of the working class and feel, with few words, what it is these people are living for and fearful about: their children, the new refrigerator, their marital status, the electricity bill. These factory workers are in no better condition than Sandra. It is not a matter of a fight between victim and oppressor. The Dardenne portray the characters as equally human, no matter what their "vote."
And the pay-off of this film is extraordinary. The ending is a surprise, and brings tears to the eyes. For underlying the rigid structure of this film is a more subtle process. As in all of the Dardenne films, the film is an education in civic virtues. Each character, faced with the "Lady or the Tiger" dilemma, is forced to rethink his or her actions and sense of solidarity. Including our protagonist.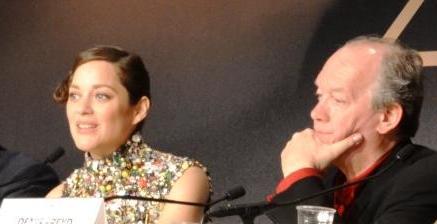 At the press conference, the Dardenne brothers commented that they do not think that "solidarity" is a natural value. It must be learned, said Luc.
The economic crisis is not favorable to solidarity. Solidarity is something one has to create. It is not a given. In the 1960s, in my region [of Belgium], there were strikes and movements. The man who wanted to go on strike would think 'first I have to talk to my wife.' It is not self-evident to have solidarity with others. Solidarity necessitates a moral act, a decision. When there is a secret ballot, it is even more difficult. The film shows how a woman like Sandra, who is not a political woman, decides to go and meet people, and how there are people who change their mind when they see her, touched by her.
That the two brothers are convinced that learning how to think of the other is vital to human development is what makes Two Days, One Night so moving. One feels the passionate sincerity of the directors to lead humanity in this direction.
It turns out that their film is effective in that direction. At the press conference, journalists who normally bustle for a good spot graciously offered their seat to others. And when I dropped my camera lens, someone made sure to lean down and pick it up, giving it to me with a smile.
After a film like the Dardenne's, one would be ashamed to do less.