Now in its sixth year, the Beaune International Thriller Festival brings together over 40 thrillers from all over the world, to screen in packed cinemas here in the wine capital of Burgundy.
I asked festival director Bruno Barde why it is that thrillers interested him.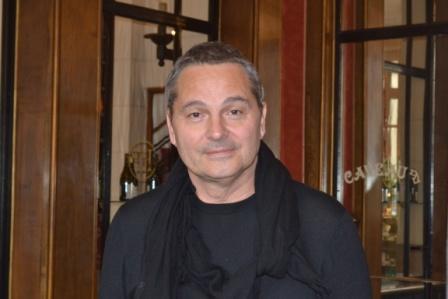 Barde responded with gusto:
"In the thriller, there is always an investigation, and life is an investigation. Life is a thriller! That's why we love thrillers. The thriller also gives a boost to film industries in a slump. A country's film industry will get new energy from genre films. Look at what Amat Escalante's Heli has done for Mexican cinema. Or look at the fantastic genre in Spain. Sure it has Almodovar, but it is the fantastic film that has given the Spanish film industry new life in the last fifteen years."
He continued with passion for the thriller genre:
"The most popular TV series in France and the United States are thrillers. Some of the greatest films are thrillers: like Martin Scorsese's Taxi Driver. And these thrillers are more than just entertainment. They tell us something about the country. The way of life in China, in Korea."
I noted that many thrillers, for me, seemed unduly violent.
"Because the world is violent! Not for you and me, because we are protected. But the world is a violent place. For example, there is a lot of violence in Asian films. Because there is violence in their midst. Look at what the Korean film here in Competition, The Stone, is telling us about the Korean mafia."
He continued:
"Asian films are also violent in part because Asians have a different relationship with the body. None of the Christian guilt we have here in France. Yes, they have modesty and restraint, but no guilty self-consciousness. Hence such violence when it explodes."
A new question: why was there a conspicuous lack of women directors (zero) featured here at the festival? Did women not make thrillers?
"Women make few films in general, and very rarely do they make genre films. I can only think of Jane Campion, who recently made a wonderful series for Arte television, and of course the American Kathryn Bigelow."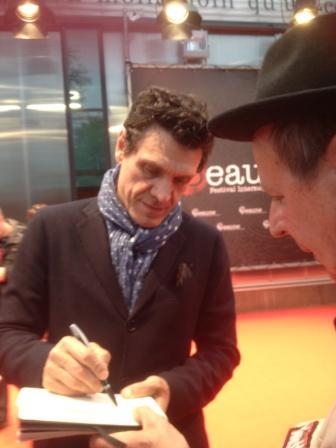 Singer/Actor Marc Lavoine signing autographs at the Beaune International Thriller Festival
* * *
This enthusiasm for the (clearly masculine-dominated) thriller genre was great to hear, right before I hit the theaters this weekend. I especially appreciated Barde's animated endorsement of Gareth Evans' film Raid 2, which had its European premiere here at Beaune.
Raid 2 turned out to be my absolute favorite in the festival, for its masterful cinematography: dramatic sound-image shifts from scene to scene. We go from a silent wintry-white alley in drifting snow to a red-velvet karaoke bar, with stiff black tables and a woman crooning Somewhere Over the Rainbow. We hear rain dripping in a metal bucket in a prison courtyard, and then see a haggard prisoner cross the yard in slow motion. The courtyard soon becomes full of slippery men in gooey brownish mud, flipping over and slitting each other in one great martial arts battle. At the end of the film, we have an enormous sparse kitchen, shining in onyx, with just a touch of green (salad) in one sink, and red tomatoes on a platter -- which will soon match the blood that begins to flow. The chromatic contrasts are breathtaking.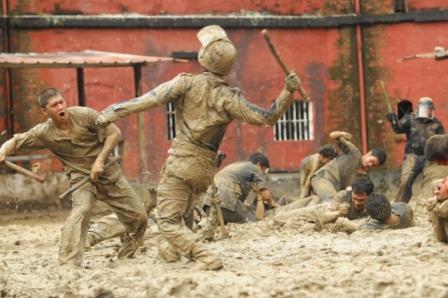 I didn't mind the violence at all. Raid 2 is a martial art dance through riveting installation pieces, each one more astonishing than the previous, with a Godfather theme (some good father-son mafia tension) tying the aesthetic experiments together.
I was also thankful. If it wasn't for the Beaune International Thriller Festival -- and Barde's boyishly gleaming eyes as he spoke about this film -- I would have never chosen to see such a film -- a gory action blockbuster -- on my own.
Ibid goes for the Chinese thriller I loved at this festival: Diao Yinan's Black Coal/Thin Ice, which tells the story of an alcoholic ex-cop driven to find the reason for cut-up cadaver pieces appearing buried in the coal of freight trains. While following the plot was not my forte (a couple key moments eluded me), it did not matter: this film gives a powerful depiction of the misery of China, from shady oppressive tenement buildings to somber snowy ice-skating rinks, where one false move can lead to a slit throat. One gets an impression of an environment suffocating in constraints, where violence broods under the surface. Some scenes, in fact, seem to exist just to add to the gloomy vision of China, such as when our drunk protagonist lying in the snow has his motorcycle stolen by a passerby who swiftly takes advantage.
Again, it was thanks to Barde's enthusiasm that I caught this film, which won the Berlinale's top prize this year.
"It's fantastic," he told me.
I trust Barde's recommendations. He is not only the director of the Beaune International Thriller Festival, but five other festivals, including Deauville and Marrakesh. As such, he personally watches over l000 films a year, to choose the selection for each festival.
"Even in my hotel room now," Bruno gestured up the stairs of the Hotel de la Poste, where our conversation took place. "I have two TV screens and am watching films to choose for the next festival. In fact, the greater part of my waking life is devoted to the imaginary."
Did he ever feel bored by so much film viewing?
"Never, he said. "It's rewarding. It's a way to be connected, continually, with art -- with the transcendent."

Winning Films of the 2014 Beaune Thriller International Film Festival:
Grand Prize: " In Order of Disappearance"
Jury Prize: shared by "'71" and "Starred Up"
Critics' Prize: "Black Coal"
Police Prize (given by a jury of police officers): "In Order of Disappearance"