It was exhilarating at the end of a bleak festival to have the jury announce a mysteriously sublime spiritual movie for the top prize at Cannes: Apichatpong Weerasethakul's Uncle Boonmee Who Can Recall His Last Lives . Uncle Boonmee quietly took Cannes by surprise for its evocative fantastic story of a dying man who experiences his past lives, including one as a buffalo in a jungle and another as a Catfish who makes love (by wiggling his tail) to a princess in a blue lagoon. From the first shot, one feels one is in another world, the lush jungle of Thailand, as we sit along with a woman and man quietly on a wooden porch in the sun, birds and crickets chirping (see my subsequent interview with the director).
"A breath of oxygen" said one fellow journalist leaving the premiere of Uncle Boomee. "It restored me suddenly, after seeing all those violent films."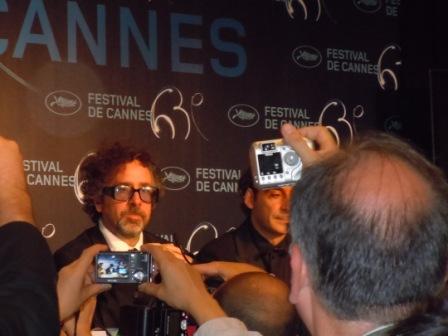 Tim Burton, head of the jury, gave his own sincere endorsement. "I liked it because it is a movie that you normally don't see, not Western, with fantasy elements done in a way I have never seen before. It is a beautiful strange dream. It has a quiet reflective nature, full of surprises."
Jury member Shekhar Kapur, Indian director, gave his own thumbs up: "The director has great compassion. The film gives a sense of eternity, of people who live in an eternal state, and these ideas came across so simply, that this film made us ask these questions in a compassionate way."
I personally loved the film -- my favorite at Cannes -- for bringing me so delicately into another world, one that is thoughtful, undetermined, sensational (especially the red-eyed monkeys in the green forest) and inchoate. What starts in a lush jungle ends up in a modern hotel room, with a monk going off to grab a sandwich at a fast-food restaurant in jeans.
Puerto RIcan actor Benicio del Toro, fellow jury member, commented on this ending: "I liked that the director dealt with one of the biggest mysteries there is, what happens after death, and I liked what happened at the end, that the monk went to a karote bar. It made me feel better that every night after seeing so many films, I went to discos."
As for another of my favorite films in the festival -- Mathieu Almaric's Tournee, a lively story of a French man's tour with American burlesque dancers through France--Tim Burton commented that he liked the "vitality of it." He noted that everyone on the jury felt the same. "It was one of the first films of the festival we saw, and it was one that remained. It is one of the strange things about this festival: some films leave you, some films don't. "