Foodies in LA enjoyed a new culinary event last week: Le Grand Fooding Crush Paris-LA. Taking place outside Downtown LA's Geffen Contemporary at MOCA, this two-evening collaboration between some of the best chefs from the City of Angels and the City of Lights was a spinoff of Fooding, a Paris-based restaurant guide that throws gastronomic events around the globe.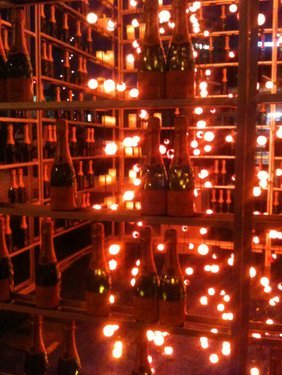 Photo credit: K.E. Baker
Billed as an "urban picnic," Le Grand Fooding Crush attendees visited a manageable eight food stations and sipped Veuve Cliquot, Intelligentsia coffee, and Pellegrino while listening to DJs spin.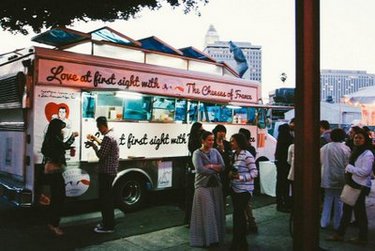 Photo credit: Restless Cities
I attended the Friday event. Probably the most unique dish I tasted, the deconstructed, largely drinkable pizza, was served at the Cheeses of France truck. Devised by Jean-Francois Piege, owner of an eponymous restaurant in Paris, with Carolynn Spence of West Hollywood's Chateau Marmont, the deconstructed pizza consisted of a tomato jus comprised of tomatoes, anchovies, capers, and basil alongside a large crouton topped with French comte cheese and chorizo.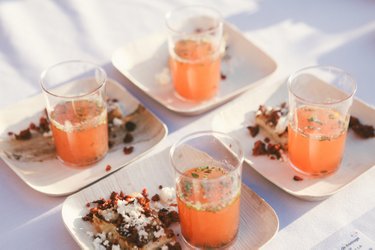 Photo credit: Restless Cities
Other pleaures: Roy Choi of the famed Kogi Truck remixed his famed Short Rib Taco with kimchi and mole, while Nancy Silverton of LA's Mozza made Grilled Beef Tagliata, Rucola & Parmigiano with Aged Balsamico that attracted the longest lines of the evening. Gregory Marchand of Paris' Frenchie made pulled lamb sliders topped with mint atop a brioche bun, and Josef Centeno of Bäco Mercat cooked Amberjack Ceviche with lime, cara cara, watercress, and rice cracker. Sven Chartier of Saturne in Paris offered Alaskan King crab with nasturtium, beetroot, and horseradish.
One of the most simple but flavorful dishes of the evening was served by Inaki Aizpitarte of Le Chateaubriand in Paris: Fresh Beans, Herbs, and Brown Butter. It was dense with richness and flavor, as one would expect from the eatery currently rated as the 18th best in the world.
Dessert came from LA's popular chain Lemonade. It wasn't easy to choose between Chocolate Crispy Caramel Candy Bar Cup, a macaron topped with warm lavender honey, lemon, strawberry, and rhubarb, and a "Dolly Madison" style apple turnover.
Will Le Grand Fooding Crush return to LA? Let's hope so - the event provided Angelinos with gustatory stimulation with a Gallic twist.