Sotheby's New York is auctioning a collection of exquisite jewelry, much of it vintage, on April 29. The group of baubles, from such venerable jewelers as Harry Winston and Cartier, includes pieces from the private collection of the late singer Eydie Gorme.
I had the opportunity to view and try on several of the pieces during a recent auction preview at Sotheby's in West Hollywood. One highlight is a rare, breathtaking Cartier bangle bracelet made of gold, diamonds, onyx, and emeralds in the form of two clasped tigers. An iconic example of Cartier-made jewels inspired by large cats, it was fashioned in 1950.
Fans of Art Deco will gravitate toward the gorgeous pieces, particularly the bracelets, from this period, including a platinum, sapphire, and diamond bracelet from Cartier; an unsigned openwork piece of platinum and diamonds; and a breathtaking floral design from Auger, made of platinum, 18 karat white gold, emeralds, and diamonds, all dating back to 1925.
I asked Lisa Hubbard, Chairman of North and South America for Sotheby's International Jewelry Division, about the allure of buying jewelry at auctions. She shared,
Auctions are great because under one roof you have pieces of every provenance, from famous makers, every period. I don't think there's any other place you can get this kind of variety. It's not like walking into Harry Winston and paying retail. You compete at auction and sometimes it's a great value.

Gorme, a popular singer for decades both as a solo performer and half of the duo Steve and Eydie with her husband Steve Lawrence, was a passionate collector of diamonds and owned some breathtaking pieces. Asked about the importance of the collection and career of Gorme, Hubbard explained:
Steve and Eydie were huge stars -- in fact, Frank Sinatra always said Steve had the best voice. They were married for 55 years, and they really were a great Hollywood couple. Eydie was a diamond girl and she wanted to own diamonds of every shape. This pear-shaped diamond ring was the one she called The Enterprise, as in Star Trek. And she had the classic emerald cut from Harry Winston (referring to a 17.40 carat ring with an emerald-cut diamond set in platinum). This very chic marquis is not as big, but it's the best quality, D, and internally flawless. She had a good eye for quality.

This is her riviᅢᄄre, a straight line diamond necklace. It's 60 carats of diamonds, and the diamonds go up to three carats. It's a classic design, probably from the '60s, that no one has improved upon. He gave this to her for their 25th wedding anniversary. She married the right guy. He understood her collecting habits. They had a big party at the Beverly Hills Hotel, and everybody who was anybody in the industry came. This is estimated to go for $250,000-300,000.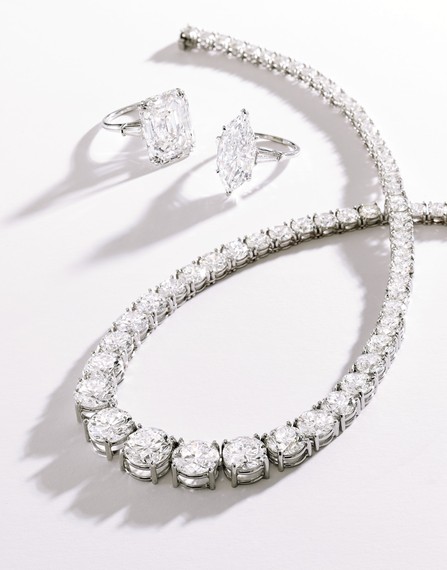 Photo courtesy of Sotheby's

Also included in the auction will be pieces by such illustrious designers as David Webb, Tony Duquette, and Bulgari. The auction takes place on April 29 in New York at Sotheby's, but non-New Yorkers can bid online at sothebys.com.