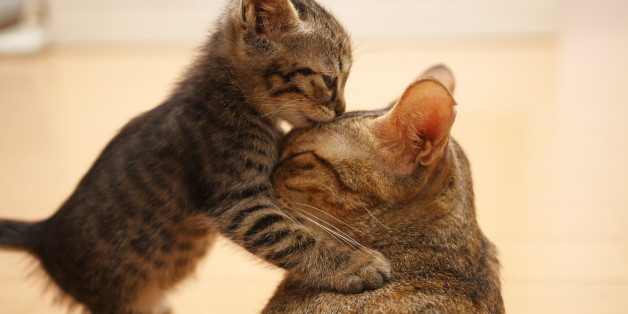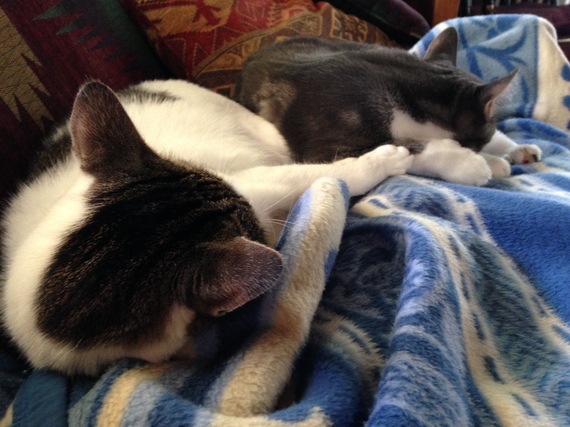 Recently, while I was convalescing from minor surgery, I had the pleasure of receiving love and companionship from our two affectionate and adopted cats: Buddy and Rascal.
While laying on the couch wrapped in my favorite, cozy blanket, I was visited by this furry pair. They gingerly walked around my body and settled down alongside my legs while purring the entire time. A feeling of comfort rose within my entire body. How did they know that I was in pain and feeling melancholy?
It amazes me how cats and dogs are so intuitive and sense when their owners are going through stressful times. They recognize exactly when it is vital to sit beside us, lean against us and lightly place their paw on us displaying their love and devotion -- not asking anything in return.
It has become apparent to me that cats and dogs teach us key a lesson in life: to give love and to receive love without any expectations... to love unconditionally. In Arianna Huffington's latest book, Thrive, she states the following in her Well-Being section -- (Furry) Friends with (Different) Benefits: "Pets are the unrivaled masters of giving back. The pleasure they take in giving themselves to us is perhaps their greatest lesson...Pets help us constantly come back to what makes us human...to connect, to reach out, to love."
The display of affection from our beloved pets warms our souls, uplifts our spirits and helps us heal physically and emotionally.
I wonder what would happen if we paid more attention to our loved ones' emotions and moods as our pets and focus on giving a gentle touch or hug during times of distress. Such small acts of love makes us all better human beings.
The next time your pet reaches out to you with their paw or physically leans on you, take a moment to evaluate whether or not anyone in your life -- a friend, family member or coworker needs you to reach out to them with a gentle touch - then act upon it without any expectation.