Despite the buckets of Botox in the faces of the fashion week rabble, you can always count on rows of very raised eyebrows as designers try to out wow each other in this era of blasé bystanders. There was Fendi's Great Wall of China show, Marc Jacobs showing his '07 collection backwards, Karl Lagerfeld putting a parrot on the runway during his first Chloé show in 1974.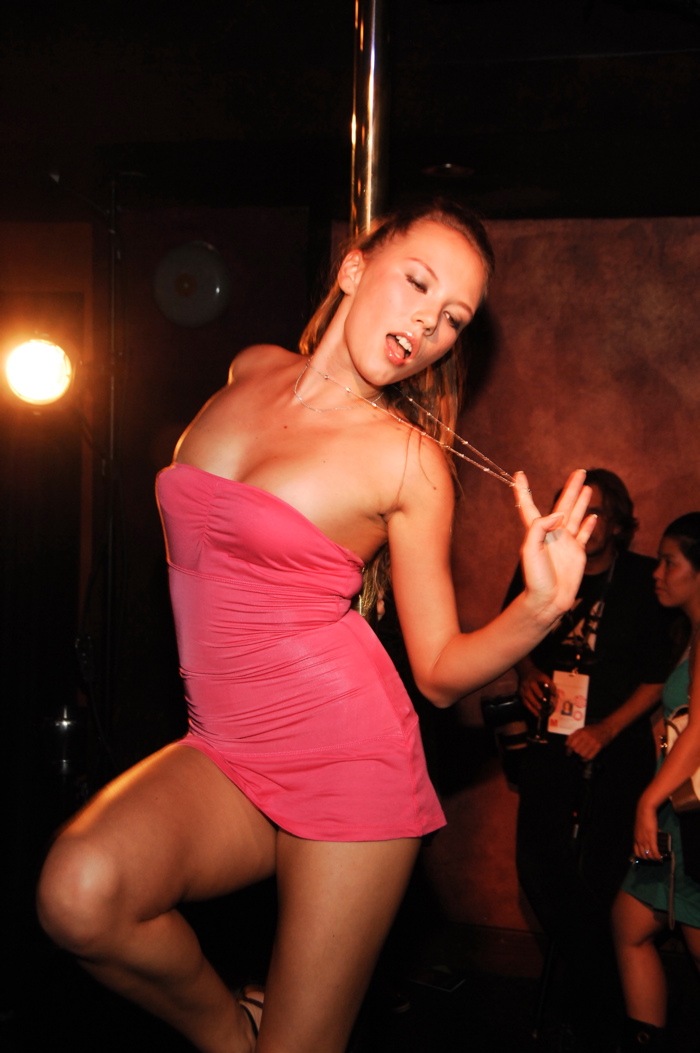 This season's New York fashion week had a first when Yummie Tummie shapewear designer Heather Thomson opened her show with a pole dancing spectacle. The gals--some old hands at gyrating around a rod in the buff, another a Julliard dancer--parted their limber legs and flexed their muscles to show that Yummie Tummie garments stay put, even if you just happen to find yourself hanging upside down from a metal rod by nothing but a sweaty thigh and a dream. Thomson says her shapewear also "empowers women, makes them feel comfortable in their own bodies," as does pole dancing, while clothed of course.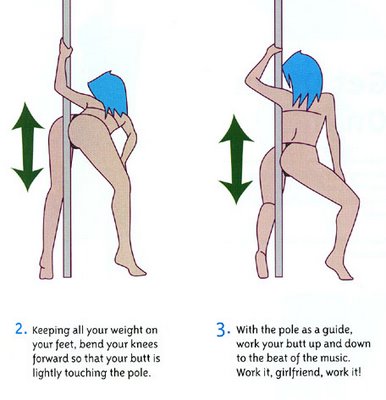 But what is right for fashion week, a place where a visible nipple is an accessory, does not gain a nod of approval by the Anna Wintours of small town America. In August, Stephanie Babines, a dance instructor in Adams Township, PA, hoped to open a dance studio in her small town to teach pole dancing, power lap dancing and all the rest of those sultry sweat inducing activities that hit gyms from Manhattan to Madrid years ago. The local powers denied her a permit, calling the exercises, even when done by knock-off Juicy Couture wearing Christian grandmothers, "provocative," and involving "sexual innuendo." The ACLU has filed a lawsuit on Babines' behalf.
Babines argues that it's strenuous exercise. When it's done well, it certainly is, and one I imagine small town spouses appreciate more than step aerobics. In fact, pole dancing is a "sport" that the Brits should look into for the London Olympics. They need something to bounce them towards the bar that Beijing set.
A fashion week without sexual innuendo would look like a town hall meeting with a lot of homosexuals and fantastic tailoring. But a gym, or an Olympics without sexual innuendo simply does not exist. While watching Olympic tennis I often wonder if the players are merely expressing their physical pain or having orgasms while volleying. And I've definitely had my knees by my ears while my spandex covered posterior got intimate with a few onlookers at my gym. But the instructors call that "Pilates" and that makes it okay. When I played softball in high school our coach had us do an exercise that required 20 teenage girls to crouch on all fours like crabs and do hip gyrations in unison. But he called that warm-up.
So perhaps, when hoping to get the flashbulbs popping in your direction during fashion week this "dance of the devil" should be called pole dancing and when trying to obtain permits in small towns for these gyrations, we should just call it a minimalist jungle gym for grownups. I'm sure Oprah and Barbara Walters would approve. They've both done it on their daytime shows--clothed of course.