Just the idea of eating bone marrow is pretty icky when you think about it; some might even consider it to be like cannibalism or a meal in the Night of the Living Dead. But, much like many other culinary delicacies, sometimes it's better not to really THINK about what we're eating and just enjoy the flavor and texture... I mean we humans do eat snails, liver, brains, eel, rocky mountain oysters, etc.
My first experience with bone marrow was actually here in NYC some 20 years ago at Blue Ribbon restaurant. I was having dinner with a group chef friends and one of them had the delicious foresight to order the Bone Marrow and Oxtail Marmalade dish (which I hear is still on the menu). At first I was impressed with the elaborate presentation and watched as my dining companion spread the silky marrow on the toasted buttered brioche and topped it with the oxtail marmalade. If that wasn't an OMG moment, I don't know what is! It was brilliant; sweet, smooth, rich, decadent...More, More, More, PLEASE... and that's when I got hooked on bone marrow.
It should have come as no surprise; my mother frequently tells me, with a grimace, that as I child I would chew on chicken bones and suck out the marrow. Old habits die hard, and whenever I see a dish on a restaurant menu that contains bone marrow there is no talking me out of it. In fact, I recently enjoyed an appetizer dish at Ai Fiori in the Setai Fifth Avenue hotel called Mare e Monte: diver scallops with celery root, burgundy black truffles, bone marrow and thyme. I most likely would not order a scallop appetizer this time of year, tending to hanker something more earthy, but when I saw there was marrow in the dish, that was that. While the marrow was not visible, the dish benefited from the smooth rich texture and enhanced the scallops beautifully. Although I had repeatedly read about the over the top burger at Minetta Tavern, it wasn't until I was researching dishes for an episode of Unique Eats and found out about their Dry Aged Côte de Boeuf with roasted marrow bones that I double timed it to the restaurant. When the waiter brought the pile of oversized roasted bones all I could think of was I have to bring Isabelle (my daughter) here for her 7th birthday... she'll flip her lid!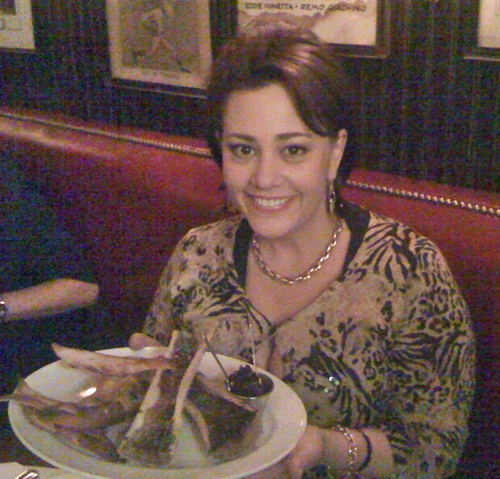 When I was a baby I liked to eat escargots with butter and garlic, avocado, brains and sardines. Then again, I had a nanny from Madrid named Tanouka who was a great cook and didn't believe in traditional baby food I guess. My parents took me to restaurants in Geneva, where I was born, when I was three, and exposed me to delicious and sophisticated foods early on (back in those days, there were no kids menus with chicken fingers and plain pasta with Parmesan).
If the adage, "the apple doesn't fall from the tree" was ever true, it certainly is in the case of my children and their palates. My daughter (who likes to eats mussels in Pernod and saffron, San Daniele prosciutto and Buffalo Mozzarella) is obsessed with bone marrow.
For her b-day, instead of requesting lasagna or spaghetti and meatballs (a reasonable request), her eyes open wide and she clamors for "BONE MARROW". She says, "it's squishy and I love it". Luckily one of my specialties is Veal Osso Bucco and it's a dish the whole family adores; my husband and son go for the tender fall-off-the-bone veal stewed in fresh tomatoes, garlic and sweet onions, and Isabelle and I start by divvying up the bones which we delicately empty on to crusty pieces of country bread and devour them while making howling sounds that frighten our men.
On New Year's Day, I prepared a luscious Herb Crusted Prime Rib of Beef served with Thyme Roasted Bone Marrow and a touch of truffle salt; my husband and son watched in horror as my little pal and I slurped up the bones and did Rock, Paper, Scissors to see who got the last one.
I started to worry that perhaps this was not the healthiest choice for my daughter, but was happy to learn there are in fact many health benefits to eating bone marrow. Did you know that bone marrow is full of minerals & fat-soluble vitamins (aka "good fat")? It's also rich in omega 3 fatty acids and is a good source of Iron and vitamin A. Furthermore, it's a dish fit for a Queen; apparently, the late Queen Victoria ate it everyday and lived to be 81! Well that's definitely good enough for me... no longer will this be a guilty pleasure, it'll just be PLEASURE!