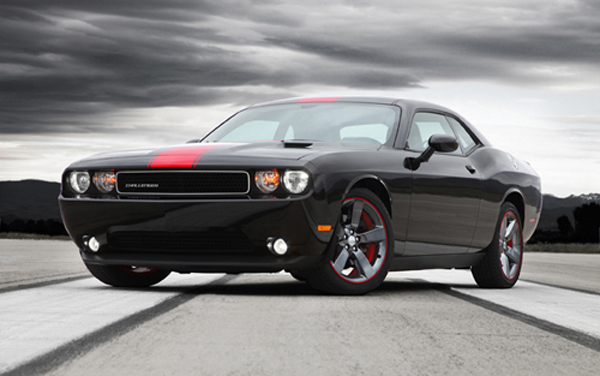 The Chrysler Group has been in rebuilding mode for the past three years, but the fruits of much labor are about ready to pick. The SRT Viper is coming back, a new Dodge Dart has launched, and Fiat sales are way up.
I was fortunate enough to get a sneak peek at the complete line of 2013 Chrysler, Dodge, Fiat, Jeep, Ram and SRT models at Chrysler's recent full line event, and I came away with increased confidence that Mr. Marchionne has this recovery thing well in hand. It was a hot day at the Chrysler Chelsea Proving Grounds, but not all the heat was coming from Michigan's summer sun.
Here are my Top 10 Revelations from the 2013 Chrysler Full Line Event:
10. Challenger Rallye Hits Redline: A new 2013 Dodge Challenger trim, called Rallye Redline, combines the fuel-consciousness of a 305 horsepower V6 engine with the attitude of a full-blown muscle car. Styling treatments like hood scoops, stripes, a body-colored rear spoiler, Radar Red leather seats and 20-inch black chrome wheels wearing P245/45R20 performance tires provide the show, while a performance tuned suspension and a higher rear end ratio (3.06:1) provide the go.
9. Uconnect Goes Fully Connected: Chrysler's Uconnect system has been around for years, but starting in 2013 it will offer several new features, including one-touch emergency and roadside assistance calling. There's also a new embedded wireless system that will also allow for hands-free text messaging (sent and received), plus navigation destination input - all through spoken commands and with no vocabulary limits. Email and Internet access (for passengers) are also available.
8. Mopar '12 = Coolest 300 Ever: Chrysler knows the value of a rolling parts catalog for showing off its in-house performance upgrades. To celebrate 75 years of Mopar history the Mopar parts team bolted items like a 3.91:1 rear axle ratio, an upgraded Auto Stick shifter, leather bucket seats with Mopar Blue stitching, stiffer springs and 20-inch Goodyear Eagle F1 tires onto a gloss black Chrysler 300 with "Mopar Design" badges. Easily the coolest factory Chrysler 300 ever produced.
7. Ram 1500 Rams into Fuel Efficiency: The all-new 2013 Dodge Ram will feature two bits of fuel-saving technology not typically associated with full-size trucks: start-stop engine technology and an 8-speed automatic transmission. The 2013 Dodge Ram will also feature, for the first time, Chrysler's 3.6-liter Pentastar V6 engine. It offers 42 percent more horsepower, 13 percent more torque and 20 percent better fuel efficiency than the 3.7-liter V6 previously offered in the Ram.
6. Dodge Dart with Dual Clutch: The 2013 Dodge Dart just went on sale with a traditional 6-speed automatic and 6-speed manual transmission. But a Dual Dry Clutch Transmission (DDCT) is coming soon that will allow for rapid upshifts and rev-matched downshifts just like exotic sports cars (and the Ford Focus) offer. Great technology, though we'd like to see driver-oriented steering-wheel-mounted paddles (like in the 300 and Charger) instead of having to reach down to the shifter.
5. 300 and Charger Increase Power and Pixels: The base 3.6-liter V6 engine in the 2013 Chrysler 300 and Dodge Charger gets an optional cold-air induction system and sport-tuned exhaust. These changes add eight horsepower, for a total of 300 to both models when so equipped. The sedans also get larger, 8.4-inch touchscreens, plus optional steering-wheel-mounted paddle shifters and a "Sport Mode" setting to wring every RPM out of the 8-speed automatic transmission.
4. Jeep Wrangler Moab Edition: All 2013 Jeep Wranglers benefit from new front and rear seats, an available Alpine audio system and upgraded soft-top material on convertible models. But the big news is the new Wrangler Moab Edition with a standard Trak-Lok anti-spin rear differential, 17-inch Rubicon alloy wheels (painted gloss black) a power dome hood, premium rock rails, black tail lamp guards and wheel arches, plus a matte black Jeep badge in the grille. Go forth and rock crawl!
3. Dr. Dre is in the... Car! Several models, including the 2013 Fiat 500 Abarth and the Chrysler 300 SRT8, will be available with a "Beats Audio System" tuned by Dr. Dre and Jimmy Iovine. The size and number of speakers varies depending on the vehicle, but in the Dodge Charger R/T Max, or Chargers equipped with the Wheels 'n Tunes package, this audio system has a 12-channel amplifier, plus an 8-inch Beats Audio trunk-mounted dual-coil subwoofer with sealed enclosure. Word.
2. Chrysler Minivan Spin Blu-Rays: It was only a matter of time, but Chrysler's 2013 Town & Country and Dodge's Grand Caravan will be the first production cars to offer Blu-Ray players in their entertainment packages. They utilize VGA displays, with four times the resolution of the previous screen, plus an HDMI port to take advantage of the HD resolution. The systems also features two USB ports and a 115-volt power point for powering gaming systems or charging laptops. Road trip!
1. Cop Tires, Cop Suspension, Cop Shocks, etc: Dodge's 2013 Charger Pursuit set the fastest lap in the Michigan State Police's Vehicle Evaluation Test, ever. The 5.7-liter V8 makes 370 horsepower while the 3.6-liter V6 makes 292 horsepower. Cop-specific elements include a load-leveling suspension (for hauling perps and extra gear) and police-specific stability control settings, plus six Mopar police equipment packages and 24 individual items that can be ordered by local law enforcement.