In 2009, as the U.S. economy and new-car sales were in a joint meltdown, Volkswagen was deep into the construction of an all-new, $1 billion automotive factory in Chattanooga, Tennessee. This assembly plant, destined to produce the all-new 2012 Passat, was seen as a critical step in expanding Volkswagen's presence in the U.S. market -- even as that market struggled to stay above 10 million new-car sales in 2009 and 2010.
But Volkswagen's commitment was set. There was no turning back. Throughout 2010 and into 2011 the Chattanooga plant's construction was completed, with the first Passat's rolling off the assembly line on April 18, 2011. By the end of 2011 over 40,000 Volkswagen Passats had been produced in Chattanooga, and today the plant is capable of producing more than 180,000 cars a year. The number of people working in the Passat plant stands at 3,350, but Volkswagen figures another 10,000 people, including suppliers, are involved in the plant's activities indirectly.
Beyond the expected facilities, including a paint shop, body shop, assembly line and technical center, the plant features a training academy. In a partnership with the Chattanooga State Community College, the training academy offers instruction in a variety of automotive fields, such as manufacturing, robotics, auto repair and electronics. Every new employee spends time in the training academy before working in the plant, but additional leadership training, career planning and on-site degree programs (with tuition reimbursement) are also offered.
This kind of economic activity has certainly benefited the people of Chattanooga (and the surrounding region), yet Volkswagen has done a commendable job of minimizing the plant's environmental impact. The paint shop's "Eco Dry Scrubber System" saves 20,000 gallons of water a day, the use of rainwater saves up to 350,000 gallons a month, and construction of a solar farm is about to begin that should cut energy consumption by 12 percent. These and other efforts earned the plant a LEED (Leadership in Energy and Environmental Design) Platinum certification on December 1, 2011.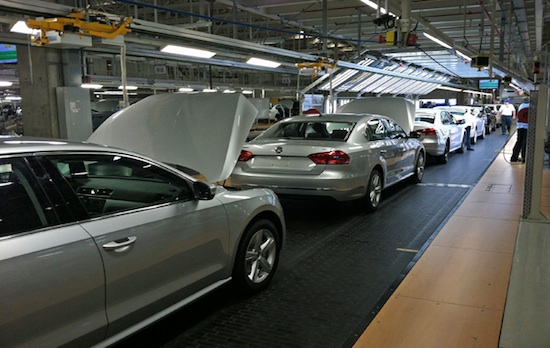 Karl Brauer/Total Car Score
The commitment to build an all-new U.S. automotive factory reflects a much grander long-term goal for Volkswagen: sell 800,000 cars a year in the U.S. by 2018. Given the brand's low-point in U.S. sales (50,000 in 1993) that number sounds a bit optimistic at first. But last year Volkswagen sold 324,000 cars in the U.S., and its on track to sell approximately 400,000 this year. Much of that increase has come from the success of the all-new Passat, further validating Volkswagen's commitment to Chattanooga and the U.S. market.
If there's a concern for U.S. buyers when considering a Volkswagen it stems from the brand's less-than-stellar dependability and owner satisfaction scores over the past decade. Addressing that issue was a key component of the Chattanooga plant's design and process. A series of quality assurance processes, ranging from robotic measurement of gap tolerances during assembly to a "Signal Call" rope that any worker can pull to stop the line if a problem is detected, are in place for the new Passat.
I even watched as a vehicle audit was performed on a completed car under bright florescent lights. A team of plant managers crawled over the car with measuring tools checking body alignment, internal panel fitment and driver controls. This is a recurring procedure used to detect variations in the assembly process.

Is it working? Has Volkswagen solved its quality control issues? An increase in vehicle sales, along with rising Total Car Scores and a 54 percent reduction in warranty claims since 2005 (and a 12 percent reduction in the past 12 months) suggests the German brand is making solid progress.
But don't assume Volkswagen has gone completely American in its product approach. Even with this increased focus on U.S. sales Rainer Michel, Vice President of Product Marketing and Strategy, assured me he has no interest in building a German Chevy.
"Volkswagen's have a specific feel and we will not lose that. That's why people buy a Volkswagen instead of a Chevy."
If Volkswagen can balance all these forces (improved quality, environmental awareness, American production of a car that feels German) it just might double U.S. sales over the next five years.