One thing has always proven to be true in my experience. When you enter a Cabaret in NY, they will have a mandatory coat check that they will charge you for, you will have to order disgusting food you likely won't eat, and the drinks will be grossly overpriced.
In other words, a clip joint.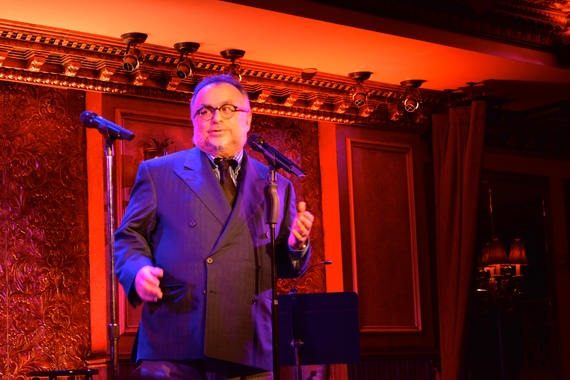 Richard Frankel Proprietor 54 Below
Two years ago, when I first went to 54 Below, I sat at the bar and ordered food to meet my minimum. I had no expectation of enjoying it. I got the steak tartare. I figured if it did not kill me with bacteria they could not ruin it too badly. The bartender suggested a Greek red to go with it. I think I may have actually rolled my eyes as I said yes.
I spooned a little meat on the toast and almost begrudgingly put it in my mouth, "Oh My gosh this is good." I said it so loudly people turned and looked. The bartender told me to taste my wine. For the first time that night, I smiled. I did not have to wait for the entertainment to be happy; I was already happy. I was almost in shock.
Having recently been in a name Cabaret in an Upper East Side Hotel where a dry, cold and tasteless burger was indifferently thrown at me I could not believe the difference.
I got wild and had a risotto, going well beyond the minimum -- something I had never before been motivated to do at a cabaret.
This was followed by the wonderfully wacky Joe Iconis Christmas show (special guest Annie Golden) which made me very, very happy.
Still thinking it was somehow a fluke, I went back soon after to see Mary Testa. As she blew the house out with a fantastic show, I dined on tender, gorgeous short ribs.
Could it be this cabaret was breaking all the rules about modern cabaret and actually caring about the customer experience beyond the stage?
I must admit, I am tough to please. As a chef, I've learned to make many things very well. If you give me some pedestrian roast chicken or a lackluster rack of lamb, I will not sing your praises. My first post on Huffington Post was my criticism of how New Orleans style restaurants get most everything wrong. You have to really blow me away to get my attention.
Last night was the ultimate 54 Below experience. No show, the star of the night was Chef Andre' J. Marrero. It was a dinner to introduce the new spring menu and the new wine selections.
It was hosted by the wonderful Cady Huffman who it turns out was also a judge on Iron Chef for a decade. Those of us who know her from stage work had no idea she was on TV -- a delightful and gracious host.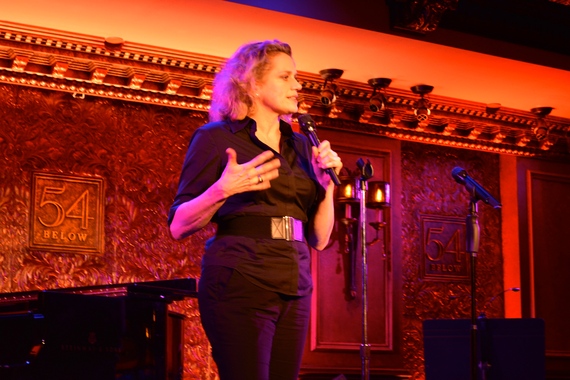 Cady Huffman
I was taken by my houseguest as a very generous thank you. He will be there for his birthday on the 20th and I told him not to dine out earlier but to eat at the show, the food is that good. Since I had made my feelings known he discovered this dinner as a way to make me very happy.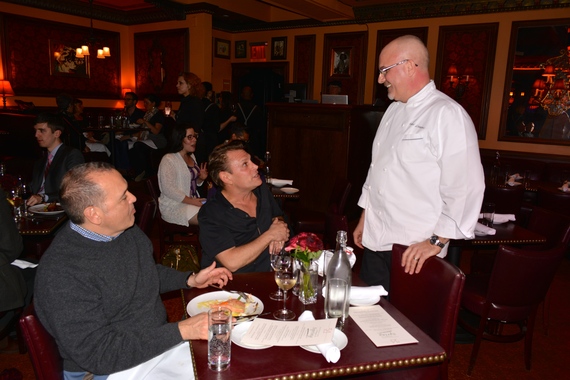 Pictured: L to R, My host Arthur Wehl (My houseguest and host for the evening) Myself, and Chef Andre' J. Marrero
Where do I begin... a pea shooter with pig candy, the most amazing oysters with fois gras, crayfish cavatelli natuna, or the rack of lamb that initially came out a bit over done. I did not wanting to cause the kitchen a problem -- I told the waitress I was okay with it, not good enough for 54 Below, they rushed out a rare order which was absolutely perfect.
I tend not to eat sugar, but I could not resist scooping out the passion fruit in the eclair and completely downing the strawberry sorbet.
Tell your friends, tell the tourists there is a cabaret in NY that is not a clip joint that will provide elegant service and incredible food. Just one so far, but I live in hope.