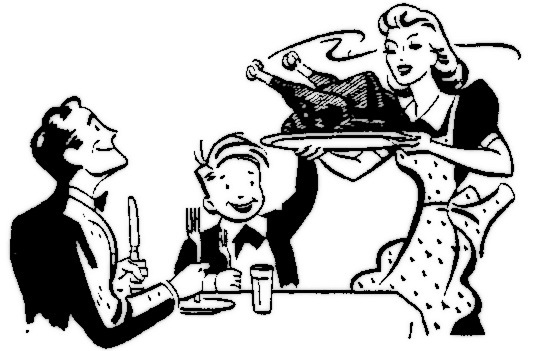 I'm amazed that millions of people still travel for hundreds of miles in brutal traffic or go to crowded airports to go someplace they don't want to go to.
They do this in order to eat food they don't want to eat and have conversations with people they don't want to see, all in the name of "tradition."
Stop!
You do not need to live your lives this way.
I am not suggesting that you not be thankful to your parents and that you don't see them. You absolutely should spend time with them, but there is no rule that it must be on a holiday.
Have any of you considered that your 86-year-old mother might not really want to prepare all the 'traditional' foods again? Maybe, just maybe she would be thrilled not to make a meal for 20 some assorted relatives filled with food, she too, is sick of. It is 3 exhausting days for her, only made more difficult by your gluten-free vegan cousin and your dairy-free locavore sister.
Have any of you who dread this travel trauma asked the people whom you feel obligated to travel to and see if this is what they want?
I don't know how many conversations I have had with people who 'really don't like turkey' but feel as if they must conform to this quite recent tradition. (Hint: Pilgrims had water fowl, likely goose, not a Butterball Turkey.)
My suggestion: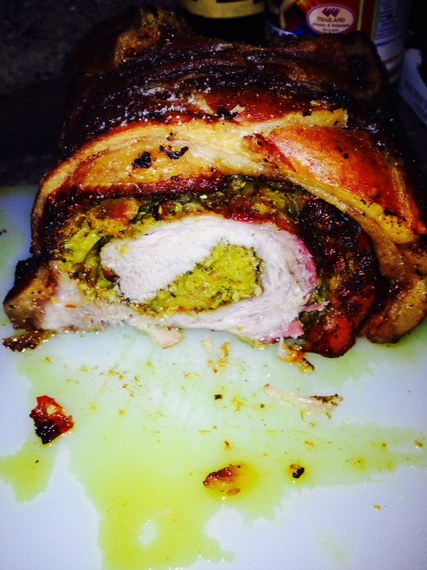 A rolled stuffed pork belly.
Walk away from tradition and obligations for a minute and think.
If you were to prepare a meal to celebrate the harvest and to be thankful for the food to sustain you through winter, what would you prepare?
Write it down and start there.
And if you don't want to deal with your snarky Uncle Arthur, you mother-in-law Endora and all of those cousins who are such B... Witches, then don't. You have no teleportation power and have to use the airport which will be insane.
Pick up the phone and say NO!
You can do that and life will go on. Those who love you will continue to love you.
Stop the Insanity!