This Chicken Fajita Burger is a fun twist on two of our favorite dinners. It does not disappoint!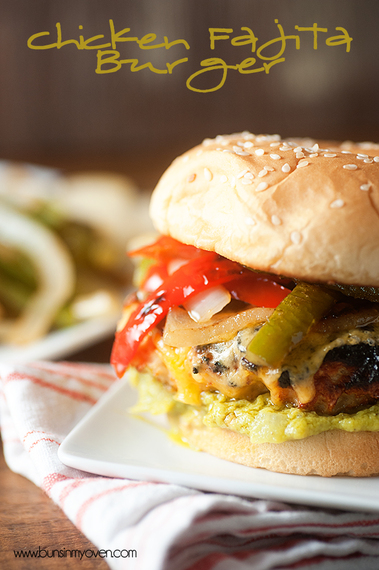 Do you want to hear the saddest thing ever?
Grab some tissues, because you?re sure to be sobbing in a minute.
We moved to Nebraska (gah, I know, you?re tired of hearing about this!) and the thing that I was most excited about for this move was the fact that there is a huge Hispanic community here which means lots of authentic Mexican food. Well. The only Mexican food I've eaten since moving here has been from Amigos (a fast food chain, but it's actually quite yummy!) and Qdoba. Oh, and Carlos O'Kelly's.
What is my problem? Why am I being such a loser? Why have I not eaten at every real Mexican joint in town?
I should be banned from Nebraska.
Anyways, even though I fail at eating out, I've been making tons of Tex-Mex food at home. Tons. We eat these fried tacos like there is no tomorrow, because they are THE best fried tacos.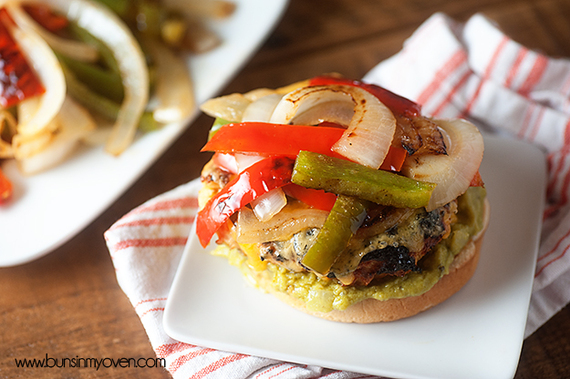 So, since everyone wants to be out on the patio cooking on the grill, I decided to put a spin on some chicken fajitas. I turned 'em into burgers and holy moly, they are so good!
They remind me a bit of my Taco Sliders, which are always a total hit in this house.
I cooked my onions and peppers in my favorite cast iron skillet but you could totally put these in a grill basket and not even mess with the stove. Just add the veggies to the basket and cook them on the grill right alongside the burgers.
I topped these with my favorite guacamole recipe, but sour cream or mayo would be just fine too!
Get the Chicken Fajita Burgers Recipe on Buns In My Oven!