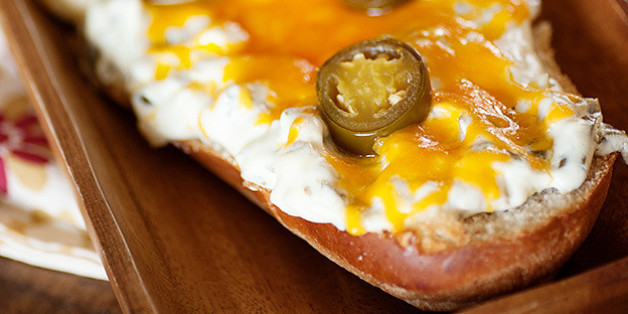 This jalapeno bread recipe is loaded with cream cheese and peppers for an easy appetizer or snack that's perfect for game day!

I've had a jar of pickled jalapenos in my pantry for a couple of months now and every time I open the door, there they are, eyeballing me.
I hate being eyeballed by peppers.
So, I finally decided to do something about it. Something violent and dangerous and kinda mean.
I chopped those jalapenos up, I added them to some cream cheese, and I spread it all on some bread.
By the way, guys, cream cheese runs through my veins. I mean, it must. I don't bleed blood. I bleed cheese. Fact.
Back to the bread, I topped it with some cheddar. See above regarding cheese and the fact that it's my life source.
So, that's the story of how my 12-year-old son found me curled up under the dining room table sobbing uncontrollably because my mouth was on fire.
Oh, jalapenos. You showed me.
Notes: As I said above, I like cheese. I've used a full 16 ounces of cream cheese here, but you could totally get away with reducing that amount. It won't be as decadent, creamy, or
cheesy, but it'll work.
Jalepeno Popper Bread Recipe
1 loaf sweet Italian bread, sliced in half lengthwise
16 ounces cream cheese
1 3/4 cups diced pickled jalapeno slices
1 cup sharp cheddar, freshly grated
Extra jalapeno slices for topping, as desired
Preheat the oven to 400 degrees.
In a medium saucepan over low heat, add the cream cheese and diced jalapenos. Stir over low heat until cream cheese has melted and the jalapenos are all combined in the cheese.
Spread the cream cheese mixture over the cut side of the bread. Top with cheddar cheese. Add extra jalapeno slices as desired.
Bake uncovered for 8 minutes.
Remove from the oven and slice.