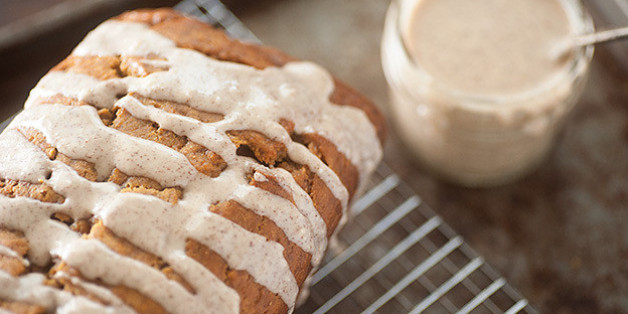 This pumpkin bread recipe is packed with as much pumpkin as possible, making it unbelievably moist, dense, and fudgy. It's almost like biting into a piece of fudge! The browned butter glaze on top just makes things extra amazing!
Stop right there. Don't move an inch.
No, there is not a spider about to eat your face off.
What? Am I the only one who instantly thinks face-eating spiders when someone tells me not to move? Well.
Not to worry. There are no bugs on you that I can see. I just didn't want you to see the glaze on this pumpkin bread, roll your eyes, and click away.

I've done the browned butter glaze to death, you guys. You know it, I know it, we all know it. But! The thing is, there is a very good reason that I keep using this glaze on everything I can.
That reason is because it's amazing and literally (the correct use of literally here) the best thing I've ever put in my mouth. I LOVE it. So much. For something that is just two simple ingredients, it has an amazing depth of flavor. It will seriously change your life, at least as much as a glaze/frosting can change a life.
But, also, hello to this bread. It isn't just pumpkin bread. It's like a cross between pumpkin bread and pumpkin fudge and holy heck, guys. It's so moist you'll punch yourself in the face.
These pictures were taken while the bread was still warm, because I totally couldn't wait to dig in. I really wish I had waited for it to cool more though, because the texture gets even more fudgy than it is in these photos. How is that possible? I don't even know. Probably magic.
Now, I want to stress to you that this bread is NOT light and fluffy. It is dense and fudgy and a little bit creamy, which is a weird adjective to use for a bread, but it fits here.
Do not send me hate mail because this bread is not the texture of bread. This bread is meant to be dense, it's meant to be creamy, it's meant to be like biting into a piece of pumpkin fudge. But because it's bread, you can eat it for breakfast. See? I do actually know what I'm doing here.
If you like this bread, be sure to check out this pumpkin coffee cake! It has the same fudgy texture, a cinnamon swirl, and a sweet glaze to top things off!
Fudgy Pumpkin Bread with Browned Butter Glaze
Yield: 2 loaves
Ingredients:
For the bread:
2 15-ounce cans pumpkin puree
1/2 cup vegetable oil
1/2 cup applesauce, preferably unsweetened
3 1/2 cups flour
1 cup granulated sugar
2 cups brown sugar (reduce by 1/4 cup if using sweetened applesauce)
2 teaspoons baking soda
1 teaspoon cinnamon
1/2 teaspoon nutmeg
1/2 teaspoon baking powder
1/4 teaspoon salt
1/4 teaspoon ginger
1/8 teaspoon cloves
4 eggs
For the drizzle:
1/2 cup butter
1 1/4 cups powdered sugar
Directions:
Preheat oven to 350 degrees. Grease two 9x5 loaf pans.
In a large bowl, beat together the pumpkin, oil, and applesauce until well combined with an electric mixer.
In a medium bowl, whisk together the flour, granulated sugar, brown sugar, baking soda, cinnamon, nutmeg, baking powder, salt, ginger, and cloves.
Slowly mix the dry ingredients into the wet until combined.
Beat in the eggs, one at a time, until well combined.
Pour batter evenly between the two pans. Bake for 50 minutes or until a tester comes out clean.
Cool for 5 minutes before removing from the pan to a wire rack. Cool completely.
While the bread is cooling, add the butter to a small sauce pan over medium heat and let melt. Once melted, continue cooking, whisking often, until the butter foams. When the butter begins foaming, whisk constantly until the butter turns a deep golden shade. Remove from the heat and whisk in the powdered sugar.
Drizzle over the bread.