Less than a month after attending and participating in The Netherlands Transgender Film Festival, I found myself jetting off to London to attend and participate in something called The Transfabulous Festival 07. The experience was life-changing for me -- and at my advanced age of just over 59 years, it takes a lot to change things around. Festival organizers Jason Barker and Serge Nicholson put together a week of art, theory, politics, sex, and entertainment that helped literally hundreds of people make some big changes in their lives. Trannies are fabulous. Period. We are fabled mythical creatures in most cultures, so it was fabulous to be among my outlaw peers.
I spent five days immersed in the warmth of my tranny family, my tranny tribe. We crossed not only boundaries of gender -- there were genders there I'd never heard about before, and I got crushed out on each and every one of them. We crossed nationalities, ages, classes, education levels, body types, politics, spiritualities, fashion, and sexualities. We were politicians, corporate business people, sex workers, artists, performers, nerds, and housewives. Some of us were naked. Some of us smoked weed. Some of us had really kinky sex lives. Some of us had been happily asexual for years. All of us were questioning some aspect of our identity, our desire, or our power. We were monogamists and polyamorists. We crossed race in presentations and performances, but not so much in attendees of the festival. And not everyone there was a big supporter of my ideas about neither/nor gender, and not everyone there agreed with me that doing any kind of conscious alteration of your gender is a revolutionary act. There were attendees and delegates who wanted nothing more than to live their lives as the true men or true women they've always dreamed themselves to be, and worked so hard to become. And we talked about all of that. We didn't mince words, and we scared each other sometimes, but we were never mean to each other. Not that I saw or heard about. Imagine that. No snarling or backbiting. No cliques. Each of us, I think, was stunned to be in the presence of each other of us. Everywhere I turned, there was someone else who'd risked life and limb to simply express a more charming side of themselves. I'm pretty sure that everyone there felt safe. I did, and safe is something that trannies don't get to feel very often. This all took place in London's working class East End, in a wonderful venue called Oxford House, operated by a non-profit organization that provides needed services to all marginalized people who live in the East End.
Everything I've just described to you happened on the first day of the festival, at a conference called Trans With Pride. The remaining four days and nights of the festival was filled with art, conversation, film, sex, picnics, late night dinners, reconnecting with friends from around the world. There was an impromptu SM play party! But in today's blog, I'm just going to talk about the conference.
130 delegates attended the conference, each one of them smart and talented in the art of creating themselves a gender that made their hearts sing and expressed a closer truth to who they feel themselves to be. Or they were passionately interested allies and care-givers. And everyone had an opportunity to express their own unique take on the why, the how, and the politics of messing with gender.
There were four tracks to the conference. As a delegate, you chose one track to follow through for the course of the day, which was made up of four workshops with a break for lunch. The four tracks were:
* The Workplace: Towards a Healthy and Happy Working Environment
* Trans Health/Trans Choice
* Visibility: Safety and Education
* Private Spaces: Family, Friends and Lovers
My function there was to provide a 10 minute keynote address, and then pop in and out of workshops in all four tracks, and report at the end of the day what I observed. The first thing I observed is that the entire conference was free. For everyone. No one had to pay. And that included a delicious buffet lunch. No, you're not imagining things. I was in England, and I was eating delicious food. AND DID I MENTION IT WAS FREE!?
What I learned is still churning in my mind and my heart. There's a long way to go before trans identity is welcome in the world, but conferences like Trans With Pride make us feel welcome with each other. Each of us had the opportunity to walk away with new and useful strategies to deal with our freaky lives in the world outside the conference walls.
I invite you to prowl around the conference website, and Google the names of the various presenters. If you're not feeling all that industrious, here's a random sampling of just a few of the wonderful people I got to meet at the conference. Now you get to meet them, too. And that's how tribes work.
* James Green, writer, public speaker, corporate seminar leader, James is a dear friend and smart guy.
* Ignacio Rivera, trans activist, healer, porn star, sex party organizer, and my new buddy in Brooklyn.
* Roz Kaveny, raconteur, writer of exquisite theory, erotica, and cultural analysis, and my sweet friend for an awfully long time.
* Stephen Whittle, whom I never get to see enough of, is a brilliant political activist and legal strategist.
* Christine Burns, whom I met for the first time, is a poet, writer, and political activist.
* Bird La Bird & Cyan, designers of the fabulous Transfabulous 07 revolutionary grrl/boi/Che logo.
* Angela Clayton, activist, Chair of London's trans support charity, The Gender Trust.
* Jo Bernardo, Portuguese activist on behalf of sex workers' rights.
Thank you to Jay Stewart and Catherine McNamara, conference organizer, who put together such a wonderful day. You can listen to her remarks on this audio link.
You can also listen to excerpts from the conference, courtesy Christine Burns and Stephen Whittle's organization, Press for Change, Just click on this audio excerpt link, and search the page for "Trans With Pride."
Okay, that's it for now. Next week, I'll talk about the festival part of London's Transfabulous 07, and I'll introduce you to even more wonderful folks who performed, empowered, and entertained us at the festival.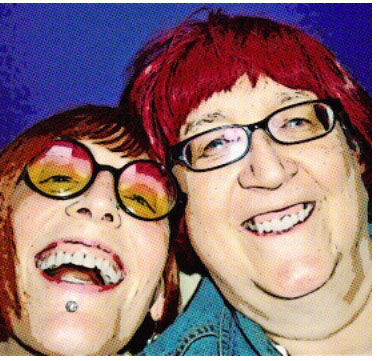 (Kate Bornstein and friend Roz Kaveney)
Kiss kiss, and do keep in mind: we truly are everywhere.