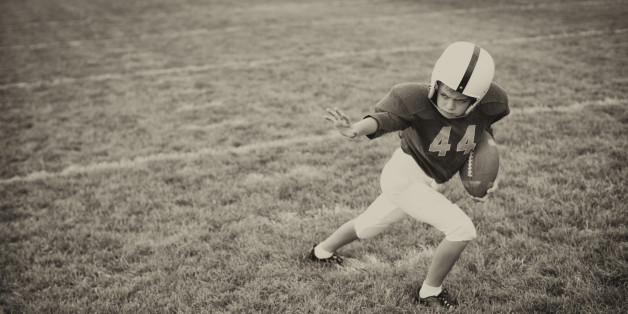 Yesterday I had the honor of attending the White House Healthy Kids and Safe Sports Concussion Summit with President Obama. Why is this issue so important that the President hosted a summit? Too many kids are being kept from playing the games they love because of injuries that we can predict and prevent.
Every three minutes, a child is seen in an emergency department for a sports-related concussion. And every year, 2.6 million kids ages 19 and under receive medical treatment for sports and recreation injuries. This is an urgent issue.
As new and important research becomes available in the area of concussions and the potentially devastating consequences, we now understand that we must be even more vigilant in not only recognizing and treating concussions, but preventing them in the first place.
Being struck in the head isn't the same as being hit hard in another body part -- the injury is not obvious and the damage is hard to evaluate. Concussions are a serious issue for all athletes and particularly young ones. Athletes ages 12 to 15 make up almost half of sports-related concussions among children treated in emergency rooms, which is particularly alarming when considering that younger athletes take a longer time to recover from a concussion than older athletes.
Not surprisingly, the youth sport with the highest concussion rate is football. But concussions also happen in soccer, basketball, ice hockey, wrestling, baseball, softball, volleyball and cheerleading.
In professional sports, coaches and league officials have taken steps to reduce the number of hard head hits during practice and games in an effort to keep players healthy. We must do the same for our young athletes.
Recent efforts have been made by USA Football to teach coaches new and safer tackling drills and to encourage less full speed contact during practice and focus more on form and technique. And USA Hockey prohibits body checking in boys' ice hockey until players are 13 years old. Limiting the number of head hits will limit concussions.

But in order to really change the outcome, we need to change both rules and culture.
Sports teach valuable lessons and should be competitive and entertaining but we have to move away from a "winning at all costs" mentality that is actually detrimental to the health and development of our young athletes. We can remove the terms "taking one for the team," "suck it up" and "playing through an injury" out of the dialogue. At the end of the day, young players must feel it's OK to tell coaches, parents and other players that they've been hurt and it's time to sit it out.
Many coaches, particularly at the community-sports level, don't have an opportunity to become properly educated or certified to coach young athletes. They are well-intentioned volunteers and I applaud them for their effort. But at the earliest level of sports, shouldn't there be more training for coaches to ensure that they are well versed in the proper techniques and injury prevention?

Game-Changing Strategies
Here are four overarching strategies that communities, coaches, parents and athletes can implement to make a difference.
Get educated on preventing sports injuries, then pass it forward. Attend a Safe Kids sports clinic or go to safekids.org to find out how to keep kids safe, then tell your friends.
Teach athletes how to be safe on and off the field. Instill smart hydration habits, warm-up exercises and stretches to prevent common injuries. And take a break from your favorite sport to give overused muscles a rest.
Encourage athletes to speak up about injuries. The truth is it takes more courage to speak up about an injury that can have serious and long-term effects.
Certify all coaches in injury prevention. Coaches at all levels should have the opportunity to receive training and a certification in preventing sports injuries.
Changing the culture in sports is hard but we can do it. Kids' sports are, and should always be, a valuable experience, filled with challenges, competition and fun. But they should also be safe. Working together, we can keep our kids active, strong and safe so they can enjoy the sports they love for a lifetime.