Halloween has always been a big deal for my family. Looking back now, there was something memorable every year. Sometimes it was a good thing (check out my daughter, Ally, in her homemade bunny suit). And sometimes a not-so-good thing (the year my son, Chris, was eight, and Halloween completely snuck up on my family so, with no regard for safety, we threw a white sheet over Chris's head, cut out a few eye holes, and told him he was a ghost.)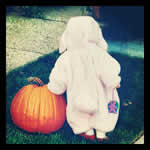 But either way, it's those memories that made each Halloween special.
For many of us who live on or near the east coast, this Halloween is going to be memorable as well thanks to a storm of massive proportions, appropriately nicknamed Frankenstorm. Millions of families are without power and are struggling just to keep warm and safe. Our hearts go out to everyone who has been affected by the storm and we are so grateful to emergency personnel who are working around the clock to make things better.
But if there is one thing this "storm of the century" has taught us, it's the importance of family, friends and being safe. That means if you're in an area where fallen trees, flooding streets and loose electrical wires threaten to make it difficult or dangerous to trick-or-treat, please don't hesitate to do the smart thing and stay in this Halloween.
If your kids are like mine, they'll be disappointed at first. But as much as I love Halloween, this is the year to think of safety first. Of course that doesn't mean Halloween has to be a dud. With just a little creativity, Halloween can still be fun. For example, let the kids trick-or-treat in each room of your house -- a friend did this every year as a kid because he lived in rural Pennsylvania and the nearest neighbor was two miles away. He still smiles when he thinks of his dad rushing into the room ahead of him and using different voices to answer each door.
You can turn off the lights (if Mother Nature hasn't turned them off for you) and tell ghost stories. The word Frankenstorm seems like a good place to start. Or, let the kids go through the closets and put on a fashion show or the first annual Halloween dance contest. When all else fails, an 11-year-old son of a co-worker suggested a candy-eating contest. I like that one.
If you are in an area where the streets are clear, it's still important to think about safety. Safe Kids and FedEx are teaming up to keep kids safe every day but particularly on Halloween when twice as many kids are killed walking than any other day of the year. A safe night starts with taking a few minutes to talk to your little monsters about a few safety tips such as making eye contact with drivers before crossing the street, or reminding them not to run into the street mid-block. Having this chat is something two-thirds of parents don't do even though it's one of the easiest and most important things we can do to keep our kids safe. And don't forget to talk to your older kids about avoiding distractions like cell phones, especially when crossing streets.
And with more children out and about on Halloween night than any other night, everyone should remember to be extra alert while driving. Turn on your headlights earlier than usual; drive extra slow because children may dart between cars as they trick or treat; and finally, give your cell phone or mobile device a break -- treat it to a ride in the back seat. Distraction is a big problem every night, not just Halloween.
For more tips on how to make Halloween scary for all the right reasons, visit our website at Safekids.org.
In the end, thanks to Hurricane Sandy, Halloween might be a little more challenging for many this year, but we can still create wonderful happy memories for our kids. Have a happy and safe Halloween.