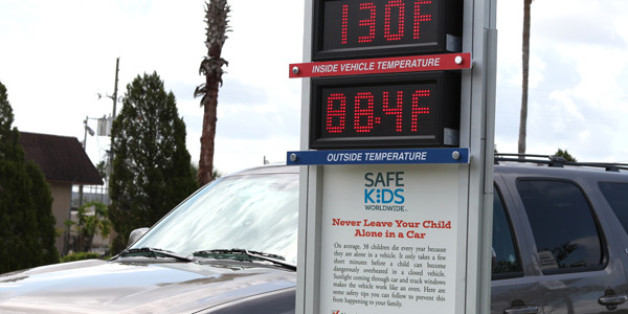 Have you ever wondered if your actions can really make a difference? Last summer in Houston, Jason Nordman was walking in the parking lot outside an office building and spotted a baby crying in a car seat alone in a car. The windows were cracked a few inches and the doors were locked.
Fortunately for the baby and his family, Mr. Nordman decided to get involved. Working together with another bystander, Marcela Orozco, they notified security and called the police. The baby was rushed by ambulance to St. Joseph's Hospital and a life was saved.
Would you do the same? This same situation faces more people than you think. According to a national online survey, almost two out of every five parents surveyed said they had seen a young child left alone in a parked car in the last year.
Some reported that they took action. Others reported that they did nothing.
Why is making that call to 911 so important? Many people are shocked to learn that the inside of a car can rise 20 degrees in 10 minutes and keeps getting hotter with each passing minute. And cracking the window doesn't help.
Heatstroke sets in when the body isn't able to cool itself quickly enough. Young children are particularly at risk as their bodies heat up three to five times faster than an adult's. Children simply can't cool their bodies fast enough to handle the extreme heat. And when a child's temperature reaches 107 degrees, the child is at risk of death.
Since 1998, at least 605 children across the United States have died in cars from heatstroke -- that's one child every 10 days. Five children have already died this summer and the days are only getting longer, the temperature even warmer.
Once again Safe Kids is joining with the National Highway Traffic Safety Administration, the General Motors Foundation and other partners to spread the word about the dangers of heatstroke. We want parents, caregivers and bystanders to join in our effort to eliminate heatstroke deaths by remembering to ACT.
A: Avoid heatstroke-related injury and death by never leaving your child alone in a car, not even for a minute. And make sure to keep your car locked when you're not in it so kids don't get in on their own.
C: Create reminders by putting something in the back of your car next to your child, such as a briefcase, a purse or a cell phone that is needed at your final destination. This is especially important if you're not following your normal routine.
T: Take action. If you see a child alone in a car, call 911. Emergency personnel want you to call. They are trained to respond to these situations, and they'd much rather respond to a false alarm, than a fatality.
As Jason Nordman and Marcela Orozco proved, one call could save a life.
To get more tips about how to prevent heatstroke in cars, visit safekids.org.
This post originally appeared on Safe Kids Worldwide