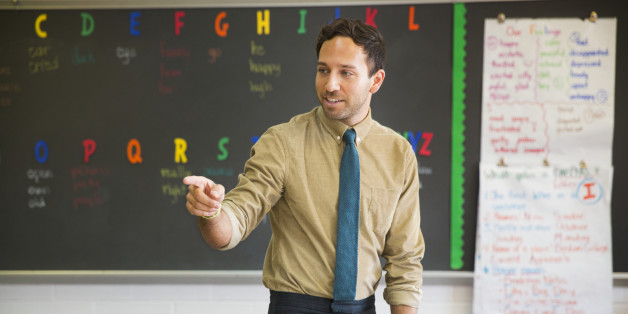 As a child I fought hard to overcome the day-to-day challenges divorce introduced into my life. My parents were perpetually at odds, and while the war waged on between them I often wondered how to find my place in the world. Brutal mid-week custody changes made transitioning between families a logistical nightmare, and school was no easier. With homework getting harder each year, school felt like one more insurmountable challenge (and my grades showed it.)
At 10 years old I walked into my fifth grade class with a heavy heart, expecting another year of struggle. My teacher, a tall man with reddish brown hair, introduced himself to the class with a big smile. "I'm Mr. Ford" he said, "and this year in my class you can succeed as far as you're willing to work." I scoffed at the time, but he was absolutely right.
Determined to succeed, I applied myself in class and started turning in homework assignments on time. I received positive marks in all subjects and actually studied for spelling tests in my free time. Who knew I was an A+ speller! By the end of the year I was placed in a gifted English program. My confidence soared, and so did my grades.
It was only as an adult that I learned the real secret to my success in school that year. Mr. Ford had my full custody schedule marked down on a calendar, including vacation time. He took note of which parent I was going home to at the end of the day and planned accordingly. If it was a day for Dad, he sent me home with a progress report for him while sending another to Mom. He arranged for me to have two sets of textbooks so I never found myself unable to complete assignments. A friendly reminder to double check assignments at the end of the day meant that I never left school without planning my homework schedule for both houses. When it came time for parent-teacher conferences, he had one with each of my parents.
Later the same year my divorced parents collaborated on a school project. The assignment required me to give a speech as my favorite historical figure. At first I groaned, wondering how I could possibly work on such an ambitious project while sharing time between two houses. Little did I know, Mr. Ford made sure a project outline went to both of my parents and helped facilitate communication between them. With Joan of Arc as inspiration, Dad and I created a faux sword and scabbard out of discarded cardboard and duct tape while discussing French history. The following weekend Mom and I drew a colorful banner while comparing my getup to other contemporary interpretations of the medieval heroine. With their help I gave the most convincing speech of the day and had an impressive historically-inspired costume to boot.
Mr. Ford's work boosted my confidence and enabled me to excel academically through my teens and early 20s, inspiring me to eventually pursue English in college. He was an excellent and accomplished teacher to begin with, but it was his sensitivity to my family situation that helped me cope with the difficulty of growing up with divorce. Mr. Ford helped me understand that divorce didn't need to be my identity. I could create my own.