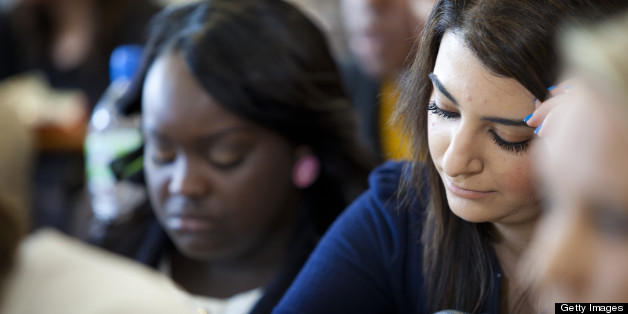 Americans handed their communities a grade earlier this year and the results were mixed. Most communities are earning a passing grade, but no one will be putting their report cards on the fridge.
The community "report card" comes from the Y Community Snapshot survey, which asked 1,500 Americans from around the country to rate their communities on 33 attributes that impact the quality of community life. The attributes fall into four categories:
Community Involvement

Healthy, Active Lifestyle;

Education, Youth and Family Life

Basic, Core Elements and Service
The average grade given to American communities was a passable but unimpressive B-, or 2.62 GPA, on the survey's four-point grading scale. The rating is identical to the 2012 survey results, indicating that even as the country emerges from economic hardship, we still have plenty of work to do. The results are a bit more encouraging in Washington, D.C., where some of that progress appears to be underway. Washington-area residents, after placing their community exactly at the national average last year, reported slightly higher community strength this time around, giving their environment a 2.73 GPA. Within that higher grade are a few surprises about where residents believe the community is improving, most notably in the areas of education and child safety.
The community members' assessment of D.C.'s local school system is 15 percent higher compared to last year -- 3.07 GPA in 2013 versus a 2.66 rating in 2012 -- the largest single increase reported across any of the attributes measured. Nearly four in five residents (79 percent) say the District rated "good" or "excellent" as a safe environment for children, compared to the national average of just 62 percent who report the same level of comfort.
These results are particularly important because DC residents ranked child safety and strong local schools as the two most important assets for a successful community. It's encouraging, that despite lingering economic uncertainty, Americans are focusing on education as a pathway to building a stronger community.
Local community members emphasized the importance of education throughout the survey: seven in ten (70 percent) parents said it was "extremely important" that their children graduate from a four-year college or university, 12 percent higher than the national average. From the survey responses, it appears that the community's strengths and priorities are aligned.
Unfortunately, the news for the D.C. community is not all positive. The survey shows residents are least satisfied with the local employment opportunities for experienced, displaced, out-of-work or underemployed people, and they are unhappy with lack of the opportunities and job training for teens and young adults.
D.C. residents are also concerned that inequality is having damaging effects on the community. Four in five (80 percent) local respondents said there is an "Education Achievement Gap" in D.C. based on family income, status or wealth, and 83 percent say that gap is having a negative impact on young people's chances of succeeding.
The task of addressing these challenges, and others that weaken communities, falls on the shoulders of each community member survey respondents said. When asked who is most capable and responsible for enhancing their communities to improve the quality of life, almost half of the respondents -- nearly 50 percent -- looked to themselves, their families and their neighbors for action.
Given the challenges that persist in neighborhoods and towns, we view the survey findings in an optimistic light for the nation and for the District. People typically turn their attention to other priorities like education, health care and public services when immediate needs like jobs and the economy begin to stabilize and the generally positive outlook on our community's strengths is a welcomed result.
The Y created this survey because we are committed to strengthening communities through our work in youth development, healthy living and social responsibility. We believe that we all have an obligation to give back and provide support to our neighbors. So, I encourage you to join in that effort by being an active and engaged community member who shares a commitment to strengthening the places where we live.
For more information on the Y Community Snapshot, visit http://www.ymca.net/news-media