The philosopher Thich Nhat Hanh suggests in his masterful writings that mindful meditation is the key to human happiness. Ideally, the simple act of walking should dictate the same attentive deliberation and awareness as the act of driving a racecar. It is not the activity but how we approach the action that defines how we participate in life. A simple concept, decidedly challenging to accomplish.
The discipline required for both intellectual and emotional mindfulness is arduous to find and even harder to maintain. Whether it is mastering a sport, learning a new skill, losing weight, or accomplishing any plethora of chosen projects, our individual capacity to sustain personal control underlies success or failure.
We are what we do. The choices that we make become the habits that define who we are. It is not hard to put 100 percent of our best effort into something that we love, but if we can also learn to put 100 percent of our best efforts into situations that we find challenging we create a balance that makes life much easier and more productive. Learning consistent discipline is the strategy behind that goal.
I have found the most productive, fun, and effective exercise for mastering discipline comes from playing poker. Fifty-two cards, eight opponents and a lifetime of lessons that can be applied to just about everything. Poker requires relentless focus, patience and presence. It teaches the individual how quickly they will fail if they do not stay centered and focused. Poker breaks that focus down into a mix of social skills, endurance, risk aversion, observation, and math. Play for a lifetime and you will always have more to learn.
Apprentice players are concerned about their cards. They play the hand they are dealt. They may play that hand assertively or passively, but by merely playing the cards sitting in front of them they are playing half-heartedly. Those with more skill have learned to play a multitude of components unrelated to inertly sitting back and letting what has been dealt control your destiny. Capable players take control of the action by expanding their assessment of the situation around them and creating a multitude of options. In doing so they exceedingly expand their chances for winning.
Like in life, we are not always dealt perfect cards -- certainly not in every hand. Learning skills that teach you the best ways to respond to adverse situations is an extremely valuable life tool. To do that with calm, patient, mindful resolve -- a "poker face" -- is a skill set that translates well in our daily existence. Calm resolve is not a show of weakness but of control and subtle strength. People often find themselves regretful of their behavior in moments where they lose control of their feelings and emotions. It is rare to hear someone lamenting over a moment where they kept their calm.
My respect for poker began through charity. I was asked to consult for a fundraiser to help raise critical funds for an exceptional charity called Keep Memory Alive, where the "entertainment" was poker. The room was filled with some of the greatest players in poker history, including Doyle Brunson, the extraordinary late Chip Reese, Johnny Chan, Gus Hanson, Jack Binion, and Bobby Baldwin. Some exceptionally-talented actors, including Tobey Maguire and Leonardo di Caprio, who also both have strong aptitude at a Texas Hold 'em table, represented the artistic community.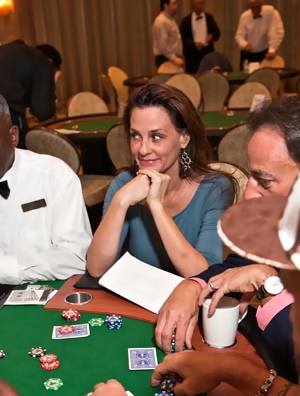 Soon after I worked on a second poker charity event for at-risk youth, then another for hunger eradication, one for the victims of the Haiti earthquake, another for the Global Creative Forum supporting the United Nations, and one for the environment. Poker events began replacing tedious gala affairs filled with bored and gloomy guests to thoroughly fun nights out where people were happy to be supporting great causes. Different charity programs gathered the support and participation of artists including Don Cheadle, George Clooney, Matt Damon, Ben Affleck and Jay-Z. Suddenly poker was no longer a back alley saloon game but a mass-market phenomenon with a positive social impact.
Along my poker charity excursion I met Jamie Gold, who is the player renowned for winning the largest prize in poker history: the main event at the WSOP in 2006, with 8,772 players and an $87 million prize pool. After his victory Jamie's individual focus was as much on philanthropy as cards, and he went on to host or donate his time to events that have raised over $170 million dollars worldwide (1). It was looking at those numbers, along with the remarkable elements that go into learning poker, that made me write "Poker Might Save the World" for The Huffington Post in 2011 (2).
In the spring of 2012, I worked with the team from the World Poker Tour (WPT) to establish a non-profit foundation (WPTF) called "Playing for a Better World" to bring their widespread resources together to create a structured program for philanthropy. With more than 160 yearly tournaments around the world and hundreds of hours of television program outreach, the foundation created the groundwork to make a broad impact on non-profit fundraising.
Poker is an exceptional and very unusual community because it crosses every political, social, religious, economic, racial, international, and sexual barrier. You have presidents playing poker and war veterans, Republicans and Democrats, stay-at-home moms, doctors and minimum wage staffers. Poker is a game that can take a Harvard professor and a high school drop out and put them on an even playing field based on the delicate and complex elements of math, instinct and personal perception skills that each have individually acquired. As noted in a recent Reuter's article, federal legislation just supported the argument that poker is a game of multiple learned skills and not based on gambling or chance (3).
While there is of course an element of "luck" during any game, poker falls hard on the side of well-learned proficiency. Anyone who has spent time around poker understands that it is not some plucky gas station lottery where you randomly guess six numbers in hopes of winning the million-to-one shot.
To succeed in life an individual must be able to sit mindfully and observe those around him and make wise decisions about when and how to behave. When to take risks. When to be patient. Those basic positive skills are transferable to every part of an individual's success. Of course there are many ways to learn discipline. But over the years I have never discovered a practice that is as much fun or teaches so many diverse proficiencies as well.
REFERENCES:
1. www.JamieGold.com
2. http://www.huffingtonpost.com/kate-moulene/how-poker-can-save_b_854134.html
3. http://in.reuters.com/article/2012/08/22/usa-crime-poker-idINL2E8JM4XR20120822