Leaving your career to start a new venture can be daunting at any age. However, later in life might actually be the perfect time to leap and watch the net appear. Remember that scene from Indiana Jones & the Last Crusade when he had to take a leap of faith by crossing a huge abyss and the path builds underneath him? That is exactly what it's like to start your own business: terrifying, surprising, and exciting all at once! Get ready to strap on your seat belt; it's going to be a wild ride.
Creating your own company later in life can be considered an "encore career." This usually happens when you decide that what you are doing isn't fulfilling anymore and you step into your calling and follow your heart. I took this leap when I left my stable six-figure salary, amazing benefits and perks at my movie studio job when I was 33 years old. I was both pushed out by the pain of selling horror movies and pulled by the pleasure of inspiring the masses with uplifting videos and coaching people to live lives that rock. I haven't looked back since because the invisible bridge appeared for me, too.
I have learned a lot on my journey and people often ask me for tips on how to start a business. Here are three of my favorites if you are thinking about getting in line to ride the "encore career" roller coaster.
1. Create a vision & roadmap while trusting the invisible bridge
A business plan is important when you start a business, but even more important is a clear, descriptive vision. Written out in "I am/We Are" language, paint a clear picture of the type of life you want to live. Envision your life and business with all your senses--what are you saying, doing, wearing, working, making, and creating in the future? Dream big, but make sure it's mostly believable and achievable.
Then a roadmap needs to be created which is like planning a trip. You can't control for the weather, but you can decide where you want to stop along the way. Knowing what your benchmarks are for success (i.e. traffic on your website, number of clients, revenue generated, etc.) will help you to keep yourself moving forward in the right direction and staying on track. Remember that a roller coaster has a start and finish but some exciting twists and turns along the way. So be flexible and adaptable as your vision will possibly change and you'll need to pivot. Know where you want to go and trust that the invisible bridge will take you there one baby step at a time.
2. Believe in yourself no matter what
Self-esteem and confidence are like the gas that powers the roller coaster ride of your "encore career." Your "can-do" and "never give up" attitude is crucial. You will inevitably doubt yourself from time to time, but don't ever let this bring you down. If you have a rough day, relax and hit the re-set button the next day. The most important thing is that you have a burning desire to keep moving forward. Your own inner cheerleader and wise, supportive voice (I call this your "Conscious Rockstar") will become your best friend on your journey as she believes in you even when you don't. People may tell you that you can't but please don't listen to their judgments. You create your own success in life!
3. Surround yourself with support stars
Riding a roller coaster is much more fun when you are seated next to someone that enjoys it as much as you do. Having a support system (I call them "support stars") is crucial to your success. Find a mastermind group, life/career coach, mentor, and "accountabilabuddy" to share your vision with and let them help you make your dreams a reality. You are worthy of receiving support whether it's from your spouse, friends, animal companion, team or advisers. Most people acknowledge that starting a new venture requires a village. Synergy means that the whole is greater than the sum of its parts and the best companies are founded on a synergistic culture that works for the greatest good of all concerned.
A clear vision that is fueled by your belief in yourself and the support of your loved ones will not fail. You may make many mistakes, but you will achieve success with consistent inspired action. As Henry David Thoreau said, "Go confidently in the direction of your dreams. Live the life that YOU have imagined."
This article was prepared for MPTF's "Deal With It" conference for women and I was a speaker on a panel called "Encore Careers."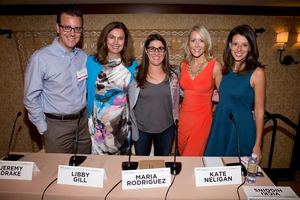 Photo credit: MPTF