Reported by Kate Schelter
Edited by Lesley M. M. Blume
Editor's note:
The era of the ostentatious 'it' bag is over. Blaring logos are dead.
But this fall, statement shoes are bigger, taller, and more opinionated than ever.
Below, Huffington Post Style section contributor and fashion-world insider Kate Schelter details six major shoe trends for this upcoming season. Love them or hate them, these designs will dominate the market from Manolo Blahnik to Nine West this autumn.
This list contains guilty pleasures for every woman, from the golfer to the dominatrix. We are particularly fond of the nostalgic Karen Blixen-esque spectators and the safari print pumps ("Mrs. Robinson - are you trying to seduce me?"). And as a bonus, Schelter generously offers notes on how to wear each style, including the most menacing patent booties.
A warning: don't mix cocktails with the platforms ... you won't come out alive.
1. Return of the Spectator
Boy by Band of Outsiders collaboration with Manolo Blahnik.
Schelter's note: Unfortunately these were never produced beyond a sample. But you get the picture, literally! I would have purchased these myself. They are so clean and modern, just white + navy canvas, with a hint of Croquet.
For more: boy.bandofoutsiders.com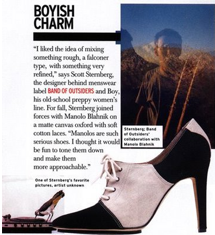 Alexander McQueen peep-toe version
Schelter's note: These shoes are great with wide-legged trousers (they'd only show when you crossed your legs in a chair), or with a miniskirt and opaque tights.
For more: www.net-a-porter.com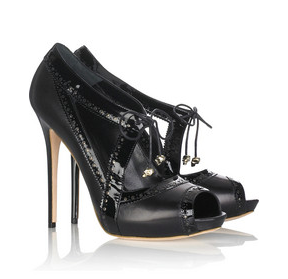 2. Black Patent T-strap heels with Platform
Jimmy Choo T-strap heels
Schelter's note: The least platform of the three shoes shown here, and probably the most conservative. But I like the "low-fi" version of this sexy trend.
For more: www.net-a-porter.com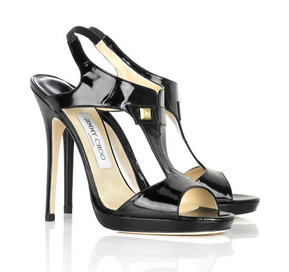 Burberry Studded T-bar sandals
Schelter's note: You pack two trends with these with the added studs. Great with a delicate party dress to really show some fashion cred.
For more: www.net-a-porter.com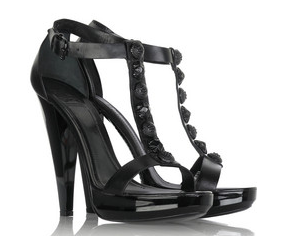 Yves Saint Laurent Tribute Sandal - Black Patent
Schelter's note: Last season's bestseller and fashionista fave is back with new colors and in new heights, which quite literally makes them great for more petite women who want to add some height. Tall girls beware: these get a little close to looking like stripper shoes if you are already 5' 7" or above. Men will feel totally intimidated by you and you will be a head taller than everyone else at the party. These are also great under wide legged pants if you just see a hint of the toe coming through.
For More: www.barneys.com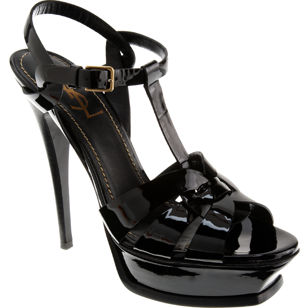 3. Classic Stiletto Pump - sans Platform
Sergio Rossi Veronica Black Patent Leather Pump
Schelter's note: I bought these myself! If you can only buy one shoe this season, this is it. You can wear it day, night, office, dinner, drinks, date - it goes with everything. Try wearing them with Fogal black sheer stockings (with a black seam up the back of the leg) and it will have a touch of Guy Bourdin quality without looking retro.
For more: www.sergiorossi.com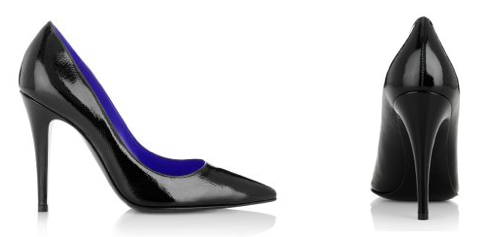 Sergio Rossi Angelica Patent Leather Round-toe Stiletto Pump - Indigo
Schelter's note: These pack a punch and have a slightly higher heel and rounded toe shape than the one above. I LOVE this Yves Klein blue, which as a mate totally updates this season's all-the-rage return of the Little Black Dress.
For more: www.sergiorossi.com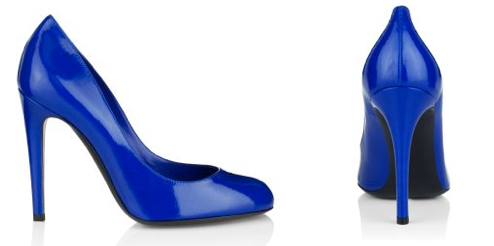 Kate Spade pump
Schelter's note: I bought these, too. Vogue loved "this season's must-have watercolor trend." But please don't pair these beautiful shoes with a matching poufy pink prom dress; pick something watercolor-UNrelated, and the shoes will be their own statement. They have that slight Marni or Dries van Noten feel with the print and palette for half the price; Kate Spade is a very reasonably priced line.
For more: zeta.zappos.com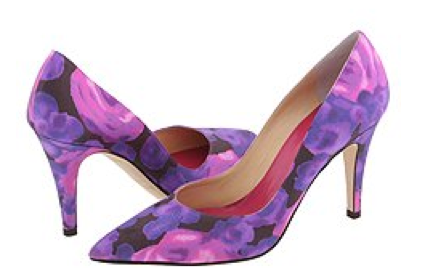 4. Winter Safari
Normally I would pass on the animal print shoes or belts as I feel they're a little matronly or cliché chic. However, I recently saw Vogue-contributor Lauren Santo Domingo wearing a pair of YSL Snow Leopard print heels with a beautiful neutral look (a beige Yigal Azrouel Spring '08 skirt with a grey t-shirt). The whole look inspired me: it seemed like a completely modern and unfussy way to wear animal prints.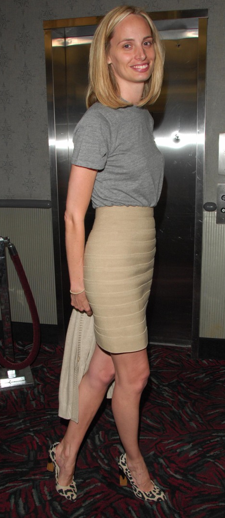 From style.com
Lanvin Patent Cone Heel Pump - Little bit of leopard
Schelter's note: I'm not that crazy about this cone heel as it's a little too trendy for my taste, but it will look very "right now" if you're into that sort of thing.
For more: www.kirnazabete.com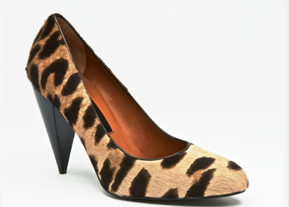 Sergio Rossi Angelica Giraffe Print Pump
Schelter's note: These are my faves... totally gorgeous. The heel, the last, the unusual print.
For more: www.sergiorossi.com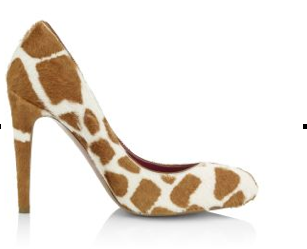 Silver Fox Python Round-toe Pump
Schelter's note: I found these shoes positively arresting. Ladies, men and traffic alike will stop you when they see you in these.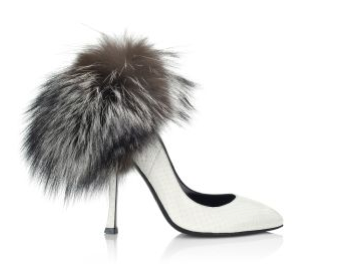 5. Bootie Call!
Manolo Blahnik Lacy lace-up bootie
Schelter's note: I have these in black leather, and when I wear them I get more compliments than ever. I love the lacy quality, which is very now: a modern variation of the spectator, but with the open toe detail. And the lace alludes to Alaia. Again, these are a great rocker juxtaposition (think leather and lace) to a pretty party dress. I paired mine with an ethereal Erin Fetherston floating white cloud of a dress for the CFDA awards.

For more: www.bergdorfgoodman.com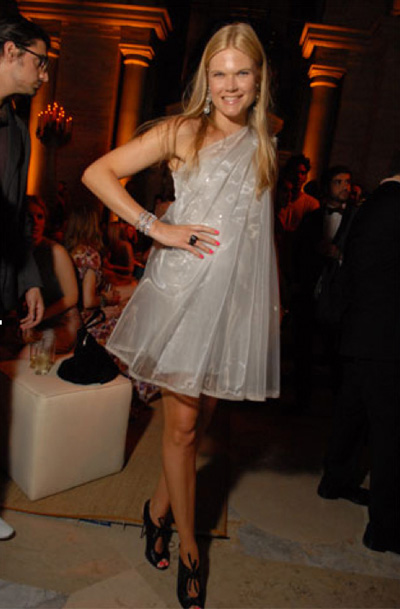 Kate Schelter at CFDA Awards; photo from Style.com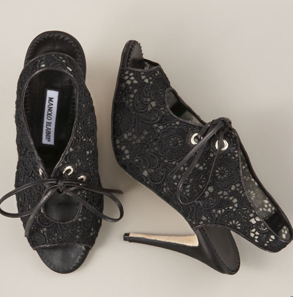 Givenchy Gladiator Bootie
Schelter's note: Here a gladiator, there a gladiator, everywhere a gladiator! The trend continues. These are great to juxtapose with a floral "watercolor" print cocktail dress for evening; or with a black mini, white t-shirt and bare (tan) legs. Update this summer trend for fall by wearing these with tights. They just make women look strong, sexy and, well, strappy.
For more: www.barneys.com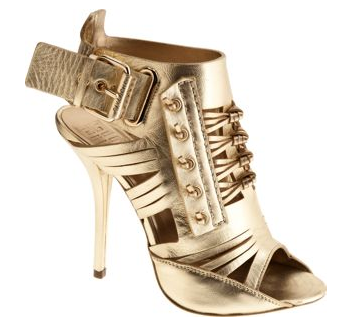 Valentino Suede Peep-Toe Booties
Schelter's note: I LOVE these. Buy them.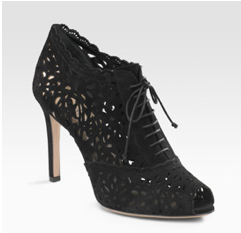 6. Monster platform wood soles
Stella McCartney Patent Platform Pump
Schelter's note: Warning: any platform should be worn by women 5'6" and BELOW. Tall women, please skip the extra height and opt for the gorgeous classic stiletto pumps - it looks a lot more elegant, and you don't need the height, I promise. I am 5' 10" and I have almost fallen over in these. No kidding. Lost my balance. But this is this season's editorial uber-trend, so prepare to wear these for one season only.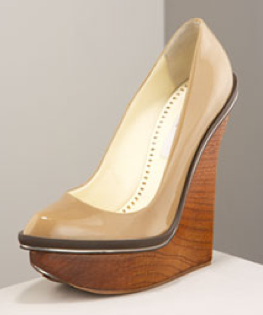 Marni peep-toe ankle boots
Schelter's note: Same as above, just with covered ankle.
For more: www.net-a-porter.com