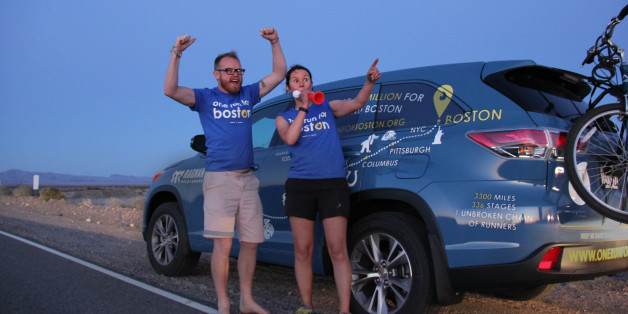 One Run For Boston is a cross-country relay that raises money victims of the Boston Marathon bombings.
This story was produced in partnership with Facebook Stories. Submit your own Facebook story here.
---
Last year, my friend Danny and I were following the coverage of the Boston Marathon at home in Devon, England, when two bombs exploded at the finish line.
At first we simply couldn't believe it. It seemed crazy to us that a marathon would be targeted by terrorists. We were shocked. Despite being 3,000 miles away, the bombings hit very close to home. As runners ourselves, we could easily imagine our family and friends waiting for us at the finish line when the bombs went off. We knew immediately that we wanted to do something to help, we just didn't know what.
A few days after the marathon, we heard that a fund had been set up to help the victims of the bombings. We wanted to make a donation but that didn't seem enough. So we decided to create an event that would help bring the running community together and raise a lot more money between us. The idea we had was for a non-stop running relay across America, all the way from the West Coast to the East Coast. We hoped it would symbolize the unity of many people for a single cause. We would call it One Run For Boston and ask every runner to make a donation to The One Fund Boston.
We gave ourselves just six weeks to set up the event. It was a massive logistical challenge made harder by the fact we didn't know anyone in the U.S. We roped in our friend Jamie to help. The first thing he did was set up the One Run For Boston Facebook Page.
When Jamie told us to share the page with our friends, I thought he was being a bit optimistic. I couldn't understand how getting my friends in England to like the page was going to help us recruit runners in the USA. But I shared the page anyway, and within 24 hours we got a message from a guy named Ian who lived in Rhode Island. Ian was a friend of a friend of a friend of mine and was super keen to join us. Better still, he wanted to help us spread the word.
Ian told his friends and numerous running clubs and organizations across America about One Run For Boston. He also created a closed group on Facebook where the runners taking part in the relay could chat, share photos, ask questions and get to know each other. The group helped us transform One Run For Boston from an event into an incredible community.
Eventually, 2,000 runners signed up to run in the relay covering 3,330 miles between Venice Beach, Calif., and Boston. Together we raised more than $91,000 to help those impacted by the marathon bombings. The final 26.2 miles of the relay followed the route of the Boston Marathon course and our baton was carried across the finish line by bombing survivor John Odom. John was very nearly killed in the explosion and suffered severe leg injuries. He was pushed across the finish line in his wheelchair by his daughter, Nicole. Later, John told us that being part of One Run For Boston meant he could finally begin to heal.
The whole experience was so meaningful and brought together such an incredible community of runners, we had to do it again this year. We started out from Santa Monica, Calif., on March 16. This time John Odom and his family joined us at the start. It was incredible to see John walking across the start line with the relay baton. The relay finished in Boston on April 13 and raised more than $435,000. Eight hundred runners ran the last leg of the relay and we were so honored that a large group of survivors and their families joined us on Boylston Street to walk the final 50 yards. Seeing so many inspirational people cross the finish line together in one giant wave of positivity, cheering and chanting 'Boston Strong!' is a moment that Danny and I will never forget.
Kate Treleaven is director of Boundless Pursuits in Devon, UK. Find out more about One Run For Boston on Facebook and their website.