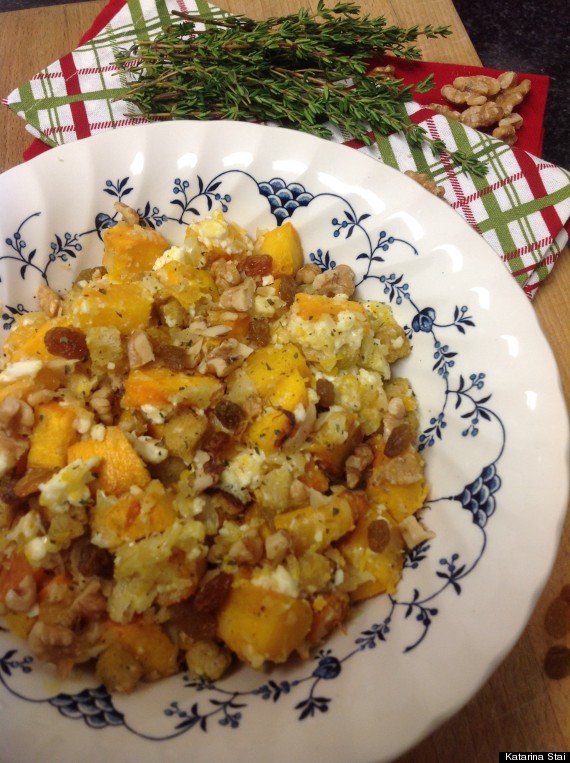 This is a recipe for a different kind of stuffing for turkey that is rich in flavor and fragrance.
Ingredients:
2 tablespoons olive oil
1 onion, chopped
pinch of cayenne pepper
½ teaspoon sugar
600 grams of pumpkin cubes
200 grams of crumbled feta cheese
2 cups seasoned croutons (ready or create our own)
leaves 1/2 bunch chopped fresh thyme (or 1 teaspoon dried)
1 cup walnuts, chopped
1/2 cup golden raisins

Instructions:
Saute the chopped onions in olive oil for 2-3 minutes and relish with some cayenne pepper (to taste), ½ teaspoon sugar, salt and pepper. Add the diced pumpkin (that is first grilled in the oven for 30-40 minutes, until golden brown). Mix well and remove from heat. Add the crumbled feta cheese, 2 cups seasoned croutons and thyme (fresh or dry). Season with salt and pepper to taste correct, if necessary. Add 1 cup chopped walnuts and 1/2 cup golden raisins and mix well.
Tip:
Instead of thyme, we can use mint or basil as a herb equally matched with feta and pumpkin. To make our own flavored croutons, cut the left over bread into small cubes. Pour a little olive oil in a pan, heat and pour in the bread. Sprinkle with a little salt, pepper and the herb of your choice or a little garlic paste and let them cook until browned. Let them dry .
The ingredients of this recipe are for filling a turkey 4-5 kilograms.
For more recipes by Katerina, visit www.oliveoil-culture.com