The Public Theater has a knack for bringing together opposing forces from the world of fine and performing arts, placing giants like Tony Kushner and Rachel Maddow on the same stage to debate the state of culture, in its series Public Forum Duets. This past Public event featured a forum duet to rival the rest, staring the hip hop virtuoso Ahmir "Questlove" Thompson and new wave god David Byrne.
Brought together to discuss the impact of music in popular consciousness, the Roots drummer and former Talking Heads frontman gave audience members a night to remember, swapping stories from the heydays of their respective careers. Questlove asked Byrne about his early memories of New York in the 1970s while the Scottish songwriter probed Mr. Thompson on the genesis of the Philadelphia music scene.
The event, hosted by the Public Forum's Jeremy McCarter, was a sold out event at NYU's Skirball Center, so you might have missed Questlove's animated gestures (hairpick and all) and Byrne's humble responses. There's no need to fret, though. Here's a list of the top 10 things I learned from the Public Theater's odd couple: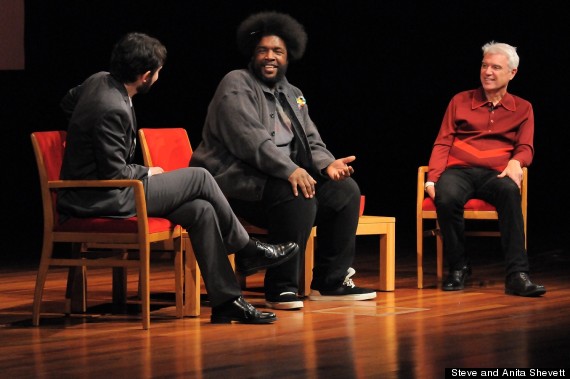 1. Questlove Is Teaching A Class On Classic Albums At NYU:
Professor Thompson is currently teaching a class on classic albums at NYU, educating undergraduates on the merits of Public Enemy and Michael Jackson. No, you can't take the course unless you are enrolled at the university, but you can join me in being extremely jealous of the freshmen students who can.
2. David Byrne Is Making A Musical:
So you can't witness Questlove's study on the concept of seminal albums, but you can attend Byrne's upcoming musical, "Here Lies the Love" at the Public Theater. Byrne wrote the lyrics and music (with help from Fatboy Slim), creating a "fully immersive, 360-degree theatrical experience" equipped with disco beats and contemporary dance. Mysterious? Yes. I can hardly contain my excitement.
3. Questlove Was Accepted To Juilliard:
Did you know the Roots member was accepted to Juilliard? He didn't end up attending, however, because he was tending to a little band then known as The Square Roots. He is also an alumnus of Philadelphia High School for the Creative and Performing Arts, where fellow classmates included Boyz II Men, jazz bassist Christian McBride, jazz guitarist Kurt Rosenwinkel and singer Amel Larrieux.
4. David Byrne Doesn't Love Classical Music:
David Byrne was not shy about his distaste for some classical music. He quoted his father, who once told him, "If you don't appreciate Mozart, then you know nothing about music." Byrne disagrees, going as far as to say this emphasis on the classical realm can become a class issue. Pop songs, in his opinion, can have just as much influence on an early listener as classical composers.
5. Questlove Misses The Philadelphia Hip Hop Community:
Questlove talked extensively about the movement that helped propel The Roots' career, that movement being the community of Philadelphia and Def Jam musicians like Common, Eve, Jill Scott, and Talib Kwelli. While reminiscing about the last time all of these figures were together -- Dave Chapelle's Block Party -- he made clear that he missed his hip hop family.
6. David Byrne Doesn't Read Reviews:
No matter how much Questlove prodded, David Byrne would not concede to reading reviews. He takes a peek after his albums have been released and his tours have come to an end, but the seasoned musician said he doesn't like to follow critics. "They're talking about you personally," he said, cringing.
7. Questlove Is A Meta Critic Disciple:
Questlove, on the other hand, is a bit more tuned into the world of reviews. He joked about waking up every morning and checking his meta critic rating, proudly stating that The Roots maintain around an 82 on the site (a very respectable score). "We've always been the prestige band," he said.
8. David Byrne Is Not A Good Surfer:
While discussing the drawbacks of sustaining a long career, David Byrne described how some shows can feel like you're running on a treadmill; an exhausting, rote experience that he tries to avoid by embarking on new projects. Switching metaphores, he said, "I'm just not a good enough surfer."
9. Questlove Makes Playlists For Blue Ivy Carter:
Yup, there is in fact an iPod -- make it, two iPods -- in the household of Beyonce and Jay-Z that contain playlists made exclusively for Blue Ivy Carter. Amongst the bands on the list are Captain Beefheart and Frank Zappa.
10. David Byrne Has A Very Simple Explanation for "Big Suit":
Of course, an adoring fan asked Byrne about his iconic "Big Suit." The inspiration behind it? A Japanese fashion designer said to Byrne at dinner, "Everything on stage is bigger." So the musician made a big suit to wear on stage. It's as simple as that.
You can check out more of the Public's fantastic duet series here. http://www.publictheater.org/content/view/269
Bonus: Watch David Byrne interview himself, wearing the Big Suit.