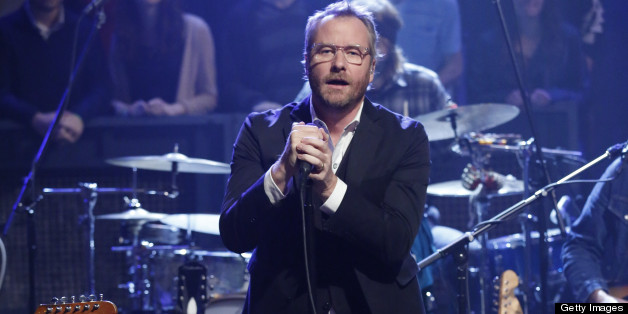 When the gear guys at Public Assembly carried one bottle of white wine and half a dozen clear plastic cup onto the stage Tuesday night, audience members close enough to kiss the stage let out a collective chuckle. Imagining the indie men of The National -- Matt Berninger, the brothers Dessner, and the brothers Devendorf -- sipping on a glass of Chardonnay mid-set was certainly a laughable day-dream.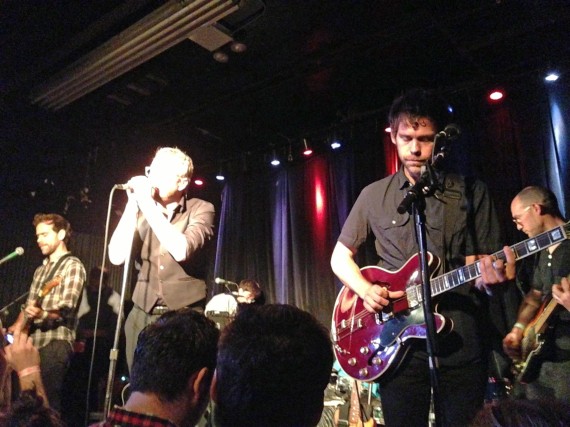 Photo credit: Katy Brooks
This was the scene approximately 15 minutes before Berninger and company emerged from the crowds and crawled onto the small, elevated stage of the Williamsburg, Brooklyn venue. It was show number two in a set of three surprise gigs in New York City, celebrating the band's release of their new album "The Trouble Will Find Me." The first stop was Sycamore Flower Shop, a tiny bar in the band's own neighborhood, Ditmas Park, then came the Public Assembly show and a big finale at Manhattan's Mercury Lounge, all squeezed into one day.
"There was no stage when we used to play here," Beringer announced to fans at PA, after climbing to the mic and claiming his wine cup. "We tried to get them to take it out tonight," he added, with a smirk, looking more like Jeff Daniels than ever.
Beringer opened the show with the third song off the record, "Don't Swallow the Cap," crooning the lyrics to a packed house of dedicated fans who'd won their chance to see The National through an online raffle. Flanked by twin guitarists Aaron and Bryce Dresner, they worked their way through much of "The Trouble Will Find Me," toasting the audience with a slow, echoey performance of "Pink Rabbits" (bassist Scott Devendorf's alleged favorite drink) and a brass-heavy "Fireproof."
The video for "Sea of Love," which premiered on Reddit.
Nine songs in all, the 5 o'clock show was short and sweet, ending with a hat tip to their previous album, "High Violet." Beringer led the crew in a blustering, wail-worthy rendition of "Terrible Love" that prompted a room-wide sing-a-long. Front row admirers remained stationed long after drummer Bryan Devendorf (another lost doppleganger, this time resembling a thinner, dark-haired J Mascis) exited from behind his kit. Alas, no encore was to be had, and the band was already en route to their next destination.
All in all, the mini-tour across two boroughs was a fitting way for the NYC-based indie band to launch the album. It came after a Letterman appearance the night before, and listeners were given plenty of time to memorize the tunes, thanks to the group's decision to stream the record for free on May 13. With lyrics less frantic -- yet just as cryptic -- as their predecessors, accompanied by the aching, frustration-rock The National has come to be known for, "Trouble" is a welcome treat for long-time fans.