On every level, Paris never ceases to deliver: the creative energy, the glory of the city, the artisans, the audiences, the shows. It's a bit of madness and equal parts magic. One of the artists we work with, Alex Box, mentioned to me how in Paris, due perhaps to the intricacy or the overall mood, the makeup is more emotional. I have to agree. For as many shows that feature bold strokes, there are also an equal number of subtle, quiet beauties.
Obviously, I super adore my colleagues. But by the time we hit Paris, the last stop on this international fashion week (month!) tour, our true colors are apparent. There are those who hate mornings, those who need wine to decompress after the day, some who get giddy from exhaustion, and various personality traits have all risen to the surface. It's a time of real bonding, and the point where it's clear that this isn't just a job, it's a choice. No one would live through these conditions for mere employment. Are you crazy? If you were only in it for the money, believe me, by the time we start Paris, you would split and take the next jet plane home.
Challenges abounded. For example, we experienced a number of surprisingly mild weather days this season, which under any other circumstances would be lovely, but for us, it led to a new degree of backstage conditions. Both the backstages at Palais de Tokyo and the official tent under the Pont Alexandre bridge were lovingly dubbed, "Bikram backstage." Warm temps outside combined with no ventilation, hair dryers, lights and hundreds of people made for tropically hot, hot conditions. Argh! Imagine slogging through a sweaty, steamy black box and trying to keep the models from melting, fainting, or looking like they had just emerged from a steam bath, (which essentially, it was). Fun. Also, I was continuously surprised by how many people the production teams thought it was okay to cram back there. An increasing part of my backstage time involved moving furniture, lighting, etc., so we could all work together properly. So much for organizing, making deals, and general fabulousness, ha! More like Schlepping Furniture 101.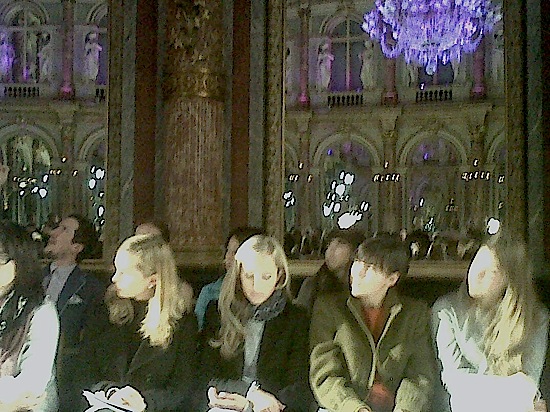 Another "joy" of Paris is that the shows typically require a standard four-hour call time -- when the creative hair/makeup team and models are supposed to show -- and sometimes five or longer. Of course, hair and makeup always arrive promptly, but the models, well, they drift in slowly. So our standard artist's two-show days can easily end up being 11-12 hours long. On top of slow starts, Paris show delays can be especially painful. We were dressed and ready for Vivienne Westwood's Gold Label show to start for more than an hour. Everything was set to go until we ended up having to wait for press members that were coming from another show across town. Needless to say, the initial excitement of the moment passed, and it was hard to warm the creative energy after a delay like that.
Of course, some aspects of the job get easier. In Paris, the epic battle of hair vs. makeup (who gets the model first), sort of wanes, as we've all gotten to know each other, try to respect now-established boundaries, and ultimately agree to consider the big picture by working together to get the job done as efficiently as possible. Considering the Bikram-like humidity, I decided that I was more of a lover than a fighter anyway.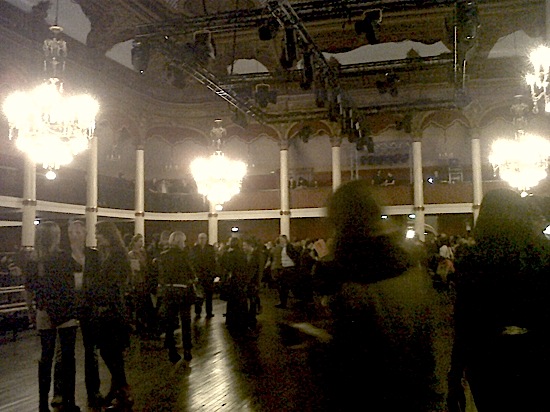 La Salle Wagram
I woke up this morning, and it's hard to believe it's all over. No more crazy early call times, leaving my cell phone on all night, and sleeping with the next day's schedule beside my bed. (Yes sadly, these are just a few of my mainstays during fashion weeks.) Nothing like a 6 a.m. emergency such as, oh say, someone got the venue or call time wrong, to throw you wide awake. I will not miss that.
After the 210 shows our M•A•C team participated in this season, what's the big summation? Maybe it's that the show must go on. It's funny, but even though Fashion Week is already ebbing away in a cloud of exhaustion, while the rough edges recede into the background, the great moments with talented, lovely people and amazing shows rise closer to the surface. Someone mentioned to me that the overall experience is not unlike childbirth: The pain is so intense that after, you don't remember the actual pain. That way you can do it all over again. So as we all double kiss salutations of à bientôt, all I can say is, see you next time.