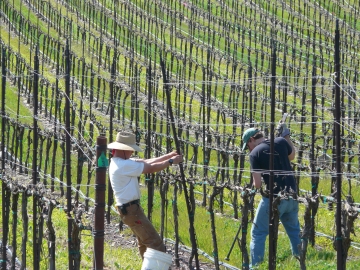 When Adam Burke returned from his tour of duty in Iraq with a Purple Heart and an injury so severe he couldn't walk without a cane, the most natural place for him to go was a blueberry farm.
He had grown up on such a farm in Florida, and as he considered what he was going to do next, he quickly realized that the peaceful surroundings and satisfying work of agriculture were just the things to repair a war-torn body and soul.
Then an idea struck him: Other returning veterans could probably benefit from the same things. So why not start a blueberry farm where they could come to heal and learn a new career in agriculture?
"I decided that the best way to provide therapy for myself and others was to find something other than what [Veterans Affairs] was offering, which was just a lot of medication that was really hurting us," Burke said last week at a panel discussion on rural jobs hosted by the Coalition for Iraq + Afghanistan Veterans.

Helping Veterans Reintegrate
With the help of Michael O'Gorman, a lifetime organic farmer and the force-of-nature behind the Farmer-Veteran Coalition, an organization that provides resources and support of all kinds to get veterans involved in farming, Burke launched on a new adventure a year and a half ago.
"I convinced my wife. I said, 'let's move into this small, 32-foot travel trailer. I'll dedicate all my money, all the disability pay that I have, to start this farm,'" Burke said. "It was rough, it was seven months of ... tough times, let's put it that way."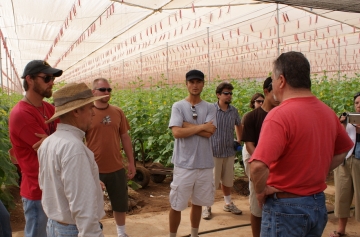 But the hardship has been well worth it. Burke's program, Veterans Farm, is getting ready to open its second location, an eight-acre blueberry farm in Jacksonville, Fla. The first, a two-and-a-half-acre plot in Webster, Florida, employs five vets already.
Burke purposely located the new farm in an area with a large number of veterans -- the third largest military presence in the country -- but no VA hospital. It will go beyond Burke's original purpose of offering "horticulture therapy," as he put it, to providing on-the-job and skills training to help participants build agricultural careers.
The farm's 14-week program provides veterans a small stipend, practical hands-on training and a sense of belonging and camaraderie, not to mention a means of reacquainting themselves with civilian life.
"Our goal is to really help the guys reintegrate back into society," Burke said. "Go to framers' markets and sell. Go to commercial markets. Get out in the community. Really work with the community. And then go out and start their own farms. Or, if they decide not to do that, we have a pile of farmers who are looking for workers. They need the help."
Crisis or Opportunity?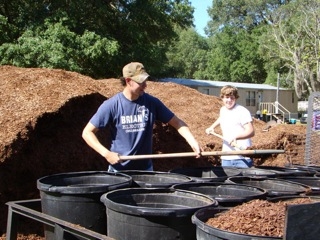 O'Gorman, who claims that he has farmed more organic vegetables -- over $200 million worth -- than only two other people in the world, will assist Burke's trainees in launching their own enterprises as well. He started the Farmer-Veteran Coalition when his son joined the military in the wake of 9/11, which prompted him to look beyond the borders of the large-scale organic farms he managed in California's Central Valley to, as he put it, "open his mind" to what it means to be a soldier and a veteran in our country today.
He began to learn some surprising things about the soldiers his son was serving with. A particular report, for instance "showed us that a hugely disproportionate number of military came from small towns," he said. "And the smaller the town the higher the proportion of residents that were in the military." He shared the statistic that while just one-sixth of the American population is classified as living in rural communities, 45 percent of the military comes from these areas.
A flood of rural veterans returning home in search of work in areas whose economies have been dwindling for decades might seem like a crisis. But, as O'Gorman pointed out, in Chinese the word for crisis is composed of the words for "danger" and "opportunity."
There is a sector of the rural economy that badly needs people just like these vets. Almost half of American farmers are 55 years old or older, and without enough new farmers to take their places, the number of US farmers is plummeting. Up to a quarter of the nation's farmers and ranchers will likely retire within the next two decades. And without enough farmers, we don't have enough food.
"We have a crisis in the United States of lack of young people going into agriculture," O'Gorman said. "So, what better place to go look for new farmers than among the young men and women who went into the military with a sense of service and came out with the discipline and the leadership and the work ethic, and are looking for something new to do?"
Where better, indeed?
This story originally appeared on Tonic. Photos courtesy of Farmer-Veteran Coalition and Veterans Farm.