Genevieve Piturro's path from corporate VP to nonprofit pioneer started with a bedtime story. And after that, a bedtime.
A sad and lonely bedtime.
The
kids she had been reading to in the emergency shelter did what they
could to get comfortable. They curled up on whatever couches and
mattresses were available, still dressed in ill-fitting clothes, some
of them crying.
Many of these children had just been rescued from
abusive and neglectful homes. Some of them hadn't ever known what it
felt like to be loved.
"The kids had nothing with them and they
were just abused and abandoned," Piturro later recalled. "And it was
heartbreaking to me to see their sleep time."
At a Crossroads
That
moment came at a crossroads in Piturro's life, a time when she had
began questioning, at age 38, whether the rat race was enough to
fulfill her. She had woken up one day, decades after launching a
successful career in the entertainment business, and taken stock: no
children, no husband, no sense of purpose beyond the corporate ladder.
It wasn't enough.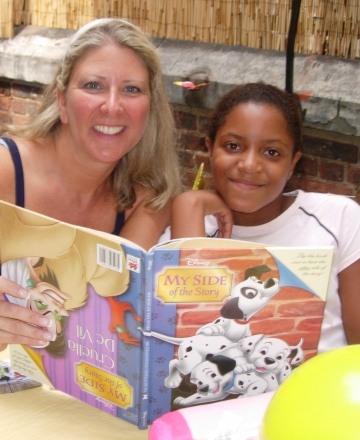 Open to new possibilities, she met and married
a man named Demo, who suggested that she read to kids in shelters as a
way to find some deeper meaning and be closer to children.
Watching
her charges go to bed in loneliness and disarray that first night, she
found the purpose she had been searching for. She waited for the
shelter's staff to finish getting the kids to sleep and then asked if
she could bring the children some pajamas the next week.
That was
the moment that changed her life. A simple vow to give a needed gift
launched her onto a path that led her to found and run Pajama Program, a nonprofit organization dedicated to donating pajamas and books to children in need.
Her
vision crystallized when she brought her first donation of 12 pajamas
to the kids in the shelter a week after first reading to them. One
little girl looked quizzically at the pajamas Piturro was holding out
to her. "What are these?" she asked.
"I had a mom, she tucked me
in, tucked my brothers and my sister in," Piturro said. "We wouldn't
let her leave our bedside. You know, just what kids are supposed to
have at night."
Having pajamas, Piturro can see, is about more than going to bed at night in something other than street clothes.
"It's
a hug at night," she said, "something they will take under the covers
with them wherever they are, whether it's a couch or a bed and whether
they're alone in it or sharing it with three other kids. It's something
that makes them know that someone loves them."
A Vision Realized
It quickly became Piturro's
mission in life to give that experience of safety, warmth and love to
as many children as she could. She started by asking friends and family
to give her children's pajamas in lieu of gifts and money for holidays
or fundraisers.
As she distributed more and more pajamas and
books in shelters and group homes around the New York area, her
interest in her corporate career began to subside.
After
Parenting Magazine covered the program in 2001, boxes of sleepwear and
books started rolling in from people all over the country. Her house
was colonized by cardboard boxes: "they were all over like a maze, we
ate on them, we sat on them."
Piturro's appearance on Oprah in
2007 motivated an avalanche of volunteer support, so that eight years
after offering those first PJs, she has grown Pajama Program into a
network of 70 chapters in 44 states, which collect and donate supplies
to 1,900 organizations. The organization has, as of this writing, donated 433,109 pairs of pajamas and 190,105 new books
to children and opened three reading centers in the New York area. She
now aims to expand until the program can supply new pajamas and books
four times every year.
Comfort in a Cold Season
Kids
in crisis situations have particularly acute need for warm pajamas from
the start of October through the end of March, what Piturro calls
"Danger Season." An army of intrepid volunteers and kind-hearted donors
make sure these kids are prepared to face winter temperatures in foster
homes or shelters that might not be sufficiently heated or where
blankets might be scarce.
While Piturro thrills at all the
progress she has made — and the new purpose she has found in life — she
realizes there is much more to do, especially during the cold winter
months. "It's a mix of joy watching the boxes go out and it's back to
hard work and disappointing feelings when I see how many kids are still
on the waiting list," she said.
With so much need, more help is
badly needed. Donors and volunteers can be confident they are
contributing to a true labor of love. "It means the world to me,"
Piturro told me. "I never had a baby so it's my baby. It brings joy and
heartbreaking emotions at the same time."
How You Can Help
Visit the Pajama Program website to find out more about donating or volunteering in your area. This season, Sprout
is matching pair-for-pair all the pajamas that donors contribute, so
all gifts will go twice as far. Piturro said that there's a particular
need for larger sizes; kids who are 8, 9, 10 and older frequently wear
adult sizes, which are often neglected or forgotten by donors.
Additionally, she seeks volunteers and donated space to open reading
centers in Chicago, California and Florida.
Photo courtesy of Pajama Program