When I was planning my trip to Russia, I expected a frozen, cold wasteland with personalities to match the climate. I had imagined gray, cold-war images of comrades in fur hats and handlebar moustaches. Not sure if it's just me or if every 20-something, raised on movies like Die Hard, has a lot of preconceptions about Russia.
Either way, I couldn't have been more wrong.
Most large cities in Russia, especially Moscow and St. Petersburg, are very European and great places to visit if you're looking for something a little different from your average Euro trip. The people, although direct, are very friendly and I was blown away by the ornate art and architecture.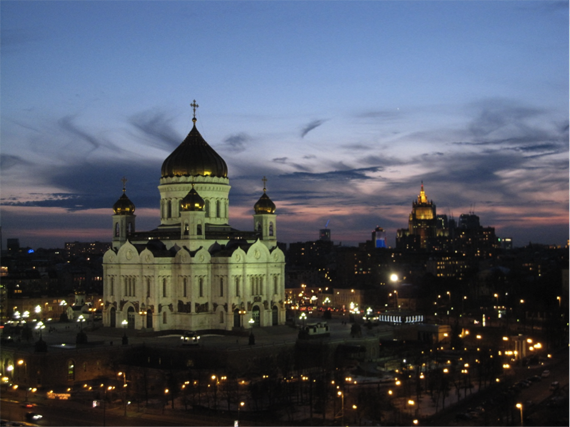 Moscow at night, with Cathedral of Christ the Savior in the foreground
Can't Miss
Conveniently, some of the most amazing things in Moscow are all located in Red Square. St. Basil's Cathedral, Lenin's Mausoleum and, of course, the Kremlin are all in easy walking distance of each other.
The Kremlin, which is actually a fortified wall surrounding a complex of historic sites, houses three cathedrals, an iconic bell tower, an armory and the Grand Kremlin Palace, home of Czar Nicholas. This is where you will see some truly breathtaking Russian art including Fabergé eggs, paintings and tapestries.
If you're in the mood for some Soviet history, visit the Gulag History Museum for what's sure to be an eye-opening (though not uplifting) experience.
Once you've fully explored Red Square, I recommend a visit to the Tretyakov Gallery, where you can see some of Russia's most renowned art and icons. They boast an elaborate collection of pre-revolutionary art.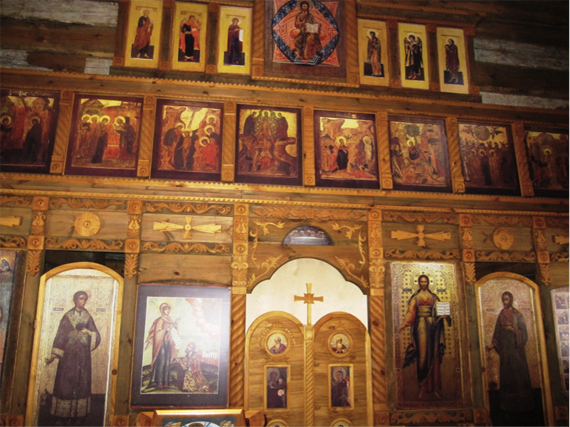 Russia's unique and elaborate iconography is sure to impress
If you're smart enough to visit Russia when it's not a snowy wasteland, visit the Alexandrovsky Garden, Moscow's first public park. Don't be surprised if you see hoards of newlyweds at many of these tourist spots; it's a Russian tradition to take photos at iconic Moscow locations.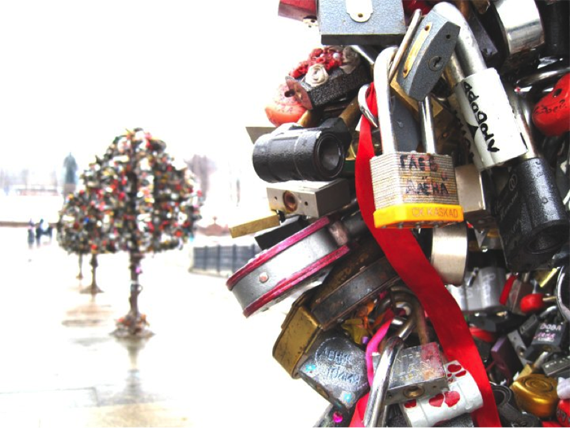 Moscow newlyweds write their names on padlocks and then throw the keys into the river, creating these fascinating padlock trees.
Where to Stay
The Moscow traffic is generally impossible to navigate, so I suggest staying somewhere central that gives you good access either on foot or by subway to most of your destinations.
Try the Ararat Park Hyatt or the Golden Apple Hotel for high-end accommodations. If you're looking for a hostel, I recommend the Artel Artistic Hostel, a low-cost but edgy option conveniently located across the street from Red Square.
Where to Dine
Moscow has a vibrant restaurant and bar scene, thanks in large part to an influx of oil money and foreign residents. It doesn't come cheap, but it always comes with a shot of vodka at the end of your meal.
Check out Cafe Pushkin, a 19th-century-style restaurant that is open 24 hours, or if you're looking for something a little more cultural, visit Khachapuri, named for the Georgian cheesy bread dish that's a Russian specialty. For a trip back in time, Shinok recreates a Ukrainian peasant-style dining experience.
If you want to explore the bar scene, GQ Bar or Bar 30/7 are good places to start.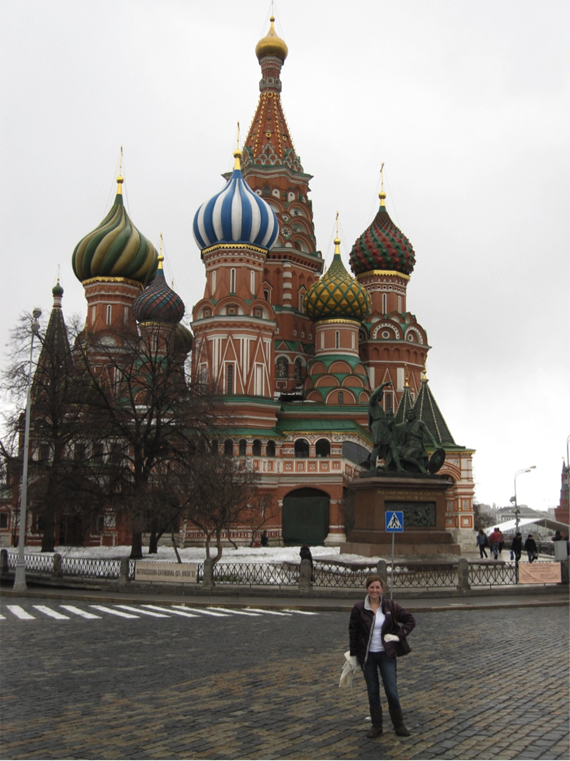 In front of St. Basil's Cathedral in Red Square
Tips and Tricks
• The best seasons to visit Moscow are spring and autumn, to avoid the more severe weather patterns. I visited in March, and it was still freezing cold and quite snowy, so plan for a tundra-like climate most of the year.
• In Russia, tourists are required to carry their passport with them at all times. There may be police inspections (which sounds pretty scary). Luckily, I never encountered this. Still, it's probably a good idea to make sure you have a safe place in your jacket or bag for your passport.
• Moscow is a very expensive city, food and lodging can be as pricey as in New York or Tokyo. Make sure you bring enough rubles to avoid troubles. Bribery remains a big part of the economy.
• Smoking is allowed pretty much everywhere in Russia, including inside restaurants and bars. Be sure to request a non-smoking section (if they have one).
• If you have time, I highly recommend taking the train to St. Petersburg or scheduling day trips to Vladimir and Suzdal, smaller principalities dating back to the 12th century. It will give you a great feel for the sheer longevity of Russian society.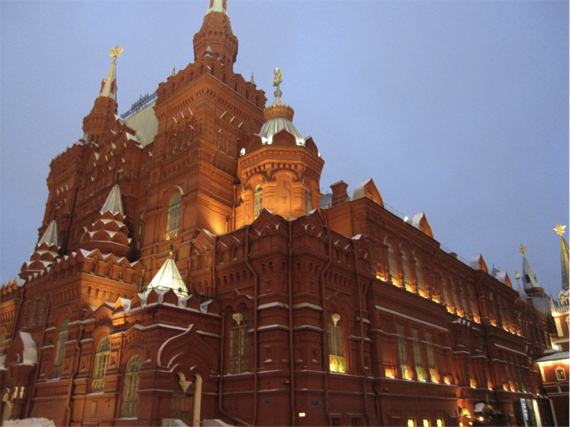 The State Historical Museum in Red Square near the Kremlin reminds me of a gingerbread house!