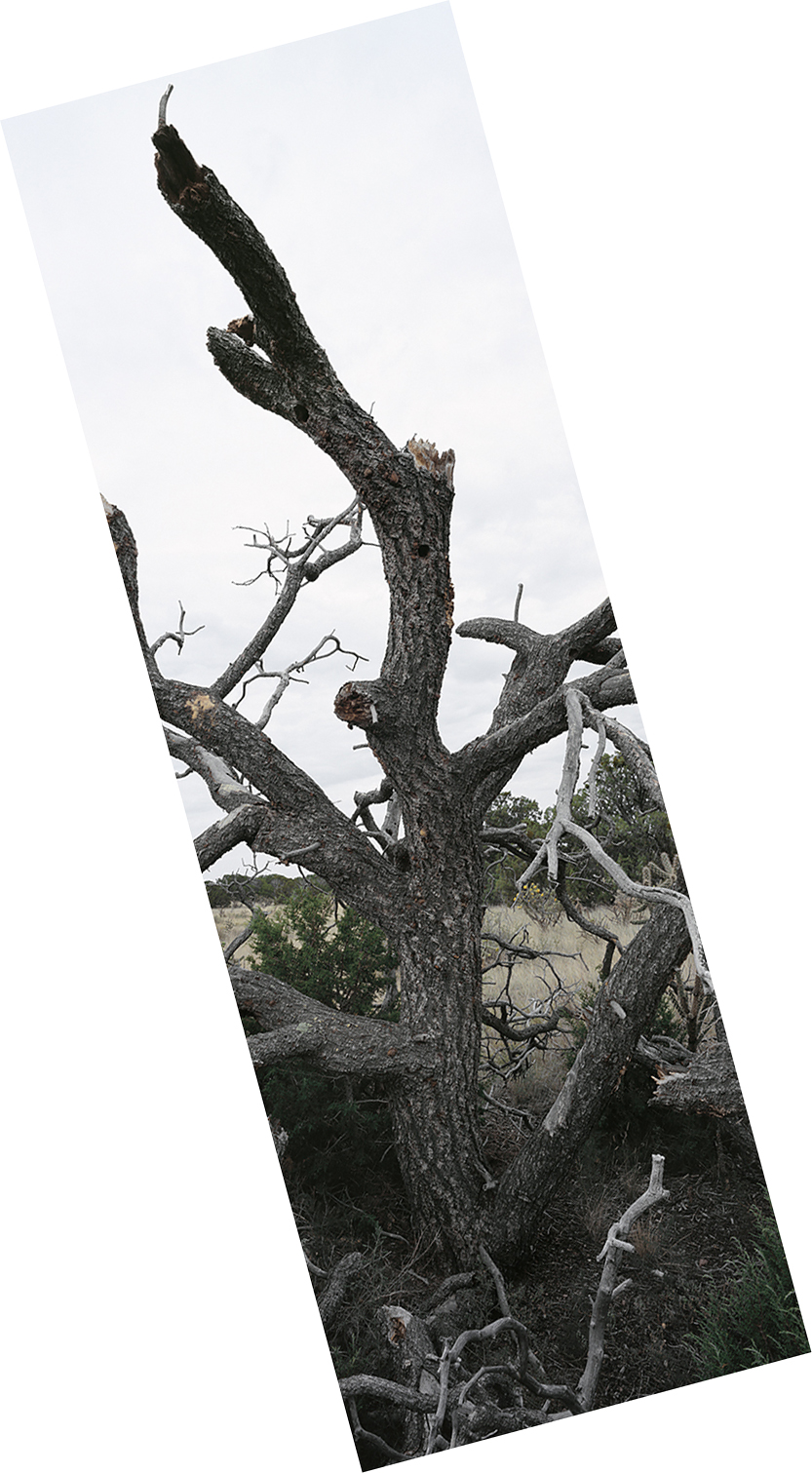 How is it possible, I wondered on my birthday last year, for a crisis that was declared in 1970 when I was just mastering cursive writing to be raging still stronger in 2010 when I turned fifty? With evidence of global climate change mounting and my increasing frustration over the culture of consumption that I inhabit, I was convinced we were heading to hell in a handbasket with human beings in the driver's seat. As a museum curator, my response was to organize an exhibition, at once defiant and resigned, that would serve as a tombstone for my species. I suggested the title From Earth Day to Doomsday.
Box office figures tell us that people love a disaster movie, so why not a disaster exhibition? The show would start with masters of photography Ansel Adams and Eliot Porter, two artists who were deeply enamored of the American wilderness and passionate about preserving it. A concise survey of efforts by photographers over the following decades, such as Robert Adams, Mark Klett, Robert Glenn Ketchum, and Richard Misrach, would provide a context for the heart of the show, a selection of very recent work. These images by artists working in the first decade of the twenty-first century would bring viewers up to the present day and the end of time, which some believe will occur in 2012 based on the Mayan calendar. Voilá, a beautiful and eloquent swan song from our artists to a culture that couldn't be bothered to listen!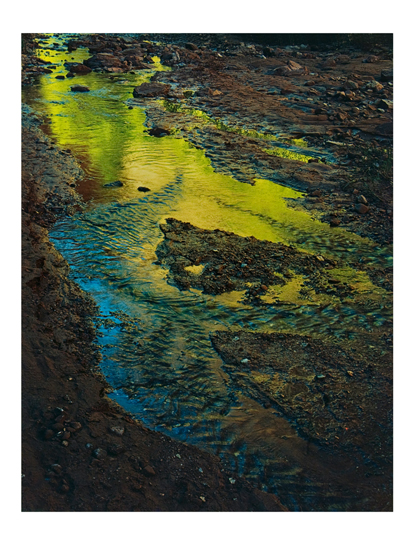 Eliot Porter, "Green Reflections in Stream," Moqui Creek, Glenn Canyon, Utah, 1962
In the end, I did organize an exhibition with many of the elements described above. But it has a different title. As I was working on the project, the pictures and words of the artists I met really moved me and melted away some of my pessimism. One of the things that had so piqued my interest was the persistence with which these photographers kept trying to communicate with us. Like someone doggedly trying to make conversation in a foreign language, they tried a variety of approaches over the years -- beauty, humor, horror -- to catch our attention. The earnestness of such gestures seemed rather poignant and I felt a little sorry for them in their innocence. Couldn't they see that no one was listening? I decided to find out what motivated them, what they thought art could do, what they believed they were contributing.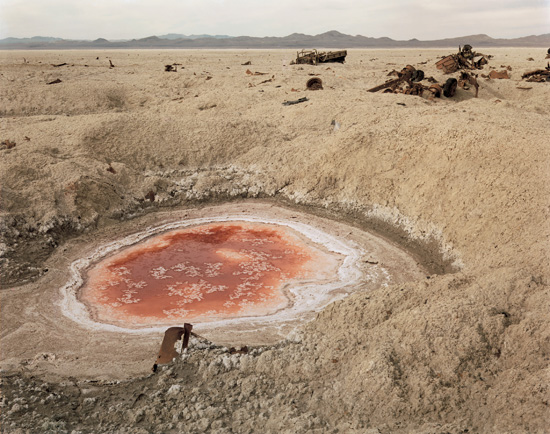 Richard Misrach, Bomb Crater and Destroyed Convoy, Bravo 20 Bombing Range, Nevada, 1986
None of the works I selected for the show have proffered solutions to any global crisis, but many of them show examples of people working cooperatively with nature, nature working cooperatively with us, or things that are out of balance and need rethinking. Rather than proposing answers, their aim is to motivate us to think about our choices and their impact, and to forge a path forward based on our own conclusions. I quickly found that my own taste in choosing bodies of work for the show tended toward variety rather than cohesiveness. Frankly, it seemed ludicrous to try to identify some kind of definitive trend in work that is essentially about how unmoored and imbalanced we are as a society. That is the trend!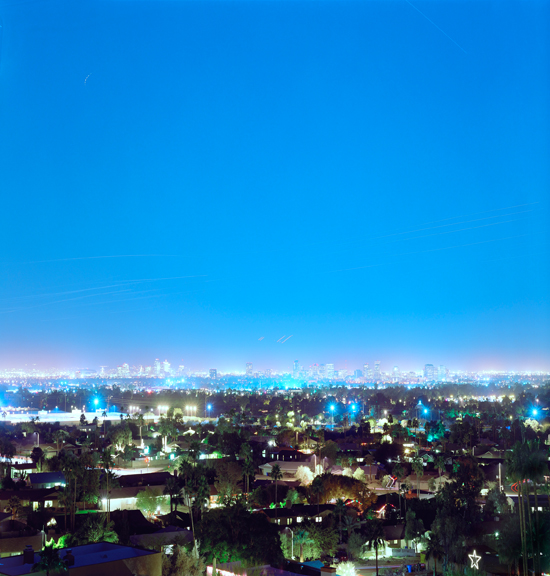 Christina Seely, Metropolis, 33 degrees 26 seconds N 112 degrees 1 second W, 2005-2010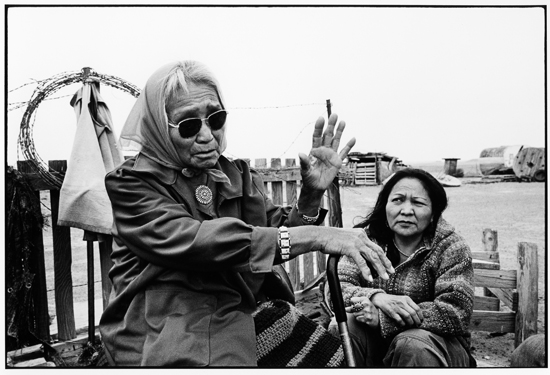 Carlan Tapp, Bonnie Gilmore Listens, Burnham, New Mexico, 2008
One of the most obvious threads connecting the artists in the show is that all have chosen to use creative expression to address issues of concern about the environment. Another thing that connects them is the clear priority of asking questions rather than offering answers. Initially this suggested an unfortunate lack of utility in the discourse, reducing the pictures to something of an academic exercise. But then I realized that this is their precise strength: asking questions and getting us engaged in that process. The visually rich, non-prescriptive nature of these photographs is precisely what allows them to act on us. Anecdote and subjectivity are perhaps better suited to creating a climate of receptivity than is information presented in a factual, objective way. Emotion, memory and other types of non-linear experiences can be gateways to fresh perspectives. I'm on board with art that invites me to think and feel but doesn't supply predetermined conclusions. I think what the artists are suggesting is that the answers lie with me and thee.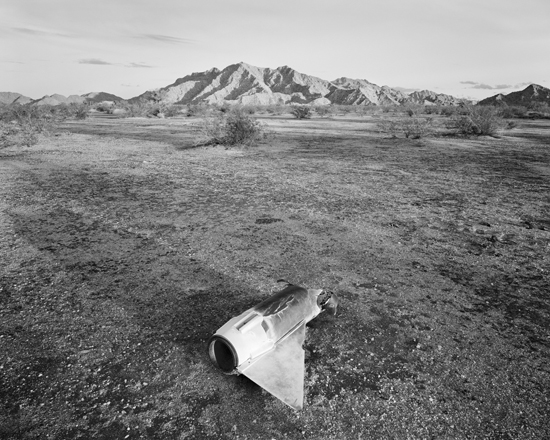 Michael P. Berman, Fallen Ordnance, Mohawk Valley, Arizona, 2010
The exhibition Earth Now: American Photographers and the Environment is on view at the New Mexico Museum of Art in Santa Fe from April 8 through October 9, 2012.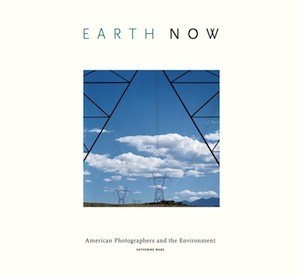 Katherine Ware is curator of photography at the New Mexico Museum of Art. She previously served as curator of photographs at the Philadelphia Museum of Art and as assistant curator of photographs at the J. Paul Getty Museum. She celebrated the first Earth Day in the suburbs of Dayton, Ohio, and will observe the forty-first Earth Day at her home in Santa Fe, New Mexico.
All photographs courtesy of the Museum of New Mexico Press, Santa Fe.
Top photo: Subhankar Banerjee, "Three Potential Bluebird Homes; On My Way to the Railroad," Santa Fe, New Mexico, 2009