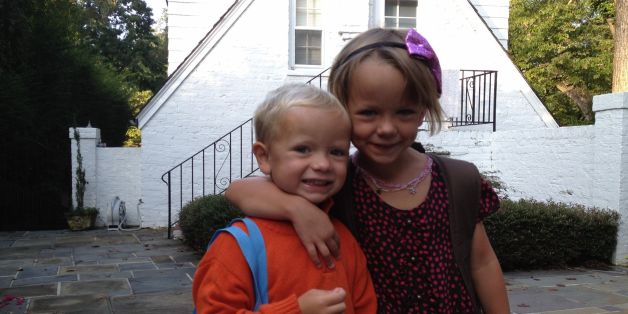 It's that time of year again. Time to get strict with bedtimes, plan further in advance for meals, act like you remember middle school math, and kick laundry into high gear.
If I were to rephrase Thomas Paine's famous quote I might say, "These are the times that try moms' souls."
Getting back into the routine of the school year can be hard. A few years ago I heard an interesting tip from a fellow mom -- she said the only way to make motherhood feel any easier is to admit how hard it is.
Say it with me: "It's hard."
In most homes, back to school feels more like the dawning of a new year than New Year's Eve itself. Your children are setting off on new adventures, you're noticing how much they've changed, and they'll probably learn five things this year you wish they wouldn't. If a new year is upon us, then maybe this is the better time of year to make some resolutions. Maybe they'll be more meaningful. Maybe they'll last longer than the ones we tend to make in January.
This year, follow my friend's advice and make a resolution to be more vulnerable, to admit how hard it is to be a parent. When things get chaotic/messy/exhausting, resist hiding the hard parts and revel in the fact that you're conquering them. In other words, a little less, "It's ok, I've got this... honestly" and a little more, "Wow, I did all that today and didn't lose my mind!" It will help you recognize and appreciate what you've actually accomplished.
I've studied mothers in 17 different countries, and the one thing they all have in common is the mask of motherhood. The deep-seated belief we have to act like we have all things under control all the time.
Being a mom is the most rewarding job in the world, but here's the catch... it's rewarding because it's hard. In the same way that winning an Olympic gold medal is more rewarding than winning a pie-eating contest. All the blood, sweat and tears make even the smallest milestones feel monumental and heroic.
Getting the family geared up for a new school year is no exception. It's a rewarding time of the year but it can also be particularly challenging. Here are five tips to help you keep your sanity when the going gets tough.
Revel in the routine
There's something amazing about that feeling you get after your kids go to bed on a school night -- homework is done, baths are over, lunches are packed, and outfits are laid out for the next day. You did it. It was hard and you did it. There is something about a strict routine that can stress you out, but can also make you feel like you can accomplish anything. Revel in it.
Document the changes
We don't wake up on New Year's Day and think, wow, my child looks different. We use school pictures to see the differences. I love those photo frames with the spaces for each school picture and the big one for the senior year. Get one so you can document and appreciate the changes taking place. The haircut, the more mischievous smile, a stronger feeling of self-confidence in their eyes -- every year they're almost someone completely different.
Capture your good mom moments on film
When you're the mystery reader in your daughter's class or when you're brave enough to be the field trip chaperon, hand your camera to someone else and say, "let's get this on film." Make it a habit to surround yourself with good mom moments (I'm not ashamed to admit I even frame them). They'll come in handy the next time you're feeling a little less-than.
Figure out your family's sacred time and protect it
Find a 90-minute window in your day when you can avoid sharing your children with the rest of the world. When I get home at night I leave my phone in the car so I can embrace my children and decompress. In our house 6:30-8:00 is dinnertime, bath time and bedtime and it's our sacred time. Of course I'm bolting to the car at 8:00 to get the phone, but for 90 minutes I try my best not to multitask.
Ask your child what makes you a good mom
When we try to live up to everyone else's definition of a good mother (the teacher, the soccer coach, the room mother, our own mother) -- we're focusing on the wrong people. Ask your child what makes you a good mom and I guarantee you're already doing it. I asked my 4-year-old daughter the other day and she said, "you're nice to me and you buy me pink clothes." Now that's something I can live up to.
So, here's to a new year and a new resolution to stop hiding the hard parts. Admitting what you're accomplishing will help you become perfectly ok with being imperfect. Being a mom is hard and you're doing a good job. You may not always feel that way. Few moms do. But take comfort knowing that nobody is perfect and if they were, we wouldn't like them anyway.