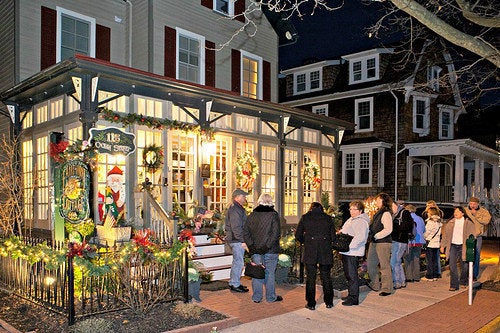 As a New Yorker stranded in California during Hurricane Sandy, I stayed glued to CNN and The Weather Channel watching with dismay the destruction back east. It occurred to me more recently that I had not heard any mention of Cape May, that lovely little town that's a throwback to gentler times, located on the southern tip of the Jersey Shore. Every year once December rolls around the town goes all out for the holidays, in a charming small-town fashion. I wondered if this year would be any different.
So I asked Curtis Bashaw, the co-founder of the Cape Resorts Group and better known as the man who owns the Virginia Hotel, arguably the best gem of a small hotel in town, as well as the impressive Congress Hall, which Bashaw bought and brought back to its former glory. "We were very fortunate and are thankful that Hurricane Sandy did not damage our properties as it did so many homes and businesses in our sister communities along the shore," he says. And Bashaw is going full steam ahead with holiday celebrations.
The town itself, with its boutiques lining its main shopping streets and lovely old Victoria homes lining its quiet residential streets, is decked out in twinkling lights, wreaths, garlands, and red bows. Just add a dusting of snow and you can almost hear Bing Crosby crooning "White Christmas." Cape May is quintessential American throughout the year, but come the holidays it's all-out Mayberry.
For those who think the Jersey Shore is a wasteland after the storm, go to Cape May and support at least this stretch of the state's ravaged coastline. Couples looking for a romantic escape could check into the Virginia Hotel and Cottages: The latter come with your own completely decorated Christmas tree. Anyone, guests or non-guests, can book dinner is its acclaimed Ebbitt Room, stopping first at the bar for a Smoked Maple Manhattan (maple syrup, rye, and crushed bits of bacon-pecan brittle) or Nutter Butter (with butternut squash from Bashaw's Beach Plum Farm which provides organic produce for his hotels' restaurants.)
For anyone with kids, check into Congress Hall. Each year -- and thank goodness this is no exception -- the hotel creates a Winter Wonderland. Twelve-foot tall toy soldiers and 16 life-size candy canes greet guests at the entrance and lobby. A soaring Blue Spruce sparkles with 8,000 lights on the great lawn. There are choir concerts, a holiday ride on the hotel's own kid-sized train, a shopping village filled with gifts, gingerbread house building, hot chocolate by the fire, caroling in the Brown Room, story time with Mrs. Claus and -- the ultimate photo op -- breakfast with Santa.
And for those who just want to get away, walk the deserted beach and reflect on whether you've been naughty or nice. Santa, of course, already knows...
PHOTO GALLERY
Cape May at Holiday Time