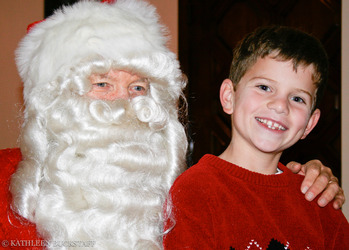 When I was a girl, Santa would stop by our house on Christmas Eve. He'd jingle bells at the front door and say, "Ho, Ho, Ho." After Santa came inside, we'd each take a turn whispering in his ear what we wanted for Christmas.
Forty years later, I ran into the man who was Santa. He still had rosy cheeks and a warm-hearted laugh, and his wife had kindness one would expect in Mrs. Claus. The three of us were talking, and then the man who was Santa told me he has one word he shares with young people when they ask him for advice.
"What's the word?" I asked. For decades, this man spent several weeks in December going from house to house listening to the deepest, most sincere wishes of children. What was his response?
"Do you really want to know?" he smiled, and his eyes twinkled.
"Yes," I said.
"Serendipity," he said, and then he laughed.
"Serendipity?" I said.
"We all have wishes and deep longings," he said, "a more fulfilling job, a partner in life, a new friend -- and it's my experience that there's someone or something right near you bringing whatever it is you're wanting. It may not come wrapped in the package you're expecting, but it's best to be open to seeing it and then receiving it. And when you do see it and receive it, that's serendipity!"
It's easy to see why he was Santa Claus. In his heart of hearts, this man believed there was something in this bag for everyone.
As the months passed, I thought about serendipity. I paid attention to moments that were surprising and delightful -- finding the perfect T-shirt on sale, getting a tip on a story, making a new friend at a meeting -- and I tried to notice what state I was in when serendipitous things happened.
I have no scientific study to offer you, no academic footnotes. What I have are my observations regarding the state I am in when serendipity happens.
Here's what I've noticed:
Serendipitous moments don't happen when:
1. I'm texting, scrolling through emails, or talking on my phone in public places.
2. I'm hurrying.
3. I'm not noticing that people around me are people.
4. I'm sad, tight, being obsessive, or all three.
5. I'm not breathing. (I hold my breath often when I'm stressed. It compounds every problem.)

Serendipitous moments are more likely to happen when:
1. I'm laughing easily.
2. I'm talking to strangers.
3. I'm sharing what I really want with people (allowing myself to be vulnerable).
4. I'm making eye contact with people and smiling easily.
5. I'm not on my phone in public places.
6. I'm humming to myself.
7. I'm sending love to my friends.
8. I'm noticing beauty, in people, in nature and in the light and shadows of life.
9. I'm eating chocolate at least once a day.
There's nothing clinical about this list. I have only tested it on myself.
Santa reached into his sack and gave me something I could keep with me forever: a word. The word was serendipity, and now I'm giving it to you.
The trick is figuring out what state we're in when we receive it.
Maybe it's the present.
---
Kathleen Buckstaff is the author of two books that celebrate life and motherhood:Mother Advice To Take With You To College, a collection of drawings and wise sayings, and The Tiffany Box: A Memoir, an International Best Book Awards Finalist, a true story full of humor, heartache and love--told through emails, letters, diary entries and columns about the last two years of Kathleen's mother's life. You can find her on Facebook and Twitter.
Kathleen blogs regularly to The Huffington Post. To be notified when she publishes a blog, please sign up here.