As we celebrate Mother's Day and your upcoming graduation, there is something I have to tell you. I will always be your birth mother -- that is a sacred bond that exists between us, but the advice I want you to take into the world is this: seek out other mothers.

When my mom, your grandmother, died at the age of 59, I thought I had to make my way in a motherless world. I was wrong. The silver lining to my mother passing away 13 years ago is that I found surrogate mothers. Most people would call these women mentors because of the pivotal role each played in my work life. These women were mentors, but they were far more. They let the relationship be personal, and we shared stories with each other about children, husbands and health worries.

This is what I want to tell you: let yourself fall in love with older women, women you deeply admire. Let their grit, humor, strength and wisdom inspire you, permeate you, and change you on a cellular level. Older women are survivors. They have survived the loss of their parents, sometimes the loss of their breasts, a child, a home, a dream, a marriage, a job, friends, and yet the ones who inspire have found a way to live with joy, humor, wisdom and passion. They offer a roadmap for being resilient. Sometimes it's through humor. Sometimes it's through faith. Sometimes it's through listening to intuition and doing something because they believe in it and don't care what anyone else thinks. These are the women you want to seek out and love. Find them in the area of life where you have passion, and these women will make your life more meaningful and more exciting. Mother mentors hold lanterns in dark alleyways.

First, for me, there was Susan. Susan was my editor when I wrote humor columns for The Arizona Republic. I wrote some of my best columns for Susan because she had a great sense of humor and liked to hear secrets. Because I worked from home, I wrote columns as if I were writing just for Susan. Something I found funny or touching, I knew she would too, that she'd "get it."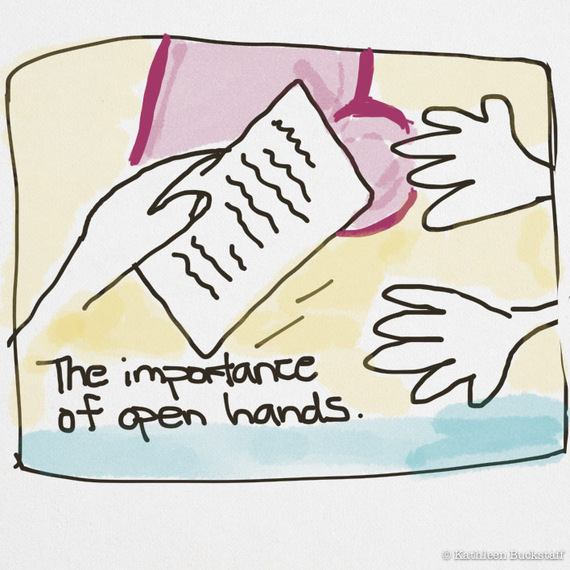 I can't stress enough, how sane it feels to find one older woman who thinks as you do. It is medicinal and worth searching the world to find that shared sensibility. The newsroom called Susan their mother hen. For me, she was a midwife and coaxed stories from me with her reassuring words, "I've been there too, sister."

Then there was Carol. When I met Carol, she had had surgery on her face to remove skin cancer, was bandaged and missing part of her nose. Carol was in her 70s and with the help of a team of actors, had just opened a theatre. As I listened to Carol talking about the importance of people sharing their stories, I fell in love with her. That love changed my life. I joined the theatre as a writer, but at Carol's prodding took acting classes and eventually, with Carol's help, created and performed one-woman plays. Before I went on stage, Carol would always remind me, "Tell yourself, 'I've got something to say,' take a breath and go say it."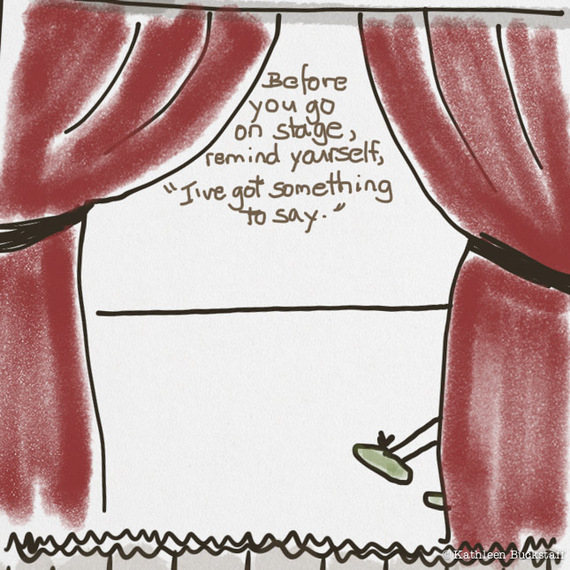 Then there was Paola. I drove through rain and wind, to an outpost bookstore in West Marin, to hear Paola talk about her latest book, Grandmother Power. I was looking for an author to write an endorsement on the back cover of my memoir. I had sent out over 60 books to authors and reviewers asking for an endorsement. None had replied. I gave Paola my book and drove home in the rain. A week later, I had an email from Paola and a paragraph endorsing my book. I cried when I read it. It felt profound to have one person believe in what I had to say. She "got it," and I changed as a person.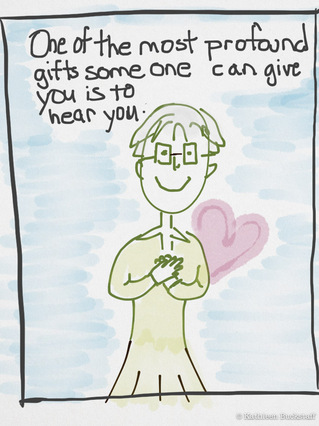 This is what I have to say. It only takes one -- one woman who says, "I hear you, sister." I cannot offer you all the mothering your dreams need. As you head out into the world, know that there are other mothers who will let you into their lives and show you the way. Look for them, and when you find them, make time to love them.
All of my love,
Mom
Kathleen Buckstaff is the author of two books that celebrate motherhood:Mother Advice To Take With You To College and The Tiffany Box: A Memoir, a USA Best Book Awards Finalist. A gathering of e-mails and letters to her closest friends comprise Kathleen Buckstaff's candid, funny, and recognizably true chronicle of a generation "in-between": nurturing its young while nursing its aged, and coming to terms with the bitter realities that temper life's sweet rewards. A wonderful motherhood memoir.
Follow @katbuckstaff