With so many people in line to meet New York City's new mayor on Sunday, there was little time but for a brief handshake and a smile for the photographer. But Kelly King, an East Village artist, and Jerry Delakas, a newsstand operator, wanted more than a handshake. They needed to tell the tale of how the city shut down Mr. Delakas' Astor Place newsstand. They also needed help to get it back open and have "Jerry" return to work.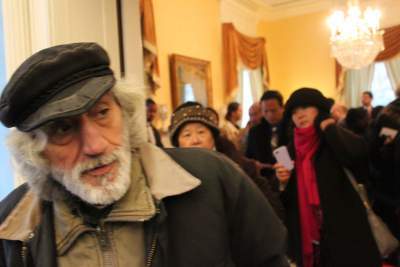 At Gracie Mansion, Jerry looks on as the mayor greets New Yorkers.
Ms. King did get the chance to tell Mayor de Blasio Jerry's tale of woe with the city. Although it was a brief moment, it was enough to get noticed and give the mayor a glimpse of Jerry's problems. Jerry, who has spent more than 26 years selling newspapers and magazines, at his Astor Place newsstand, has been entangled in a battle with the city to keep his newsstand. This Wednesday, Jerry has a court hearing over whether the city will reopen his newsstand while the city sorts out the issues over his license.
In December, the New York City's Department of Consumer of Affairs (DCA) padlocked Jerry's newsstand in the early morning hours on the grounds that he didn't have a license. (A previous post, A David and Goliath Fight Over an East Village Newsstand, explains the history of the case and why the city shut it down.) Since then, a group of concerned East Village residents has been protesting the closing of his newsstand - his only income source for this 64-year-old Greek immigrant.
As they waited in line with thousands of people to meet the mayor a cold rain fell. Umbrellas formed a canopy along the East River promenade leading to Gracie Mansion. As hours passed, Ms. King and Jerry weren't sure if they would meet the mayor. And if they did, how much time would they really have with Mayor de Blasio.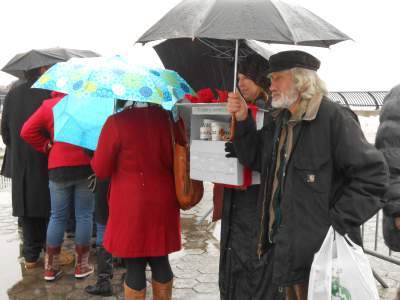 Jerry and Ms. King waiting hours with hundreds to meet the mayor.
In preparation for this possible meeting, Jerry and Ms. King first met outside his shuttered newsstand a couple of hours before taking the subway to Gracie Mansion. They needed to discuss what they would say to the mayor if they had the opportunity. There was plenty to say, but their challenge was how they would deliver the message in a brief conversation.
Sitting in Starbucks, looking out at the back of Jerry's newsstand and surrounded by stores and high-rise apartment buildings on the square, Ms. King and Jerry spent the morning compiling documents, including photographs, press clips and court documents outlining Jerry's case. Ms. King also created a model of Jerry's newsstand, filled with newspapers, candy and a rather life-like caricature of Jerry.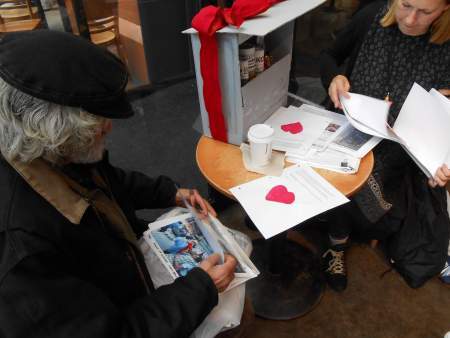 Jerry and Ms. King put together press kits at Starbucks on Astor Place Square.
If it were not for this mock newsstand, Jerry and Ms. King may not have had valuable moments with Mayor de Blasio. Volunteers and staffers tried to take the newsstand, perhaps wanting to set it aside for security reasons. One staff member succeeded, but when Ms. King insisted on having it in the picture with the mayor, it opened up an opportunity to turn just a photo op into a conversation.
"The mayor told his aides to pass over the model newsstand. It came back across the room with 20 aides," she says. "There was so much pressure for visitors not to stop the receiving line. Luckily, this request for the model gave me an extra moment to say more about Jerry being thrown out by the DCA and how we need his help. He called over an aide and said something like, 'Get on this right away.'"
What led to this moment starts with Ms. King's own worries about her ability to keep living in what some refer to as a "gilded city." Ms. King, who has lived in New York City for more than 20 years, was concerned about the changing landscape of her own neighborhood. The East Village, once known for its artists and counterculture, has been increasingly gentrified over the years, much the way the West Village has been encircled by multi-million dollar developments.
Dismayed over the gentrification pushing out artists and working people, Ms. King volunteered for Bill de Blasio's campaign this past summer. "I realized if I didn't do something, I would eventually have to leave the city because it would be too expensive to live here," she adds. As it turned out, she pinned her hopes on the right candidate in a crowded Democratic primary race. Her many volunteer hours yielded an invitation for two to the open house. This invite came when she needed it most. Although she says she never intended to become an activist, Ms. King, like many of her fellow neighbors who still buy newspapers and magazines from Jerry, was moved by jerry's struggle to keep his business afloat. With an invitation to the open house, she realized that Jerry needed to meet the mayor. "I learned from my mother that you just do things and that there are no limits, only the ones you place on yourself."
"Jerry doesn't want a hand out, he wants to work," Ms. King says. "Ever since his newsstand was shut down by the DCA, he goes there every morning and stands in front of it. It's like a horse going back to the barn. It gives him a mission, a purpose." She adds, "What good is it to turn him into a homeless person living in a shelter? It will cost the city more money. He also takes care of his sick brother, so that's another person in the shelter."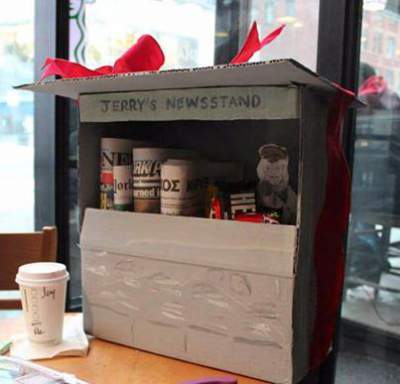 The model newsstand Ms. King created. It's now in the mayor's hands.
Despite the hopeful sign of talking to the mayor about Jerry's newsstand, the push to reopen his newsstand isn't quite over. On Wednesday, Jerry and his lawyer Arthur Schwartz, principal attorney for public interest law firm Advocates for Justice, head to a hearing at New York City's Supreme Court (60 Centre Street). There, they hope to get a temporary restraining order. In other words, Mr. Schwartz is asking the judge to remove the padlocks put on by New York City's Department of Consumer Affairs as they try to resolve the licensing issues. This action would allow Jerry to get back to work, while the city and court work out the licensing.
Mr. Schwartz is also arguing that since Jerry was allowed to operate his newsstand since he was denied a license in 2010, the city in effect gave him permission to operate the Astor Place newsstand, Mr. Schwartz says. The padlocks were put on three years after the denial. "Our goal was to keep this alive until the new mayor came into office."
Mr. Schwartz, Ms. King, as well as other East Village residents, in addition to local and state politicians, have kept Jerry's plight very much alive so the new mayor could review his case. God, too, had a hand in getting this far, Jerry says. And if God does indeed work through people, Jerry is hopeful that the new mayor will find a solution that allows him to go back to work at his Astor Place newsstand. Solving this working man's problem may be the first of many tests the new mayor faces as he attempts to create greater economic and income equality in New York City.