With only a week left to find a solution before the court rules on the fate of Jerry Delakas' newsstand, the "Reverend Billy and The Stop Shopping Choir," threw in their support after their last performance at Joe's Pub Sunday afternoon.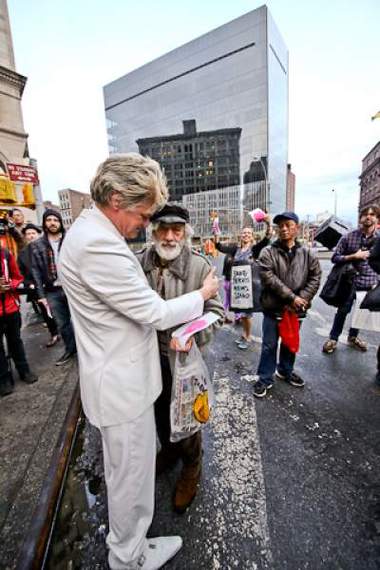 The Reverend Billy and Jerry at his Astor Place newsstand.
The Reverend Billy, the stage name of Bill Talen, has been the recipient of an Obie award and The Alpert Award, an award given annually to five risk-taking, mid-career artists. Reverend Billy is indeed a risk taker if you consider his dozens of arrests -- 50 and counting -- and his outrageous way of raising awareness on any given subject and platform, particularly consumerism and the destruction of the earth. On Sunday, still juiced up from their performance, the Reverend Billy and his merry band of troublemakers, will be protesting to reopen Jerry's Astor Place newsstand. The Reverend Billy is particularly fond of Astor Place. He's held many protests with his activist performance group there to help raise awareness about the disappearing "mom and pop" shops, as well as businesses and establishments that made the East Village so unique in first place. "I was repeatedly arrested here [Astor Place] and taken to jail," he says.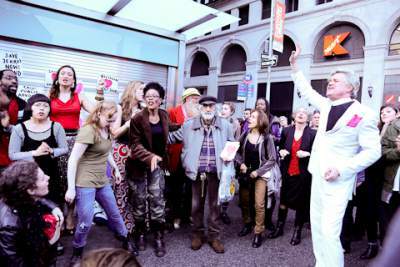 The Reverend Billy and The Stop Shopping Choir at the Astor Place newsstand.
"In my years of living in the East Village and getting arrested on Astor Place I've gotten to know Jerry," he says. Jerry represents the struggle to survive, he adds. "Jerry is like the last man standing -- you can look him in the eyes and there's a real human being behind them, not a corporate logo." Besides drawing attention to Jerry's struggle, the Reverend Billy is also concerned about "Mother Earth." She's in a death spiral, as far as he's concerned. (See some of his preaching about climate change and the culprits behind it.)
Jerry's relationship with New York City began more than 40 years ago when he immigrated to this country from Greece. He was a dishwasher before he started working at newsstands. And for more than 26 years he has sold newspapers, magazines and snacks on Astor Place Square, making him part of the East Village fabric. Now he has become a lighting rod for this community. Residents have shown up in court for Jerry and have even gotten him a brief meeting with Mayor Bill de Blasio during the new mayor's recent open house at Gracie Mansion. This was no easy accomplishment, considering thousands wanted to shake Mayor Bill de Blasio's hand and perhaps give their "two cents" on how to improve New York City.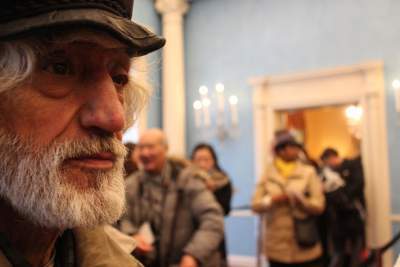 Jerry at Gracie Mansion at a recent open house.
It's also been no easy feat in keeping Jerry's story alive in a news cycle that is geared to around-the-clock fresh news and hype. But his supporters aren't letting this story die without a good fight. Since New York City's Department of Consumer Affairs padlocked his newsstand in December, daily vigils and rallies have escalated. Every day, regardless of the cold weather, Jerry goes to his closed newsstand. "It's all he knows," says Kelly King, a principal supporter and getting him to see the mayor at Gracie Mansion. "It gives him a mission."
Jerry's newsstand is in Astor Place Square, a major subway stop in the East Village and home to New York University and Cooper Union. Colin Moynihan, of The New York Times, writes about how Jerry and his newsstand remains a stronghold in a neighborhood where gentrification has displaced historic establishments, such as Astor Riviera Café, which was closed in 1994. The Reverend Billy remembers the Café as well: The waiters wore tuxedoes and he was arrested many times near the Riviera, he says. (Interested in the history of New York City's newsstand, visit, Jeremiah's Vanishing New York blog.)
Most recently Reverend Billy was facing a year in jail over singing and protesting at JP Morgan Chase's private client wealth management offices. According to a recent article in Forbes, the Reverend Billy and his troupe "burst into song," "followed by a short sermon from Reverend Billy about how the bank's investments were tied to climate change."
"Suddenly they backed off and the charges have been dropped," the Reverend Billy says.
Jerry's lawyer, Arthur Schwartz, principal attorney for public interest law firm Advocates for Justice, believes Jerry's plight has become so charged is that people see themselves in his struggle. "Gentrification has wiped out nearly everything except for Jerry," he says. Despite the growing support to save Jerry's newsstand, the city's Department of Consumer Affairs (DCA) says it's time for him to go and let others have his corner. The New York Times' Mr. Moynihan reports that the DCA has decided on the basis of four court rejections against Jerry to keep his newsstand open. Katyusca Abreu, a spokeswoman for the Department of Consumer Affairs, says there are other licensed operators "who have been displaced from other areas" and that the DCA would like to put one of them in that location.
While at the moment, the DCA has taken a strong stance against letting Jerry operate at his current location, Mayor Bill de Blasio is trying to develop a solution that goes beyond a punitive and hardship outcome. "We are working to reach a better outcome," says Wiley Novel, deputy press secretary for the mayor.
Mr. Schwartz has been able to get a two-week reprieve from the court's final decision and he expects a decision this week. "I asked for the two weeks, but up to that morning the agency lawyer and city lawyer remained gung ho [on not letting Jerry submit a new license for Astor Place.] Marty Tessler, one of the many people helping Jerry, went to the DCA last week to submit an application to obtain a license for Jerry to operate the Astor Place newsstand.
Licenses can be transferred to family members but not to non-family members. Jerry never had the license in his name but paid $75 a week since 1987 to operate the Astor Place newsstand. On December 6, 2010, Jerry applied for the license and paid a $1,076 fee, according to Mr. Schwartz, but was denied. The Villager, which covers local news and politics, provides a good summary of who held the license. The first license holder was Abraham and Stella Schwartz and after they died the new license holder was Katherine Ashley, who died in 2006. In her will she wanted Jerry to keep operating the newsstand and provided that the license go to Jerry after her and her husband's deaths. Sheldon Ashley, Ms. Ashley's husband, died in 2009.
"Bloomberg has not made it easy for small businesses and if they [DCA officials] had converted the license to a new one, it would have saved years of litigation," Mr. Schwartz says. Jerry also rebuilt the newsstand in the 1990s with $55,000 of his own funds, he says. (Here's a recent story from The New York Times about the difficulty of getting a license for a city newsstand.)
But Jerry's supporters view Mayor de Blasio's willingness to listen and try to find a reasonable solution as a positive shift in how the city treats small businesses.
As "Reverend Billy and The Stop Shopping Choir" and others gathered in the late afternoon yesterday, they were hopeful that Jerry could get back his newsstand. For what has become a close-knit family over the months, this could be the last time this community needs to rally for Jerry. But for the Reverend Billy and his band of gleeful troublemakers, their work is far from over. "Jerry represents the last man standing so we are pulling for him and at the same time pulling for ourselves."