Danang, Vietnam is emerging as one of the best places in the world to retire comfortably on a small budget. A couple of retirees could live well in this clean, modern, and cosmopolitan city on a budget of $1,200 per month or less.
One reason that the cost of living overall in Danang is so affordable is because the cost of renting can be super low, especially when considered in terms of the quality of what's available for rent. This is a city where even an average retiree can afford luxury-standard digs.
To give you an idea just how affordable a much better than comfortable retirement lifestyle could be in this seaside city (Danang's beach is one of the cleanest, safest, and most attractive in all Southeast Asia), here's a sampler of current rental offerings, both apartments and houses...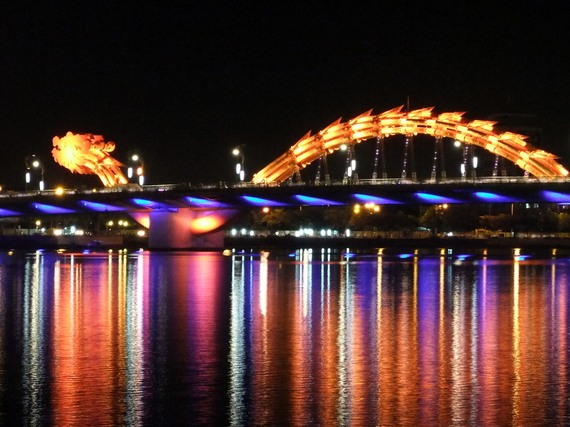 • Luxury two-bedroom condo
The top-end Indochina Riverside Tower complex is located in a prime location across the bridge from the riverside promenade in central Danang. Currently available for rent in this building is a fully furnished two-bedroom, two-bath condo on the 13th floor with great views. The lifestyle available here qualifies as truly luxury-level. Rent is $700 per month, including access to a gym and a swimming pool.
• Fully furnished four-bedroom house near the beach
In Danang, it can be cheaper to rent a house than a condo. Available right now is a spacious four-bedroom house on a quiet, safe street that's just a five-minute walk to the beach. This three-story house with a terrace and small garden is being rented fully furnished. Again, the property qualifies as luxury-standard and is renting for just $750 per month.
• Furnished one-bedroom serviced apartment
If you don't need that much space, how about a fully furnished one-bedroom serviced apartment near the Furama Resort on the coast just south of Danang. The rent is $500 per month including housekeeping and an ocean view.
• Beach villa
If you'd like to live at the beach, consider the Son Tra District. On offer here right now is a furnished one-bedroom villa with a large yard and a garden that sits just 200 meters from the beach. Rent is $700 per month.
• Four-bedroom house outside Danang
Again, houses can represent the best value in Danang. This four-bedroom house with a terrace is about 5 kilometers south of Danang near the Furama Resort and will be furnished "to meet the demands of the tenant." The owner is asking $500 per month.
• New luxury condo
The Azura building near the Han River Bridge is one of Danang's newest luxury condominium towers. Available in the building is a one-bedroom apartment on the fifth floor with a big balcony. Your well-heeled life here would cost just $700 per month.
Earlier on Huff/Post50:
PHOTO GALLERY
10 Trips You NEED To Take In Your 50s