"Forget about the Sandinistas. They're obsolete."
That was Violeta Chamorro's advice in September 1989, when asked about her chances for defeating the Sandinistas in Nicaragua's first presidential election after the Contra War. To the surprise of sitting El Presidente Daniel Ortega and all Nicaragua, Mrs. Chamorro won that election in February 1990. The Sandinista Ortega stepped down graciously, and Doña Violeta began the work of rebuilding her country.
I visited Nicaragua for the first time three years later. Managua, thanks to the earthquake of 1972, the revolution, and the civil war, was a near disaster zone. No reason at the time to stick around Nicaragua's capital city and this is only slightly less true today. Gringos like me, then and now, migrated instead slightly south and west, to the Pacific coast, where, by the early 1990s, speculators had already begun snatching up stretches of this country's primo beachfront, and inland, to the colonial city of Granada.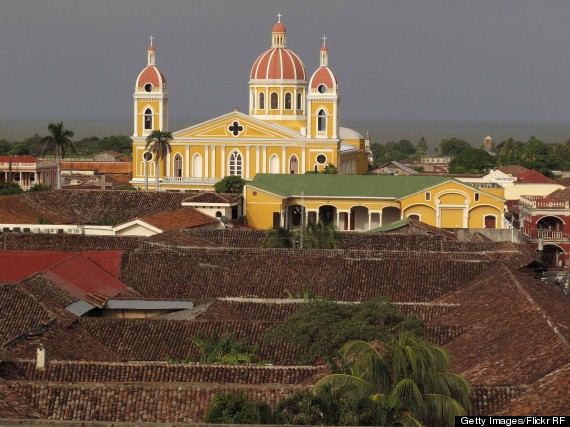 While both Granada and Nicaragua historically have been and can still be short on amenities, they have always been long on heart. I discovered this country was pulling herself up by the bootstraps. In the towns and traveling along the dirt roads back then, you saw men and boys in olive green military garb, sometimes carrying weapons. They seemed intimidating, until you stopped to speak with them. They talked openly of their desire for peace. These Nicaraguans were tired of fighting, worn out by decades of watching their once-prosperous little country dissolve into chaos.
In the years that followed, the transformation was remarkable. The gringos kept coming and even began settling in. The speculating along the Nicaraguan Pacific Riviera went into overdrive. Sleepy Granada became a tourist hub, so crowded you'd sometimes have to wait your turn for a rocking chair on the porch of the Alhambra. Doña Violeta, it seemed, had been right. The Sandinistas had become obsolete, just like the political model they'd sought to follow, replaced, it appeared for some time, by property investors, foreign retirees, and adventure-entrepreneurs. Indeed, through 2006, Nicaragua was on the fast track to a bigger, brighter future. That is not to say that the Sandinistas -- the party or the people -- had disappeared. Indeed, the most famous Sandinista of all, Daniel Ortega, sits again, today, in the seat of the country's presidency. How did that happen? You'd have to ask the Nicaraguans. They re-elected him, putting him back in office in 2007. And, as a result, all those investors, retirees and entrepreneurs who had tied their dreams to Nicaragua's post-Sandinista future panicked. The panic deepened when, in 2011, Ortega adjusted things so that he could run for a consecutive term as president, something that had previously been mandated against in the country's constitution. Ortega ran again...and was re-elected again. Again, you'd have to talk to the Nicaraguans to understand the thinking behind this. It's a mystery.
Meantime, in 2008/2009, U.S. and world real estate markets began to tumble, compounding investor panic further and creating a perfect storm of negative influences that succeeded in nearly annihilating Nicaragua's property market. The whole of Central America (with the notable exception of Panama) has been hit hard by the global recession, but Nicaragua has been hit harder than its neighbors. Historically, the majority of foreign property buyers in this country have come from the United States and Canada. Most of these buyers leveraged property assets back home to find the money to acquire new Nicaraguan assets. That hasn't been a realistic option for some time now, meaning Nicaragua's buying pool has evaporated.
I don't see this changing in the short term, despite what some Nicaraguan developers you might speak with might argue, meaning that I don't see Nicaragua as a place to invest for quick growth. On the other hand, the retiree willing to take a longer-term view should be looking at Nicaragua right now.
Politics have too long distracted people from recognizing what Nicaragua has to offer. Take Doña Violeta's advice and forget about Ortega and the Sandinistas. Some two-and-a-half decades ago, they tried to make a new Nicaragua. Fortunately for you and me, the old Nicaragua, the largest but least-visited nation in Central America, lives on. This Nicaragua is a beautiful country with loads of sunshine and two long coasts, one of white sand, one with crashing surf. It is a land of lakes and volcanoes, of cloud forests and tropical jungles, of cattle ranches and Spanish-colonial cities (including two of the oldest cities in the Americas, Granada and Leon, both classic colonial towns with shady plazas and centuries-old Spanish-colonial architectural gems), of rare orchids and white-faced capuchin monkeys, and, most recently, of a new-and-improved foreign retiree residency program. Thinking practically, Nicaragua's big advantage is its cost of living, which is among the lowest you'll find anywhere in the world you might actually want to live. The Ortega Factor has frightened off many would-be retirees and expats looking for a budget destination, but not all. Both retirees and tourists in search of low-cost adventure continue to make their way to this country, which offers an affordable lifestyle bundled with the chance to start over.
Geographically, Nicaragua has everything Costa Rica and Panama have got, all less discovered and developed and available for the adventurer and eco-traveler at bargain rates.
Architecturally, too, Nicaragua is notable. Its two sister colonial cities, Granada and Leon, vie for the title of Oldest City in the Americas. Whichever story you believe (that the Spanish conquistadores settled first on the shores of Lake Nicaragua at Granada or, perhaps, a few months earlier in Old Leon), Nicaragua is the big winner, with impressive colonial-era churches, public buildings, and parks to her credit. Thinking long haul and putting this country into perspective, Nicaragua boasts a product that will always be in demand: Pacific coastal real estate reminiscent of the best of southern California. Right now, values along this country's long and dramatically beautiful Pacific coastline are down 40% and 50% from their peaks, and developers are uncharacteristically open to offers. It's possible to buy in a full-amenity development for as little as $30,000, sometimes even with developer financing. In Granada, Nicaragua's other key expat and investor market, it's possible today to buy one of the small Spanish-colonial houses the city is famous for for as little as $40,000 or $50,000.
Earlier on Huff/Post50:
PHOTO GALLERY
Bankrate.com's 10 Best States For Retirement 2013